Kendall school wears pink for principal battling breast cancer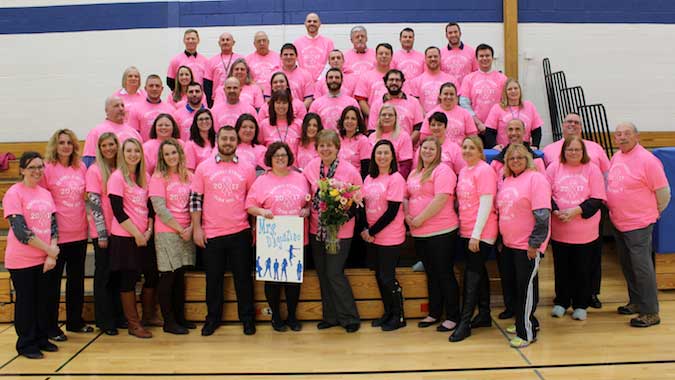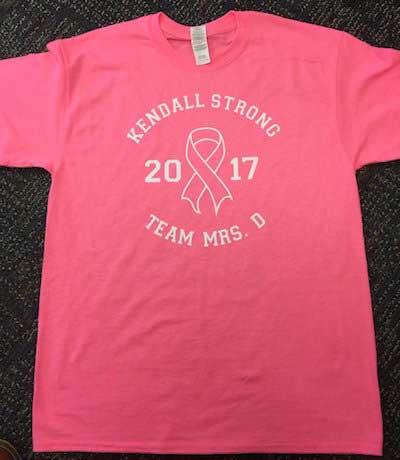 Provided photos
KENDALL – Teachers and staff at the David J. Doyle Junior-Senior High in Kendall wore pink T-shirts on Monday during an assembly in honor of Carol D'Agostino, the school's principal the past 12 years.
D'Agostino, in front holding flowers, was recently diagnosed with breast cancer and had surgery today.
On Monday, the school had a surprise assembly with all the students and staff wearing pink for the school's principal.
"The idea was to give her strength so she knows we're behind her," said Kevin Watson, the school's assistant principal.
The district sent a letter home with students last week in grades 7-12, informing them that D'Agostino had a recurrence of cancer. She first battled the disease 25 years ago.
D'Agostino is expected to be out of work for six to eight weeks.
The principal addressed the students during the assembly, saying she was determined to beat cancer.
"She told them they don't need to be afraid of the word, 'cancer,''" Watson said.
He orchestrated the assembly on Monday, and pushed to have t-shirts for all students and staff. He wanted D'Agostino to see all the pink shirts to know she has strong support at the school. Watson said D'Agostino is a caring leader for the school, often visiting students in the hospital and going above and beyond in numerous ways.
"She does so much for so many people in this little town," Watson said.

This photo shows the student body, about 300 students, wearing pink shirts in honor of D'Agostino. The Sports Boosters and sales from the other shirts will cover the costs for the students' shirts.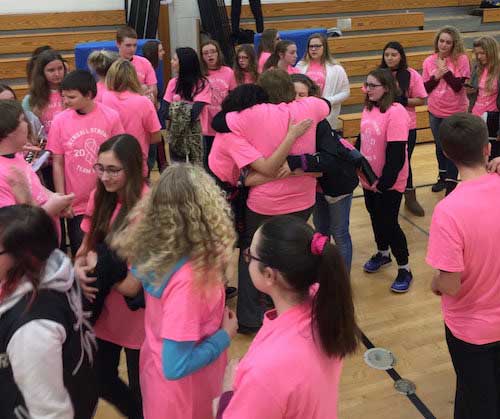 D'Agostino is hugged by students at the assembly on Monday.