Kendall Scarecrow Fest puts creativity to the test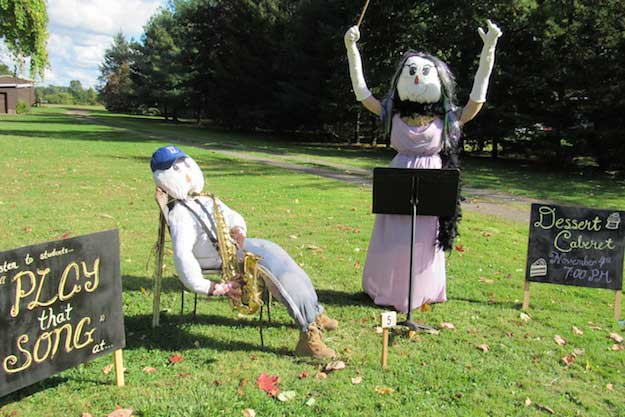 Photos by Kristina Gabalski
KENDALL – A song-themed scarecrow display promotes the upcoming Dessert Caberet at Kendall Jr./Sr. High School on Nov. 4. These scarecrows were part of today's Kendall Community Scarecrow Festival, which proved a popular event.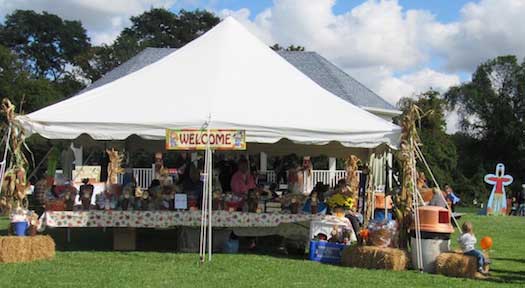 Sunshine and crisp autumn temperatures brought families out to both the Kendall Fire Hall and the Kendall Community Park for festivities including a Farmer's Market, local vendors, food, a basket auction, pumpkin painting, scarecrow making, pony rides, wagon rides, a balloon artist and more.
"It's an event by the community for the community," said Becky Charland, who helps to organize the festival.
Many local farms, businesses, and community organizations sponsor the event, Charland said.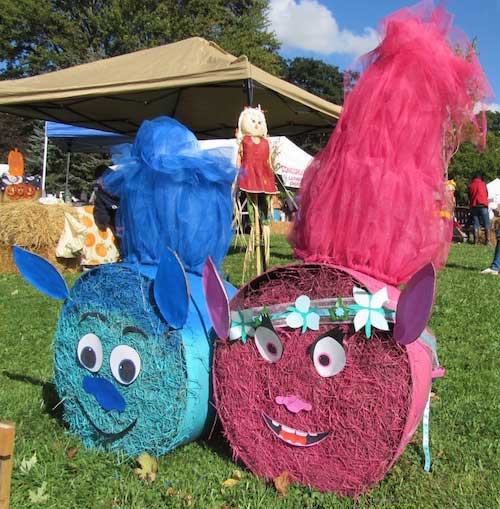 Those attending the festival voted for their favorite scarecrow. "Haired-up" by Katie Zarcone and crew was the first place winner.
Zarcone ran the popular hair painting booth at the festival and said she was thrilled to take first place. Zarcone has come in 2nd place at the Scarecrow Festival on several occasions.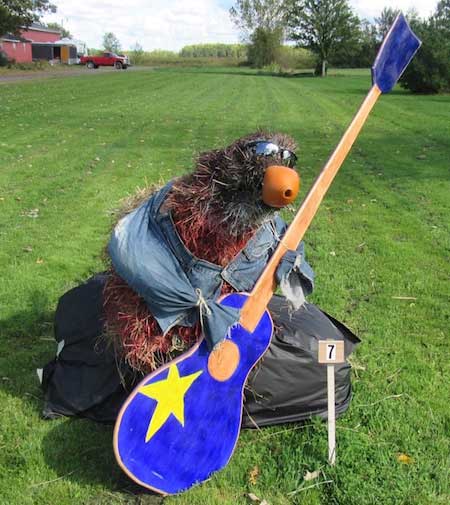 Taking 2nd Place was "Rockin Robin" by the Buzzard family. They used straw and dried grasses to form their scarecrow.  The theme of this year's festival was "Your Favorite Song."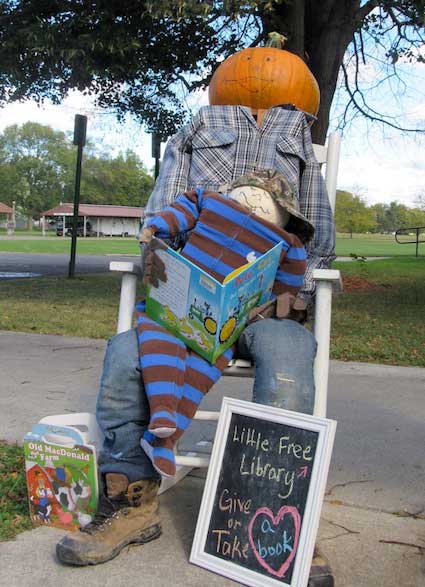 Third place went to the Kurt Charland family for "Old McDonald Had a Farm."  Alicia Charland said the scarecrow was placed at the Kendall Town Hall to draw attention to the newly installed "Little Free Library."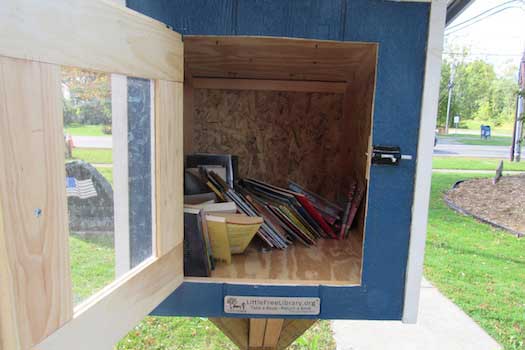 Charland said the library was donated by the Kendall High School Class of 1997, "in memory of classmates lost, but not forgotten."  Anyone is welcome to take a book from the little library as well as make a donation.
Little Free Libraries are meant to inspire a love of reading, "build community and spark creativity by fostering neighborhood book exchanges," Charland said.
The Kendall Little Free Library is easily accessible from the ramp leading into the Town Hall.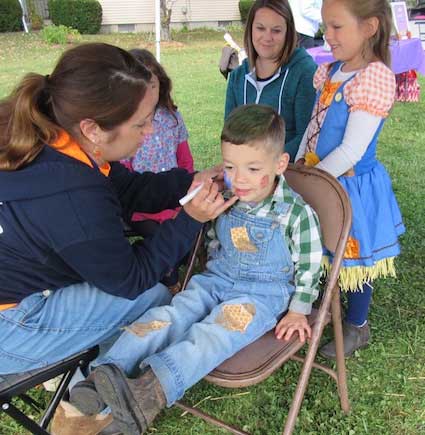 Logan Cole, 3, of Kendall gets his face painted during the festival.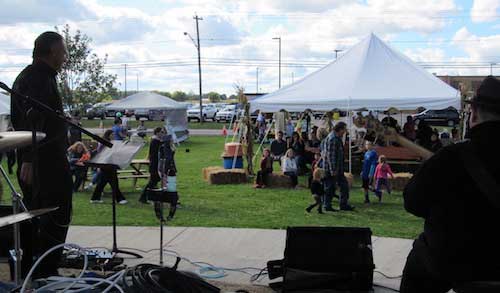 The HooDoo Daddies Band performs from the Gazebo in the Community Park.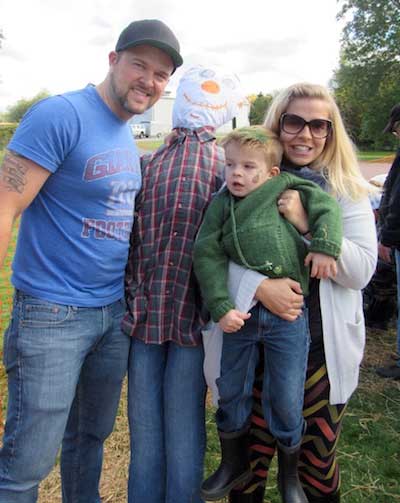 The Shuknecht Family of Clarendon – Jered, Katie and 4-year old Elliot – show off the scarecrow they made to take home.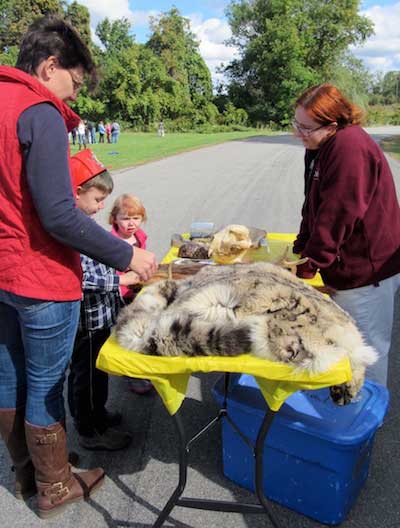 Hayden, 5, and Avery Wahl, 3, enjoy the table set up by the Seneca Park Zoomobile. They are from Holley and are joined by their mom, Megan.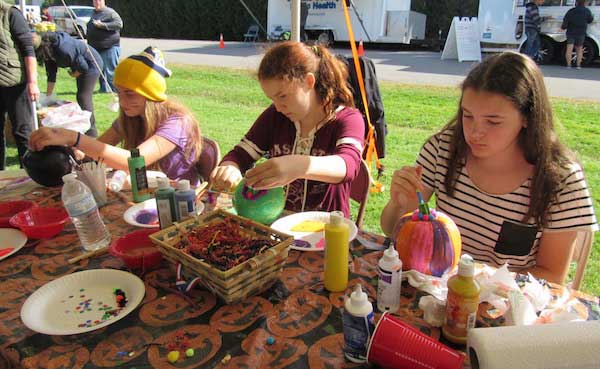 Paige Beers, 14, Anika Kolinsky, 12, and Marina Woodward, 13, decorate pumpkins.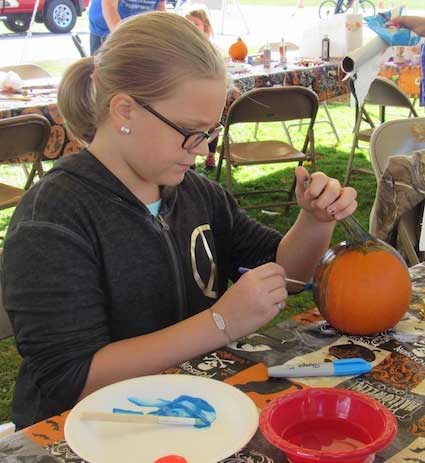 Michaila Moore, 12, of Brockport paints her pumpkin in the pumpkin decorating tent….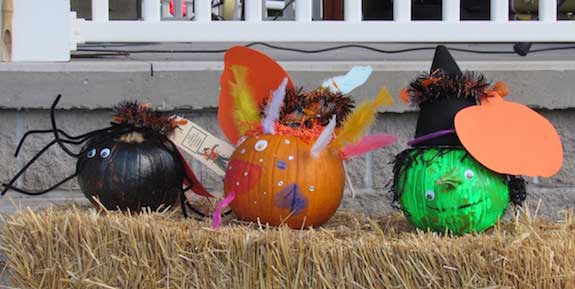 These are the winners of the pumpkin decorating contest.