Kendall residents heed call to help lakeshore neighbors
'I couldn't be prouder of the turnout from the community as a whole.' Warren Kruger, Kendall highway superintendent
KENDALL – There were about 50 residents working together this morning inside the Kendall highway garage, filling and stacking 50-pound sandbags. Residents filled 3,600 on Saturday and were on pace to pass that today, doing about 800 an hour.
Kendall has now distributed more than 27,000 sandbags to lakeshore residents the past two weeks.
The town had assistance from inmates from the Orleans Correctional Facility and a county jail work release crew. Residents were able to fill the gap this weekend. They filled the sandbags and about 20 National Guardsmen from Rochester worked by the lake to put the sandbags in place.
"I couldn't be prouder of the turnout from the community as a whole," said Warren Kruger, Kendall highway superintendent.
Without the volunteers and National Guard, the sandbag operation would have been largely at a standstill this weekend, when the shoreline was under a flood warning due to high lake levels and damaging waves.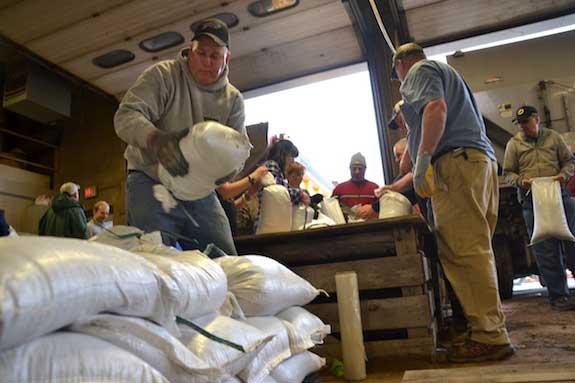 Tom Drennan stacks sandbags this morning in the highway garage, one of many community volunteers to help with the task.
"Many hands make light work," Drennan said.
Kruger, the highway superintendent, said the town last filled sandbags for lakeshore residents in the late 1990s. The process didn't go too well back then. It was a slow and inefficient process.
Kruger said the town has learned from that experience.
"We're like a GM assembly line," he said.
The Kendall school district put out an automated phone call on Friday and Saturday evenings, asking residents to meet at the highway garage the next morning to help fill sandbags.
Steve Meyer, pastor of the Concordia Lutheran Church, sent a memo to church members on Saturday, urging them to come to church in their work clothes and then join him and filling and stacking sandbags.
"This is what the residents of Kendall are all about, helping one another," said Town Supervisor, Tony Cammarata. "It's amazing. This community has really bonded together."
Cammarata said church-goers, firefighters, farmers, members of the Lions Club and other local residents, including some from neighboring towns, have helped with the sandbags.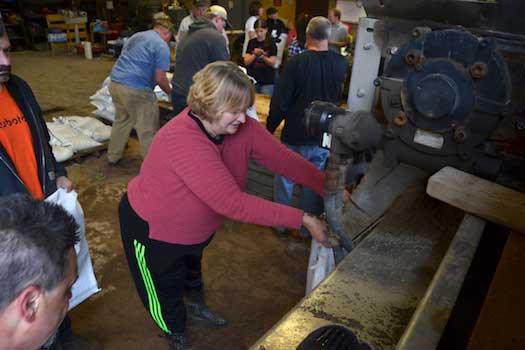 Sandy Wilson fills one of the sandbags. The highway department put a chute on a salt spreader to direct the sand into the bags. Her husband Bob and their son were also volunteering.
"This is Kendall," she said about the volunteers. "This is what you do."
Cammarata said residents are still welcome to volunteer with the sandbag effort. He is hoping the rain will hold off and the lake will start going down.
"We just got to keep going and hopefully Mother Nature will be good to us," he said.