Kendall native, now living near Boston, delights in Bills sign trolling Patriots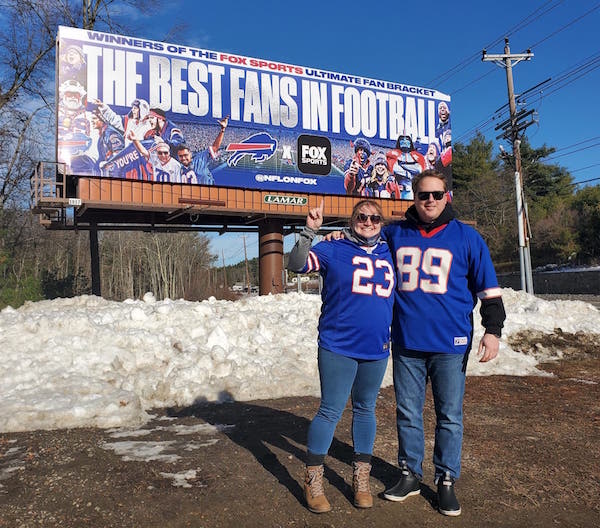 Provided photo
A new billboard recently went up near Gillette Stadium in Foxborough, Mass. That's the home of the New England Patriots, the Buffalo Bills' main nemesis the past 25 years in denying the Bills an AFC East title. That changed this season with the Bills winning the division and eyeing a deep run in the playoffs.
Megan Baker, a Kendall graduate, lives in Quincy, Ma. She stopped by the billboard with her friend, John Ryan, a Rochester native. They are both proud members of the Bills Mafia.
Fox hosted the online competition and the Bills fans won for the best in the NFL. Their reward: a billboard recognizing the honor. Bills fans voted to have the billboard near the Patriots home field.
The Bills will be in Foxborough on Monday to play the Patriots beginning at 8:15 p.m. The Bills are 11-3 so far this season and the Patriots are 6-8. Other AFC East teams include the Miami Dolphins at 9-5 and the New York Jets at 1-13.
Buffalo on Saturday clinched its first AFC East title since 1995.