Kendall man earns top national poultry award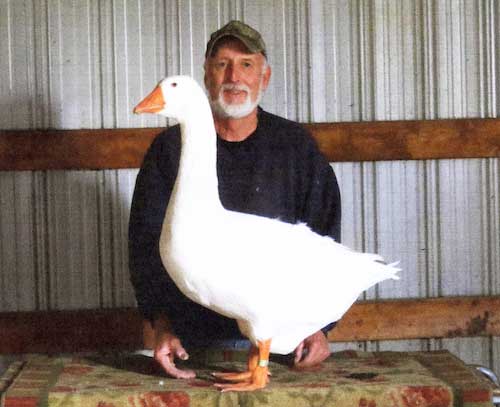 Photo courtesy of Dan Schuth
KENDALL – Over the past weekend, Dan Schuth of Kendall received the Super Champion of Show Award at the National Poultry Show sponsored by the American Poultry Association (APA) held in Bath, N.Y. There were 242 exhibitors present from across the country showing a total of 2,542 birds.
After each bird was judged by class, breed and variety, the six APA licensed judges present worked together to pick the Super Champion bird of all the ducks, geese, chickens, turkeys and guinea fowl in the show. Schuth took the award with a white embden goose which he had raised from an egg, from parents he had also raised. Schuth said he knew he had a good bird but was shocked to hear he won the award. He said that "after years of work, it was like winning a million bucks on the Lottery."
Dan and his wife, Marietta, also breed and exhibit several varieties of chickens and are members of the Rochester Poultry Association, which will hold its annual Club Show at Genesee Country Museum in Mumford on Sept. 30 and Oct. 1.