Kendall Lions recognize outstanding members, Citizen of the Year
KENDALL – The Kendall Lions held the club's annual officer installation and awards dinner on Thursday. Kendall volunteer firefighter Steve Giverson was presented the "Citizen of the Year Award" for his commitment and strong leadership in the Lions Club's carbon monoxide and smoke detector program in response to a community tragedy.
Steve transferred from the Gates Fire Department 2 1/2 years ago and quickly made an impact in the Kendall community and the fire department. He recently was elected secretary of the Kendall Fire Department. Steve was the liaison between the community groups – American Red Cross, Kendall Central School, the Fire Departments and the Lions Club – during the recent CO and smoke detector program.
Giverson took on the responsibility of scheduling, training, delivery and community communication as the Lions Club distributed 200 CO detectors and more 600 smoke detectors to residents in the local communities.
John Becker also was recognized for his leadership in the CO and smoke detector program as well as his continued service as a Kendall Lion. Becker received the "Lion of the Year" award. Becker was the initiator of the program after two lives in the Kendall community were lost due to carbon monoxide poisoning.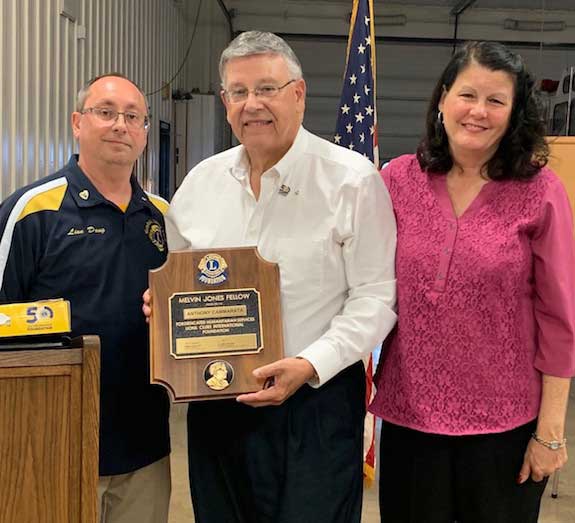 Kendall Supervisor Tony Cammarata (center), a member of the Lions Club, was presented the Melvin Jones Fellow as a reflection of the continued service to our community and club, often behind the scenes but integral to our success. The award is named for the founder of the Lions Clubs International.
Lions President Doug Urquhart presents the award to Cammarata, who was joined by his wife, Sharon Cammarata.