Kendall Lions present awards, including Citizen of the Year
Information courtesy of Helen Unterborn, a member of the Kendall Lions Club
KENDALL – At their last meeting of the 2020-2021 year, the Kendall Lions celebrated 46 years of service to the Kendall Community. Three new members were inducted into our club by Membership Chair Lion Mike Cusimano.
Lion Jeff Charland sponsored his son, Kurt Charland, as he became a member. Kurt also joins his mother, Lion Becky Charland. Lion Ed Haight proudly sponsored his brother and sister-in-law. We were pleased to welcome back Lion Phil Haight and induct his wife Lorraine as they join our club in service.
The Kendall Lions also presented several awards recognizing community members and Lions Club members for their service to the community and the club.
We were proud to recognize Bill Mayes as our Citizen of the Year. Lion John Becker presented and shared how since the pandemic began, Bill has been traveling into the city two and sometimes three days a week to collect donated food. This has then been boxed and donated to many needy families in our Kendall Community.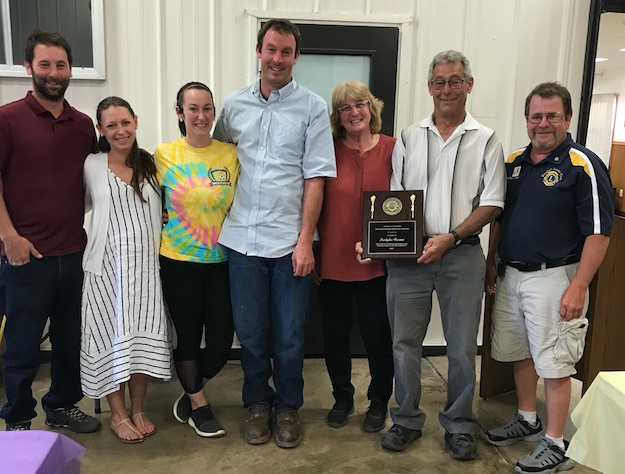 Partyka Farms was recognized for its generous donations to many fundraisers and activities over the years. Lions Club member Eric Maxon presented the Robert J. Uplinger Award to the Partyka family.
Lion Eric Maxon highlighted their giving spirit and many of the ways they have supported our club through donations and sponsorship of our fundraisers and activities.
For the past several years, they have hosted our annual pumpkin patch for the elementary students. This year, to provide the pumpkins in a safe manner, they delivered the pumpkins and set them up for a drive-in event at the Fire Hall. During the pandemic when we were unable to host a breakfast for the 2020 Kendall Seniors, they donated coupons for a sweet treat to accompany our Lion pins as gifts for the seniors. The Kendall Lions extend a big thank you to the entire Partyka Family.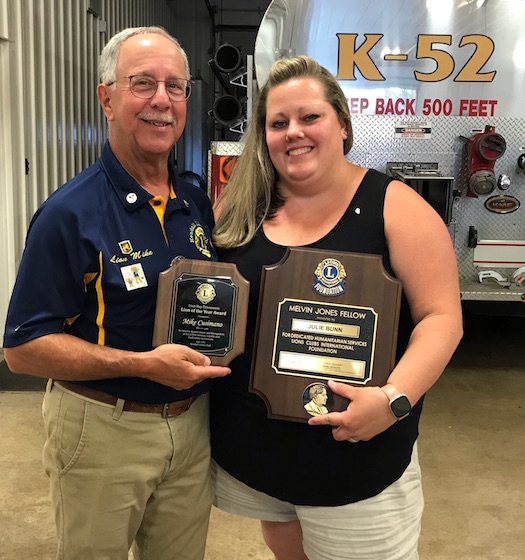 Mike Cusimano and his daughter, Julie Bunn, have made a great team for the Kendall Lions this year. Lion Mike Cusimano received the Ray Ernenwein Lion of the Year Award in recognition for his participation and leadership in the many events and service projects of our club.
Lion Julie Bunn is our newest Melvin Jones Fellow. She was recognized for her leadership and service. Lion Julie implemented aa Check In service for our Senior Citizens during the pandemic and organized many Lions and community members in picking up and delivering food boxes to over 50 families in our community. Lion Julie also is an active participant in our events and service projects and has taken on the leadership role of club treasurer.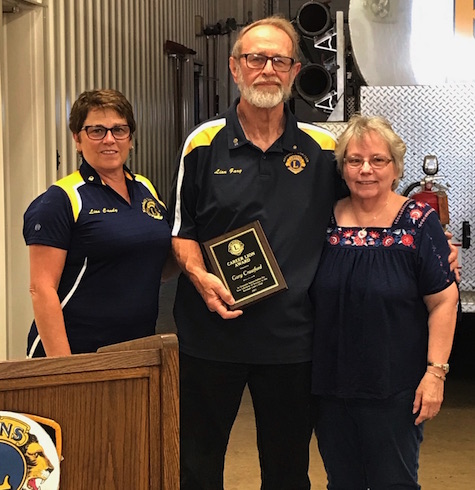 Lions Club member Candy Minigiello (left) presented a Career Lion award to Gary Crawford, who is joined by his wife Linda Crawford.
Gary Crawford is the club's incoming president. Lion Gary has been an active and loyal Lion for over 45 years. He is not only an asset to our club but the community as well, serving in the Fire Department and as an EMT for 50 years.