Kendall Lions present $2k checks to JDRF, Childhood Cancer Association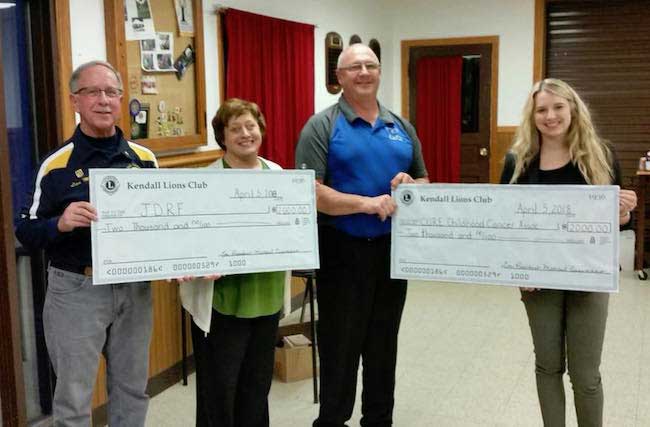 Provided photo
KENDALL – The Kendall Lions Club is pleased to present the proceeds from our 2018 Chicken BBQ to two very worthy organizations. The Lions Club this week presented two checks for $2,000 each to the Juvenile Diabetes Research Foundation Rochester Chapter (JDRF) and CURE Childhood Cancer Association of Rochester.
Pictured include, from left: Lions President Mike Cusimano, Linda Robbins of Juvenile Diabetes Research Foundation, BBQ Chairman Phil D'Agostino and Samantha Corrigan of CURE Childhood Cancer Association.
The Lions Club had its 15th Chicken BBQ the Saturday before the Super Bowl. From its inception Lion Phil D'Agostino has chaired and developed the Chicken BBQ into one of the Kendall Lions Club's most successful fundraisers. Held each year, many Kendall residents have received aide with medical bills due to accidents, cancer and other illnesses.