Kendall is filling sandbags 'basically nonstop'
Volunteers sought to help with sandbags on Saturday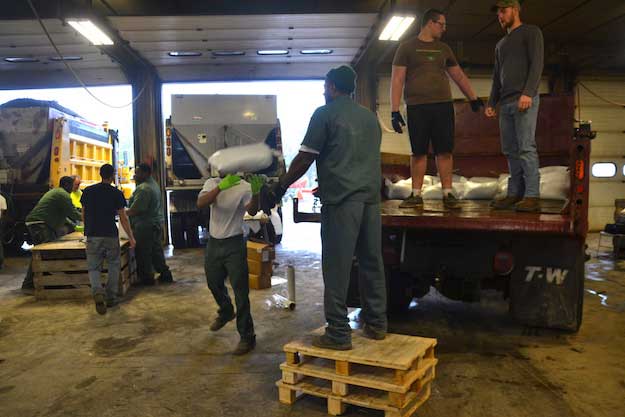 Photos by Tom Rivers
KENDALL – Inmates from the Wyoming Correctional Facility in Attica joined the Kendall Highway Department in filling sandbags today.
The Highway Department has filled and dispersed 21,000 sandbags since April 21. The town has been filling them almost every day since April 21, from 6 a.m. to 5:30 pm. "minimum," with Sundays off, said Warren Kruger, the Kendall highway superintendent.
"It's basically nonstop," he said. "We're running a bagging operation and delivery."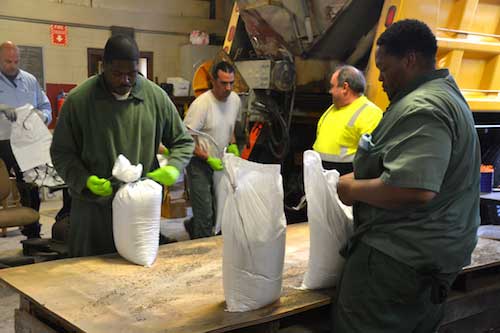 The sandbags weigh 40 to 50 pounds each. The town puts them on pallets and has been delivering them to residents along the shoreline.
Kruger said sandbags are not effective as the primary breakwall against the high Lake Ontario and its powerful waves. But the sandbags can help in the splash zone to fight "backwash erosion," Kruger said.
The bags are 2 feet by 1 foot and it can take several hundred sandbags to make a small wall on the typical 60-foot lakefront lot, Kruger said.
Many residents are losing large chunks of their backyards to the lake.
"It's beat up really bad," he said about the shoreline. "Many people are losing ground, and they're asking for more sandbags."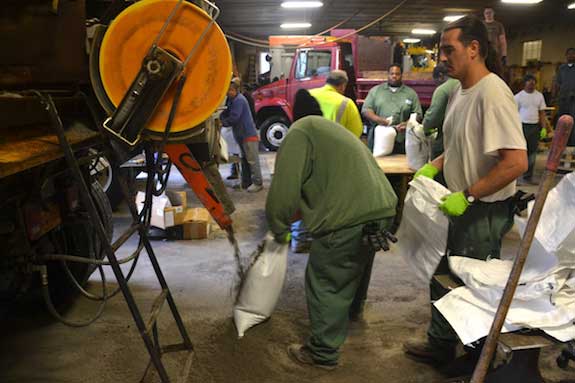 Kruger said the Highway Department has been able to get out so many sandbags with the help from the inmates from Wyoming Correctional, inmates from the Orleans County Jail, and many volunteers in the community.
Bob Wilson of Locust Grove Farms directed some of his farmworkers to help with the bagging operation on Friday. Wilson also loaded one of his farm trucks with sandbags and helped deliver them to residents being battered by the waves.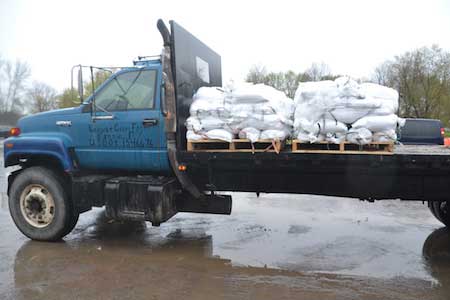 Pallets of sandbags are loaded on Locust Grove Farms for delivery. Wilson, Kludt Farms and other farmers also have donated large seed and fertilizer bags for bigger sandbags. Those bigger bags can hold about a ton of sand, compared to the smaller sandbags that hold 40 to 50 pounds.
The Kendall School District put out a message to the community on Friday evening, welcoming the community to help the Highway Department on Saturday (May 6) fill sandbags. Volunteers were urged to arrive at 9:30 in the morning at the highway garage on Crandall Road. They would be provided with lunch.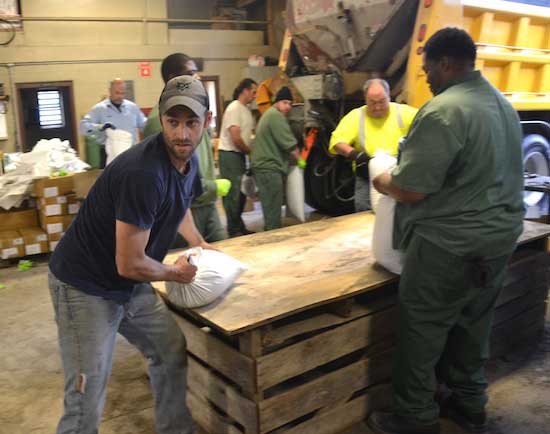 Jason Hardenbrook, a Highway Department employee, picks up a sandbag. Hardenbrook said every day has been busy with the sandbags, filling them and getting them delivered to residents.