Kendall grads told be bold and courageous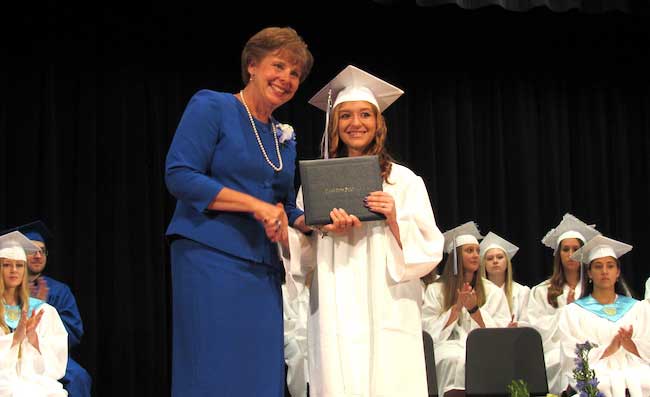 Photos by Kristina Gabalski
KENDALL – Carol D'Agostino, Kendall's Jr./Sr. High School principal, presents a diploma to Alanna Gordon on Friday during commencement at the school auditorium. Gordon was one of 54 graduates. She has passed the NYS Boards as a CNA and hopes to work in a nursing home.
District Superintendent Julie Christensen addressed the crowd. She 77 percent of the Class of 2017 graduated with at least Regents diploma and 72 percent are entering college. Five percent of the class are entering the Armed Forces.
Christensen told graduates that graduation is a process that continues every day of their lives.  "Your fireworks begin today," she said, "reach for the stars … work hard, exhibit a passion for your chosen path … be bold, be courageous, be your best."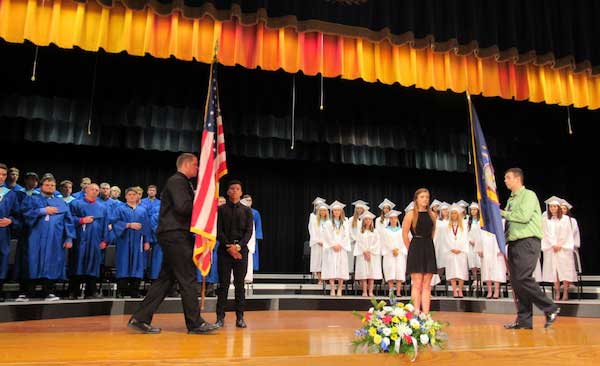 Members of the Color Guard, Matthew Murray and Allen Tonas, present the flags. Miguel Aguirre and Lyndsay Wright served as Marshals.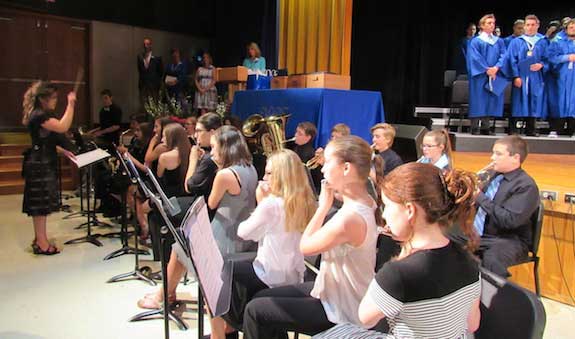 Members of the Band Ensemble, directed by Ashlea Strouse, perform "America the Beautiful."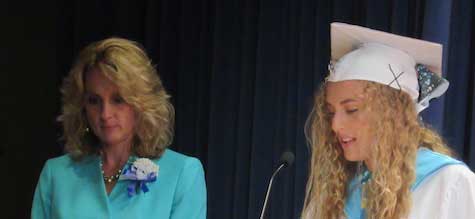 Graduate Alexis Payton gives the invocation. District Superintendent Julie Christensen is at left.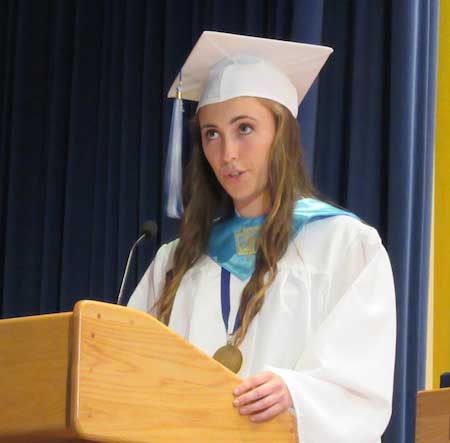 Salutatorian Chelsea Wright told graduates as they complete this chapter of their lives, there is no way to escape change.
"When faced with challenges we do not crumble, we must learn to adjust as we go," she said.  "You will be the ones who change the world."
Wright will attend St. Bonaventure University in the fall and major in accounting.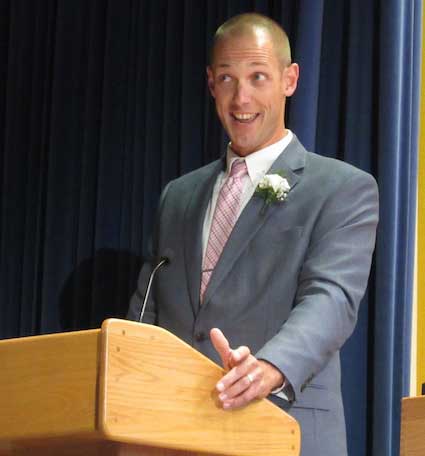 The 2017 Commencement Address was given by Kendall Class of 2000 graduate Michael Turbeville.  Turbeville returned to Kendall as a high school teacher in 2006, but decided to change careers and graduated from the Police Academy in 2015.  He now works for the Rochester Police Department in the Lake Section.
Turbeville advised graduates on "How to Succeed According to Turbs."
He challenged them to take a step back and slow down. "You don't have to have life figured out," he said.
Turbeville also told graduates to be kind.  "No one has ever said, 'this has been a great day,' from the back seat of a police car," he said, and noted he deals with the challenges of police work through kindness.
"I think of how I want to be treated," Turbeville said.  "You can respond with anger and fear or love and kindness. Different and bad are not synonyms. We can disagree and still be kind."
Lastly, he advised students to be humble as they make their way into the next phase of their lives.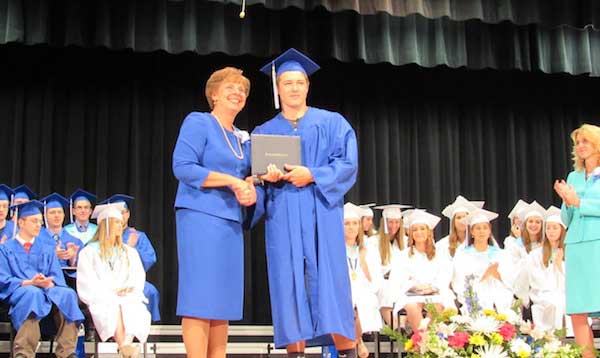 Cooper James Rowley receives his diploma. He will attend Monroe Community College in the fall, majoring in agriculture and food studies.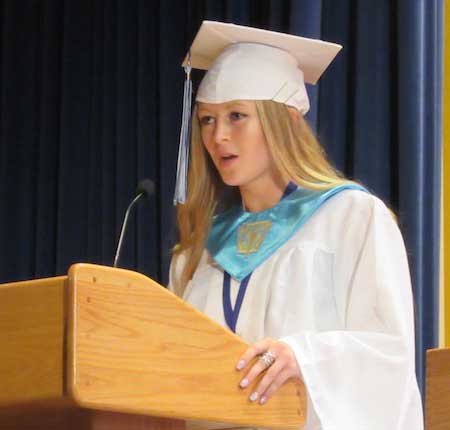 Elizabeth Rath gives the valedictory address. She challenged her fellow graduates to, "jump out of your comfort zone … take this passion, this excitement and drive it into the world."
Rath said the compassion and support graduates have received all their lives from family and friends in the Kendall community have given them a strong base as they move forward. She will study biomedical engineering at the University of Rochester this fall.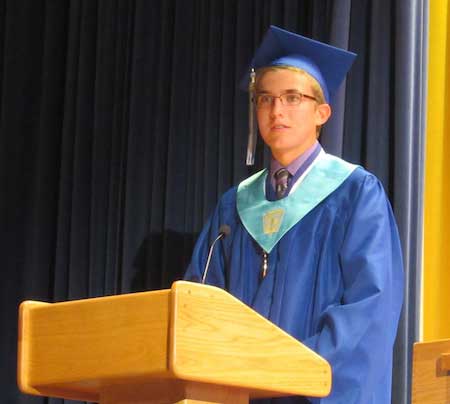 James Longrod gives the benediction.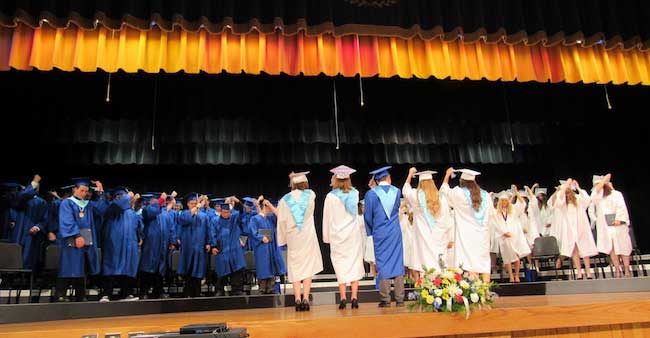 With class officers facing fellow graduates, tassels are moved from right to left, to signify commencement is completed and they have graduated high school.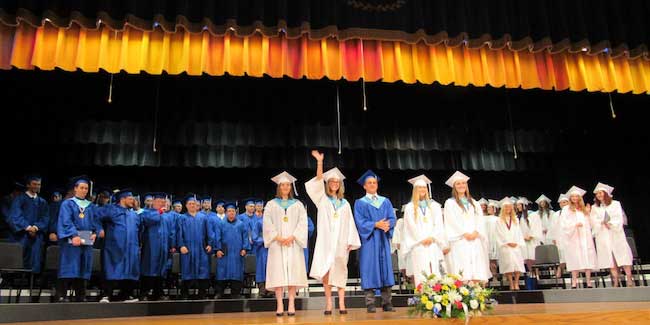 The Kendall Class of 2017 acknowledges the crowd before leaving the stage.