Kendall gives girls soccer team a big sendoff for state tournament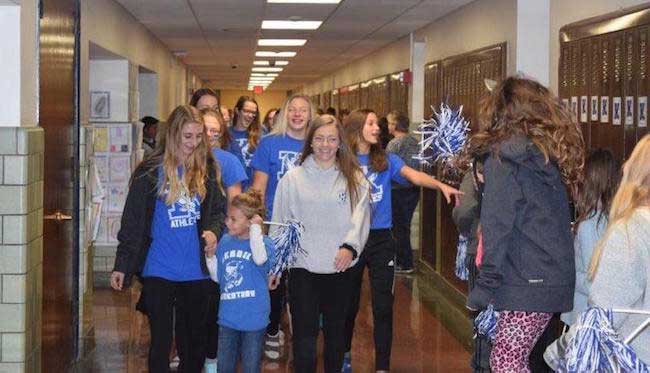 Photos courtesy of Carol D'Agostino
KENDALL – The Kendall varsity girls soccer team is headed to the state soccer tournament. The team was celebrated this morning with a pep rally at the high school. The players then walked the halls of the elementary school where students cheered for them and handed them good luck posters.
The top photo shows Lizzie Sutphen, right, and Hailee Mitchell headed down the halls with very enthusiastic elementary students clapping and cheering.
"We're so proud of our girls," said Carol D'Agostino, the high school principal. "The team has represented the school in such a positive light. They are true ambassadors for our school."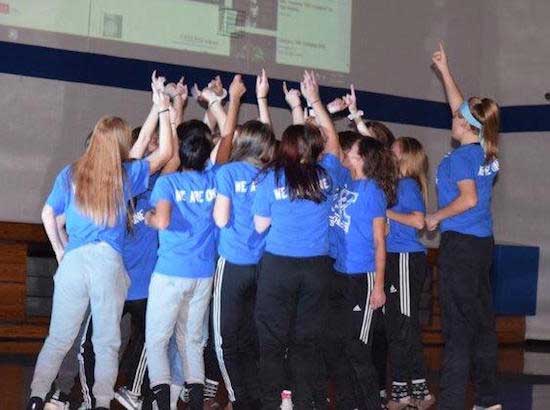 The soccer team gets together during the pep rally.
Kendall won the Class D Far West Regional soccer championship Saturday with a thrilling 1-0 victory over North Collins at Webster Thomas High School. Hailee Mitchell's team leading 27th goal of the season with just 3:48 remaining earned Kendall the victory sent the Lady Eagles to the state semifinals for the first time since 2003.
Kendall will face Central Regional champion Cincinnatus High from Section III in the semis at 12:30 p.m. Saturday at Homer High School near Cortland. Kendall is 16-5 and Cincinnatus 19-0-1. Cincinnatus edged Downsville (Section IV) 1-0 in the Central Regional. The other state semi will match Fort Ann (Section II) vs. Parishville-Hopinton (Section X). The state championship game will be held at 10:30 a.m. on Sunday at Thompkins Cortland Community College.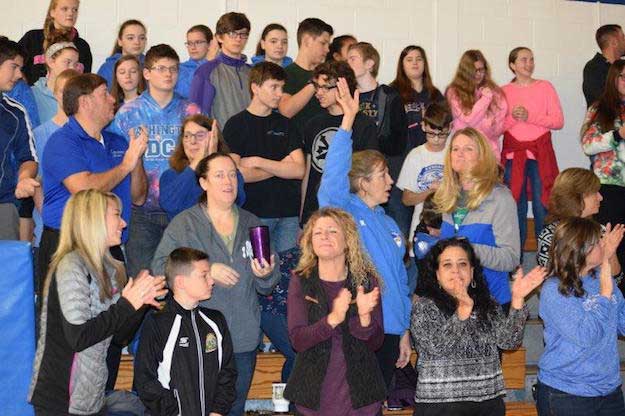 Students and staff cheer for the team during the pep rally.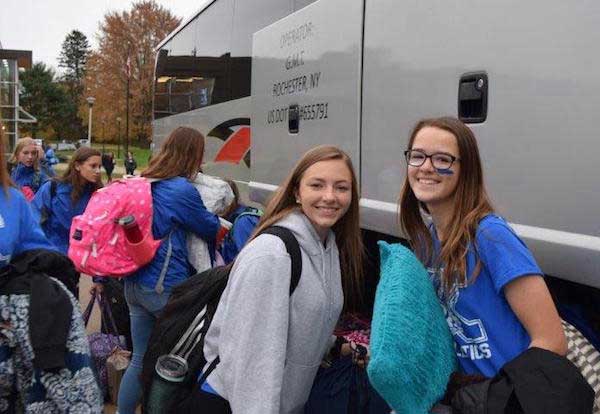 Lizzie Sutphen, left, and Kiersten Rodas, right, join their team in boarding the bus.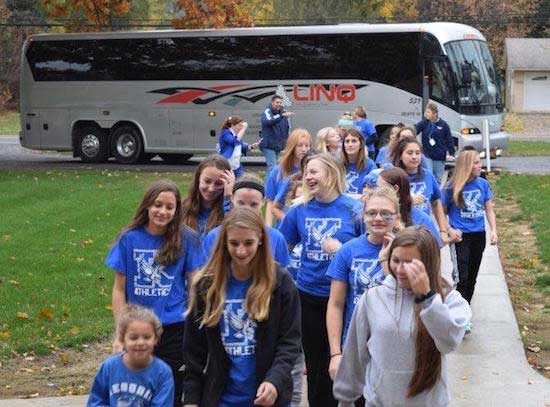 The Kendall team includes seven freshmen, five sophomores, four juniors and only three seniors. This is Kendall's first trip to the state semis since 2003, when coach Pam Barchett was a player.
---
You're here checking the site, so you know: Orleans Hub is a vital resource for our community. Day in and day out, we share information and insights that matter to those who live and work in the towns, villages and hamlets of our county. Local advertisers help make the Hub possible, and so can you.

Donate today to keep Orleans Hub healthy and accessible to all. Thank you!
---