Kendall FD uses grant for 8 new defibrillators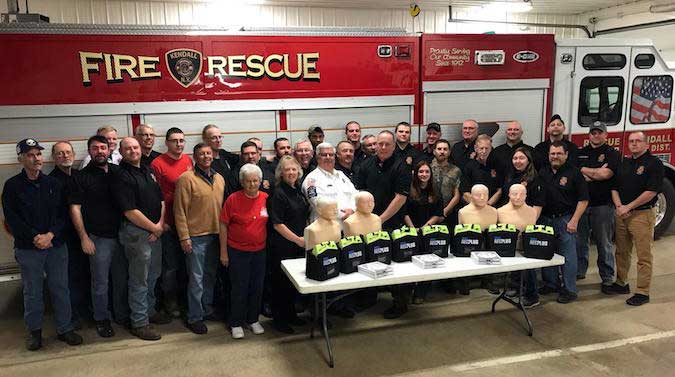 Photo and information courtesy of Kendall Fire Department
KENDALL – The Kendall Fire Department, and by extension the Kendall community, was honored recently when the Greater Rochester Health Foundation (GRHF) awarded the department a  grant for $8,795.
The grant program was established by GRHF to make funds available for non-profit and volunteer organizations dedicated to promoting health, well-being and rescue services to their communities.
Kendall will use the grant towards the procurement of new equipment critical to the resuscitation of victims of cardiac arrest and for the CPR training of department and community members alike.
Eight new cardiac defibrillators and supportive equipment were obtained as well as new American Heart Association mandated technology required for our four CPR training mannequins.
Collectively, this new equipment will better position the dedicated members of your community fire and EMS agency to continue their goal of being there for you, when it counts, day or night.
CPR classes are available as a public service, free of charge, to anyone within the community that wishes to obtain this most important life-saving skill. We encourage you to contact the department at 659-8082 to obtain information regarding future classes.
In closing, it has been and will continue to be a privilege serving the community of Kendall. We are very pleased to be able to share this recognition with all of you. We want also to thank the Greater Rochester Health Foundation for its critical role funding our health care initiative.  Lastly we acknowledge and appreciate the continued support that you, the Kendall community have shown us.