Kendall natives sold 1.5 million mouse traps with invention patented in 1877
By Catherine Cooper, Orleans County Historian
Illuminating Orleans, Vol. 2, No. 35
KENDALL – At this time of year, it is not uncommon for mice to invite themselves into our homes in anticipation of winter.
Many inventive minds have attempted to design effective mousetraps. In 1894, Illinois native William C. Hooker patented a spring-loaded trap. Shortly thereafter, in 1898, British inventor, James Henry Atkinson invented the "Little Nipper", which featured a wooden base, a spring trap and wire fastenings, this is still the standard version in use.
The Delusion Mousetrap, photographed in this article, has some interesting links to Orleans County as Kendall natives Claudius and David L. Jones were instrumental in its production and promotion.
They were the sons of David Jones, who was the second person to settle in Kendall. The Jones family chose to leave their home in Pembrokeshire, Wales in 1801, "having keenly felt the humiliation of their race, when Wales, through treachery and oppression was permanently united with the British Crown." (Landmarks of Orleans County/Signor).
Jones recounted that he was poor when he settled in Kendall in 1815. He bought 400 acres of land on credit and worked for 15 years to pay off the debt. His oldest son, Claudius, was born in Kendall, on June 30, 1826. He farmed for some years, "but owing to a feeble constitution, he was compelled to leave the farm."
He moved to Chicago in 1859 and "engaged in business." He moved to Monmouth, Illinois in 1870 and assisted in the organization of the First National Bank. He then moved to the agricultural county of Seward in southeastern Nebraska in 1873, and established the State Bank of Nebraska, which he sold in 1879.
During this time, Claudius made the acquaintance of John Morris who in 1877 had received a patent (No. 195,632) for his improved version of a unique mousetrap. As the name implies, the idea was to delude the mouse into entering the trap.
Once inside, the mouse could not exit, and the entry platform would reset for additional rodent guests. Recognizing the trap's lucrative potential, the astute Jones bought the patent. His younger brother, David L. assisted with the business venture.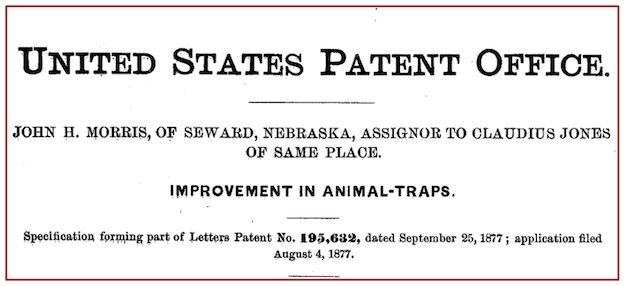 The Delusion was the first American animal trap registered as a trademark (No. 5116).
It was manufactured by the Lovell Manufacturing Company, in Erie, Pa. and claimed to have sold over 1,500,000 units. A creative employee composed a sixteen-verse poem in which the mice discuss the various traps:
"But David L. and Claudius Jones
Have got a trap that breaks no bones;
The mouse goes in to get the bait
And shuts the door by his own weight.
---
"And then he jumps right through a hole
And thinks he's out; but bless his soul
He's in a cage, somehow or other
And sets the trap to catch another.
---
"Then all the mice in the convention
Began to talk of this invention
And David L. and Claudius Jones
And the wonderful trap that breaks no bones"
---
Following the mousetrap venture, David L. returned to Kendall. He expanded the family farm to 710 acres and served as Town Supervisor in 1889 and 1890. He died in 1898. The Jones family is buried at Mt. Albion Cemetery.
Claudius remained in Seward, Nebraska. In 1883, he established the Jones National Bank which is still in operation. He was president of the bank until 1895. At the time of his death in 1896, he was one of the wealthiest men in the area. In addition to being an astute financier, he had also purchased farms in Seward and neighboring counties. He was buried at Greenwood Cemetery, Nebraska.
A Delusion Mouse Trap is on view at the Medina Historical Society Museum.
(Incidentally, "musophobia" is the term for a fear of rats and mice, from the Greek "mus" for mouse.)