Kendall Elementary students perform 'Aladdin Kids'
Press Release, Kendall Central School
KENDALL – The week of Nov. 14 was full of music and dancing in the Kendall Elementary Auditorium as the Kendall Elementary Chorus put on their production of "Aladdin Kids" for their peers and families.
Three performances occurred that week, with students filling the roles of actors, dancers, chorus, stage hands, sound engineers and lighting crew.
The musical was based on the 1992 Disney film "Aladdin" and adapted for a student production on stage.
The Kendall production was directed by Kendall Elementary Music Teacher Jeremy Rath, and many Kendall faculty and staff members and parents helped create the sets, props and costumes.
The students were successful in entertaining their audiences all week. Congratulations to everyone involved on a job well done!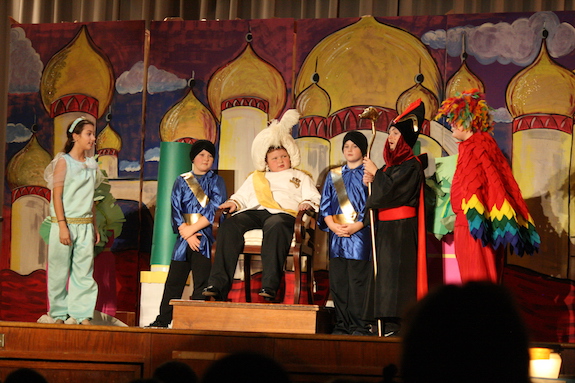 From left, Megan Gates (Jasmine), Seth Pray (Royal Guard), Johnathan Plucknette (Sultan), Jimmie Swift (Royal Guard), Louie Conte (Jafar) and Casey Gardner (Iago) act out a scene from "Aladdin Kids."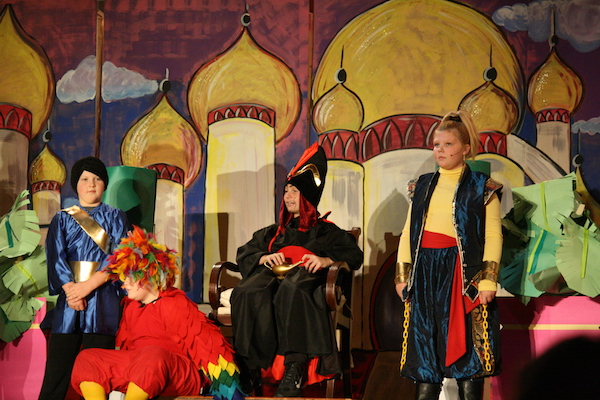 From left, Jimmie Swift (Royal Guard), Casey Gardner (Iago), Louie Conte (Jafar) and Leigha Zugehoer (Genie) act out a scene from "Aladdin Kids."