Kendall community joins in birthday greeting caravan
Students, teachers also welcomed chance to connect – at 6 feet apart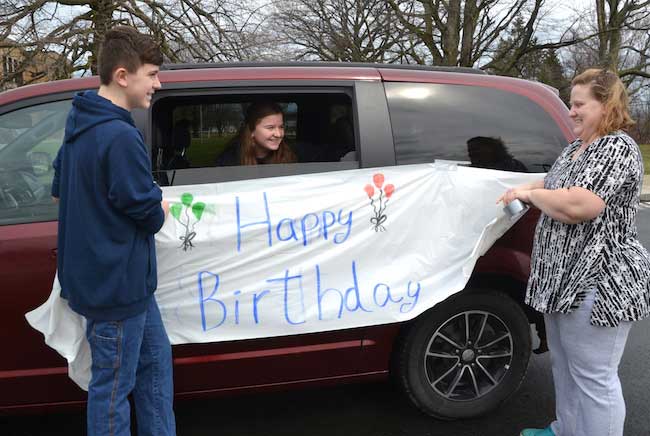 Photos by Tom Rivers
KENDALL – Lucas Jones, his sister Mary and their mother Karen decorate their vehicle with a Happy Birthday sign.
They were part of a caravan of vehicles that drove through Kendall today sharing birthday greetings with children who have been homebound much of the past two weeks and haven't been able to have a typical birthday party. There haven't been any birthday recognitions at the school, with it being closed, and kids also are encouraged not to have friends over.
The Kendall school district, like the others and Orleans County, announced on March 14 they would be closed until further notice due to health concerns with the spreading coronavirus. Gov. Andrew Cuomo announced on Friday that public schools in the state would be closed until at least April 15.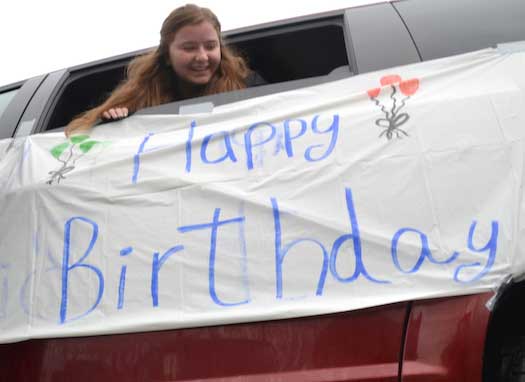 Mary Jones, 15, a freshman at Kendall said she misses her friends and being in class in person. She has been doing her schoolwork at home, and connecting with some of her teachers and classmates online through Zoom.
"Being at home without your friends it lonely and boring," she said.
Jones was preparing to be in the school's musical production of Annie. She hopes the show can go on, somehow.
Her brother Lucas, 13, is an eighth-grader. He was going to help with the musical in stage crew. He also was on the tennis team, which hasn't been able to practice the past two weeks. The season is very much uncertain right now.
Lucas and his sister said they are trying to keep up with their friends through social media but it's not the same as seeing them in person.
Their mother Karen Jones has been a Kendall bus driver the past seven years. She is still driving bus for the school during the closure, delivering meals and even schoolwork to students.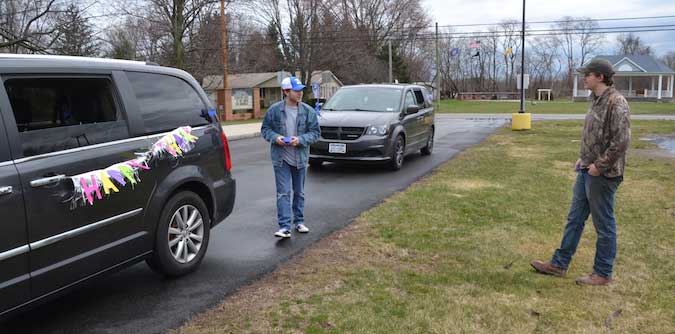 Kolby Primmer, left, and Eric Warren are both seniors at Kendall. They hadn't seen each other in a couple weeks. They maintained social distancing at the Kendall Elementary School parking, where the vehicles gathered for the birthday caravan.
Kolby said the uncertainty with when school could reopen is hard for seniors.
"We don't know what will happen with the senior trip or graduation," he said.
The senior class is planning a trip to Philadelphia in late May. Commencement is scheduled for June 26.
Eric Warren, the other senior, said he welcomed the chance to see some classmates today.
"All of my friends go to school and that's the only time I can see them," he said.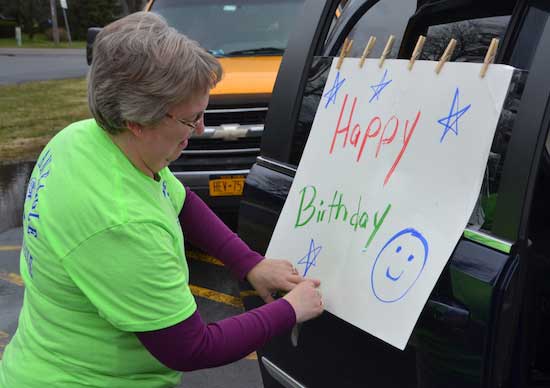 Patty Longrod, a substitute aide at Kendall, decorates her vehicle with a birthday greeting. Her husband, Dana Longrod, is a fifth grade teacher at Kendall. He joined his wife in the caravan today, eager for a chance to see students and other community members.
Mr. Longrod, a teacher for 34 years, a couple weeks ago prepared a packet of schoolwork to last a month for his students who are at home. Longrod said he's never experienced any kind of prolonged shutdown like this during his career, with a return date unknown.
"It's sort of a work in progress," Longrod said. "None of us have ever dealt with this situation. We're seeing what works and what needs to be improved."
Longrod said the spring is usually a highlight of the year with field trips and many engaging activities for the kids.
"I can't wait to get back to class," he said. "It's a fun job."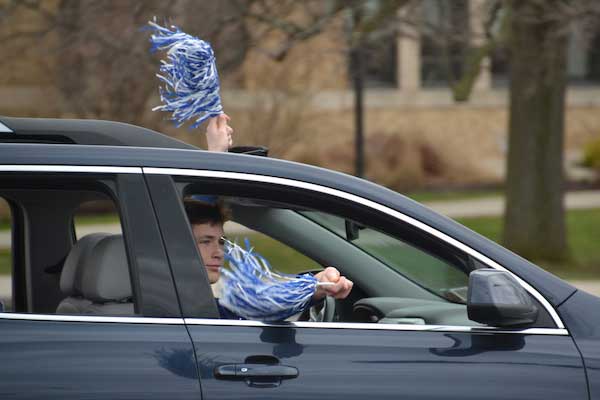 These people brought some school pride for the trek around town.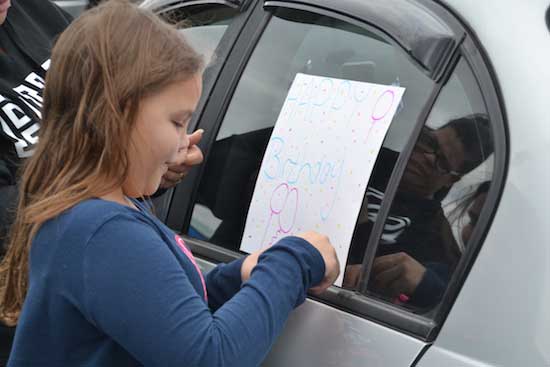 Kadence Schoonmaker, a Kendall third-grader, helps decorate her family's vehicle for the trip around town today.
"It's a great opportunity for the kids to see each other," said her mother, Lindsay Schoonmaker. "She has been inside the past two weeks and has been losing her mind."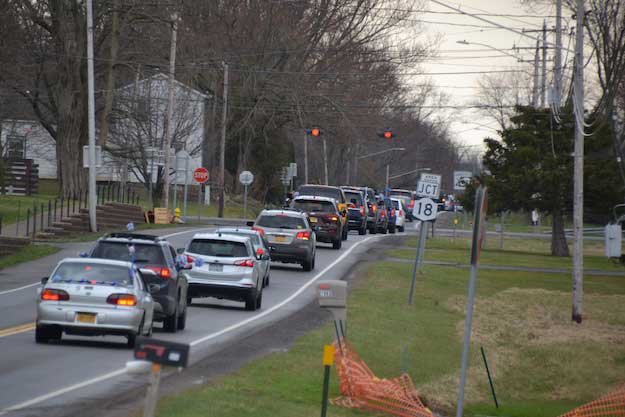 The vehicles head north on Route 237. They traveled along several roads in town.
To see a video of the cars heading out of Kendall Elementary School, click here.