Kendall Carnival returns – 'Kiddie Parade' promotes patriotism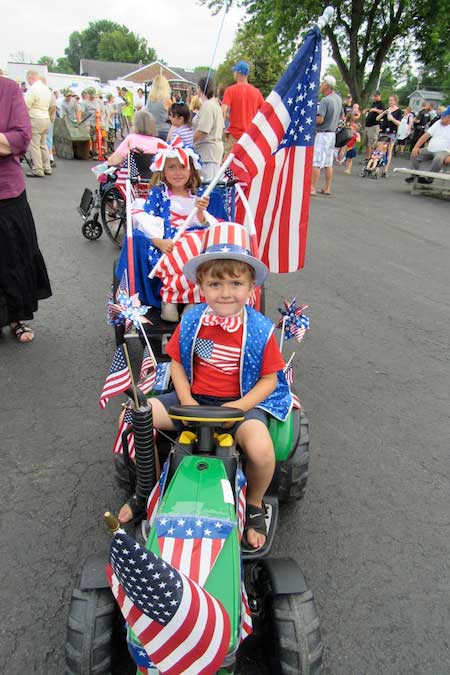 Photos by Kristina Gabalski
KENDALL – Kendall residents Adriana Schiavone, 7, dressed as Betsy Ross and Landon Schiavone, 5, as Uncle Sam in winning first place in the Patriotic Division during the Kiddie Parade at the Kendall Carnival.
The annual Kendall Fire Department Carnival opened on Thursday with the "Kiddie Parade" making its way south on Kendall Road (Rt. 237) to the carnival grounds by town hall and the fire hall.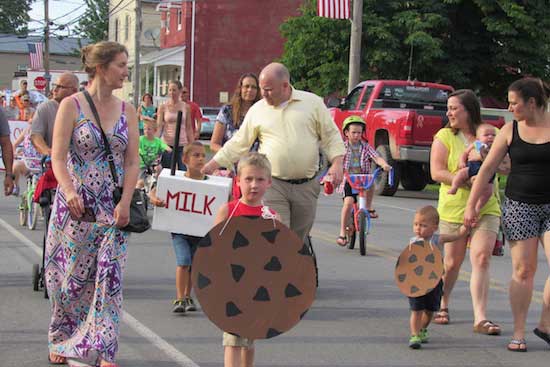 Kiddie Parade participants had several "divisions" from which to choose for costume inspiration: decorated bike rider; superhero; music group; patriotic; character and miscellaneous. The "Milk and Cookies" competed in the character division.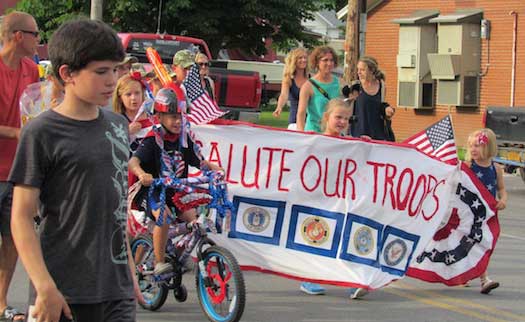 A group in the patriotic division chose to salute those in the U.S. Armed Forces.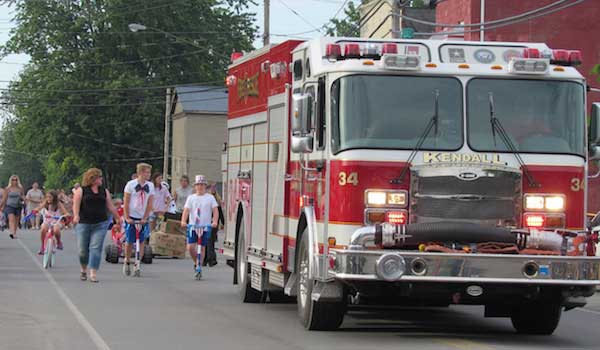 A Kendall fire truck joined the procession in the parade.
The three-day carnival continues until Saturday night.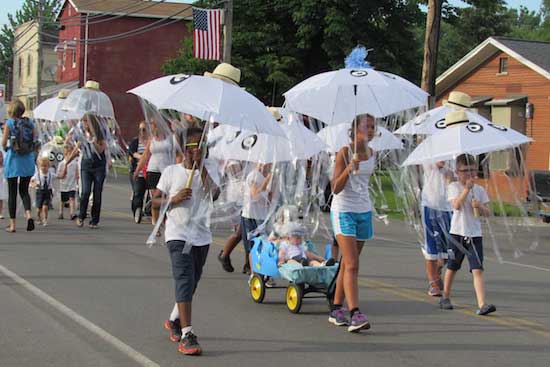 The "Jellyfish" comprised of "Kendall Alumni Kids" took Best of Show for the Kiddie Parade. he little ones in the wagon are sporting jellyfish "caps" made from plastic bowl covers.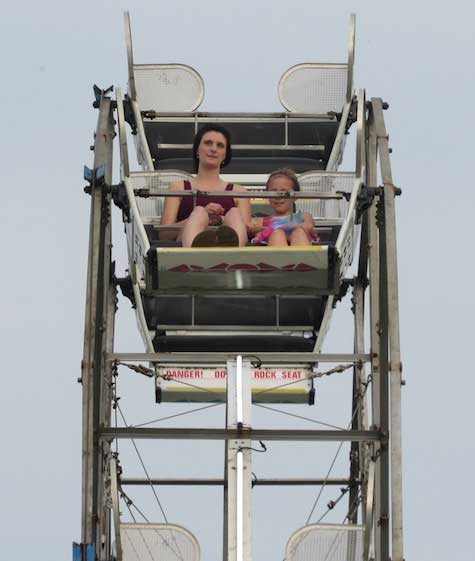 A pair of carnival-goers rides the Ferris Wheel.
The Kendall Carnival runs through Saturday with the Firemen's Parade set for Friday at 7 p.m. Saturday features human foosball at 11 a.m.; a cruise-in car show from 4 to 7 p.m., the Kendall Community Band at 5 p.m., 7th Heaven at 9 p.m., a chicken BBQ at 5 p.m. and fireworks.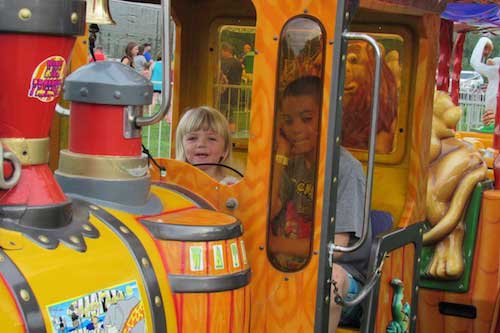 3-year-old Kylie, visiting from Texas, and 8-year-old Quin, of Kendall, enjoy the train kiddie ride at the midway.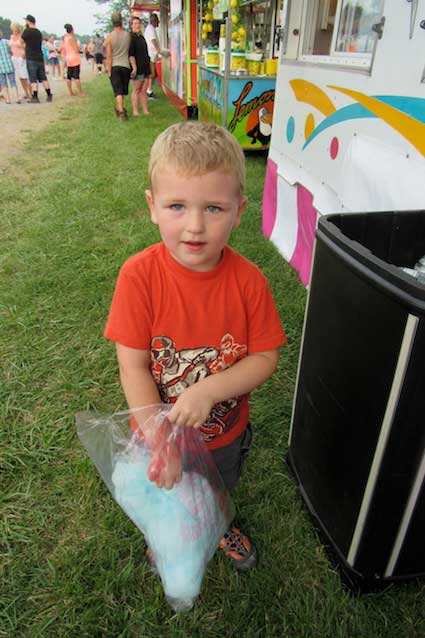 3-year-old Evan, of Kendall, digs into a bag of blue cotton candy. His mom, Jen, got a rainbow snow cone.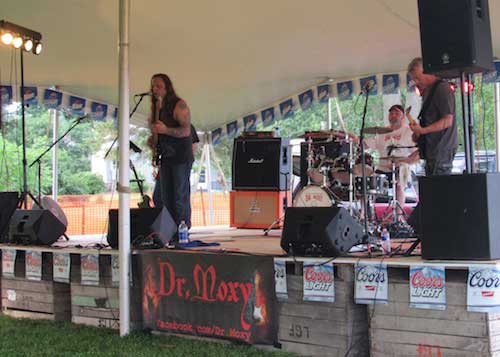 Dr. Moxy provided musical entertainment Thursday evening in the beer tent.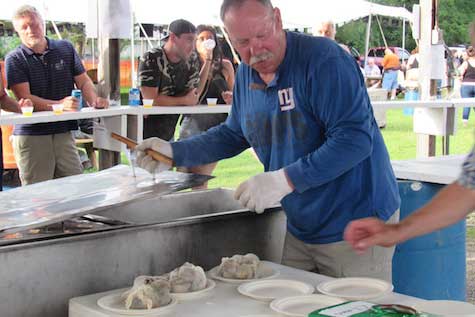 Dave Cole serves up clams – one of the most popular offerings Thursday evening in the Kendall Fire Department food pavilion.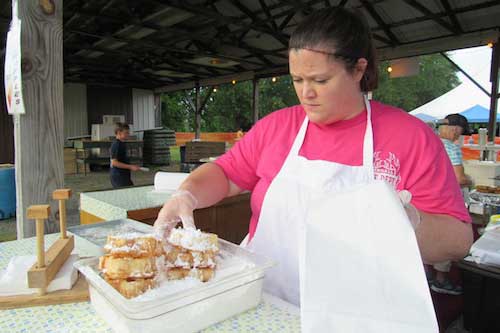 Colleen Clary dusts an order of waffles with powdered sugar.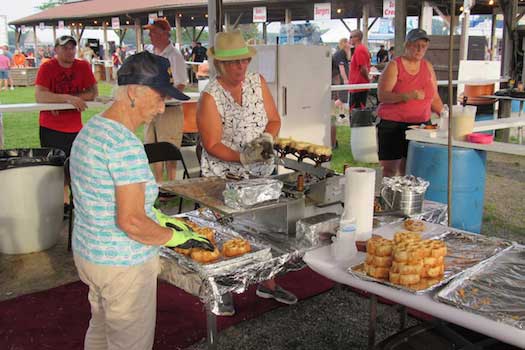 Linda Kludt, back center, turns out fresh waffles assisted by Diane Furness.