Kendall Carnival, earlier than usual this year, gets a big welcome back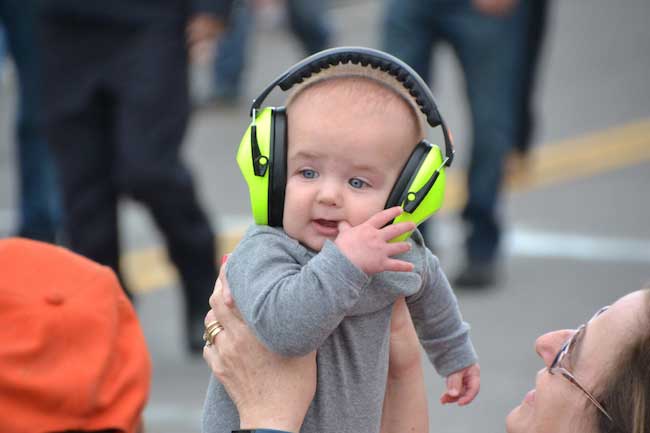 Photos by Tom Rivers
KENDALL – Joey Cooper, 5 months, has his ears covered during the Kendall Fireman's Parade on Thursday. He is held by his grandmother, Debbie Rockow. Joey's parents are Ben and Amanda Cooper.
The family enjoyed an hour-long parade to kick off the Kendall Fireman's Carnival. Normally the carnival is in July, but the date was moved up due to the schedule for the company that provides the rides/midway.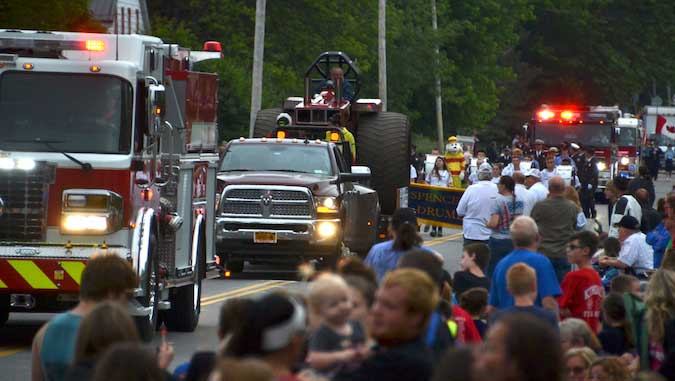 Despite the change in the schedule, a big crowd of community members watched the procession of floats, marching bands and fire trucks. Lloyd Christ of Murray brought his big tractor to promote the Murray Tractor Pull on June 29-30 on Groth Road.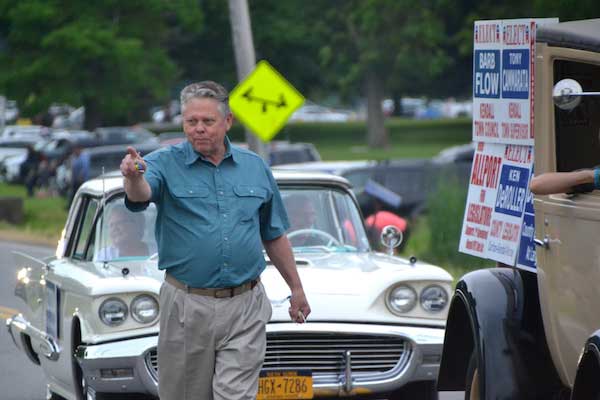 Ken DeRoller, an Orleans County legislator from Kendall, acknowledges friends in the crowd on Kendall Road. Many local elected officials and candidates were part of the parade, many making a pitch for votes at the June 25 primaries.
Kendall Town Councilwoman Margaret Lynn Szozda is in the 1959 Thunderbird with former Town Supervisor Jack Gilman.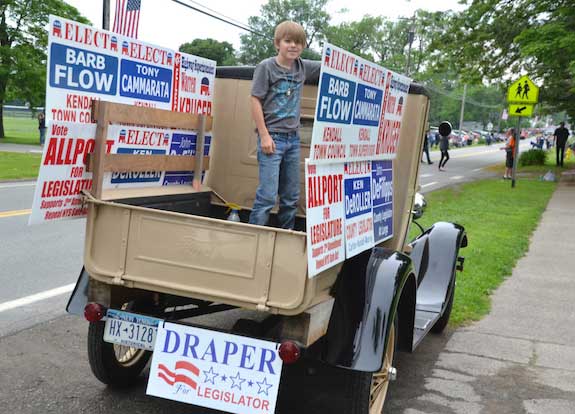 Aiden Barnard, 9, joined his grandfather Warren Kruger in the parade. Kruger is the Kendall highway superintendent who displayed many campaign signs on his 1929 Ford pickup.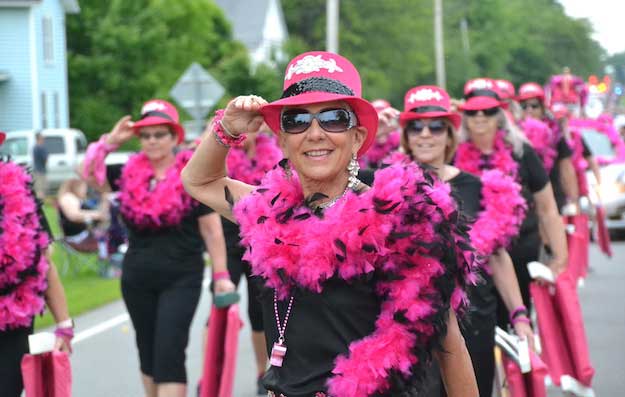 Kim Corcoran and the Kendall Lawn Chair Ladies performed to "New York, New York" by Frank Sinatra. They have been a crowd favorite for several years.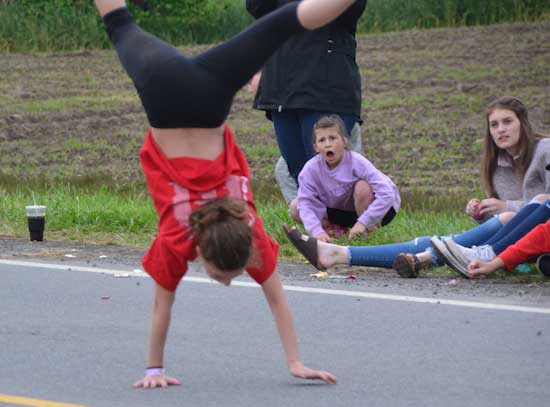 A member of Head Over Heels Acrobatics & Dance in Holley impresses the crowd with a handstand during the parade.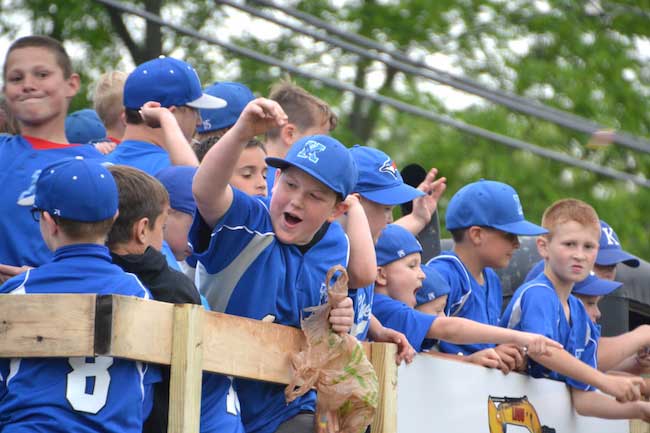 Kendall youth baseball players tossed candy to the crowd. The players were given a ride in the parade by Lake Ontario Shore Development.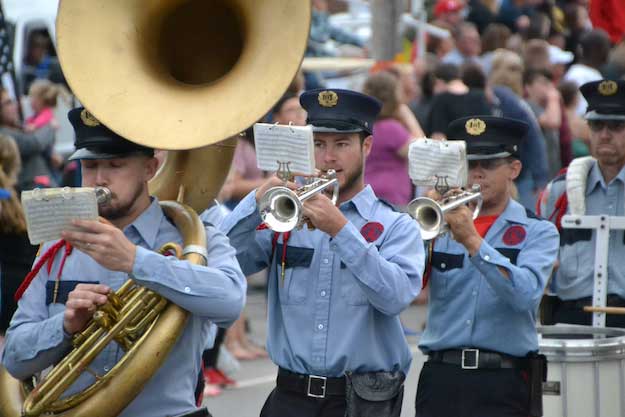 The Alexander Fireman's Band plays for the crowd.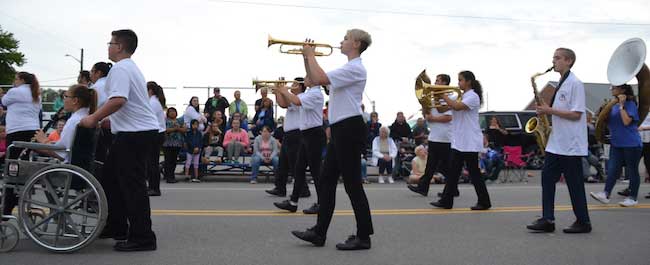 Callie Updike, center, performs with other members of the Holley-Kendall marching band.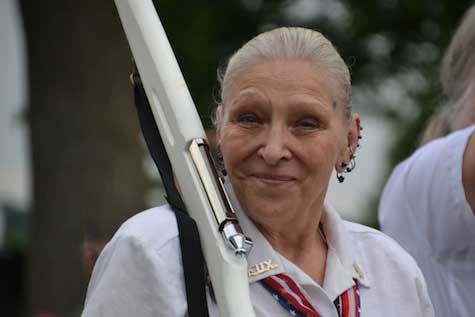 Karen Jensen, a member of the VFW auxiliary in Hamlin, had fun in the parade.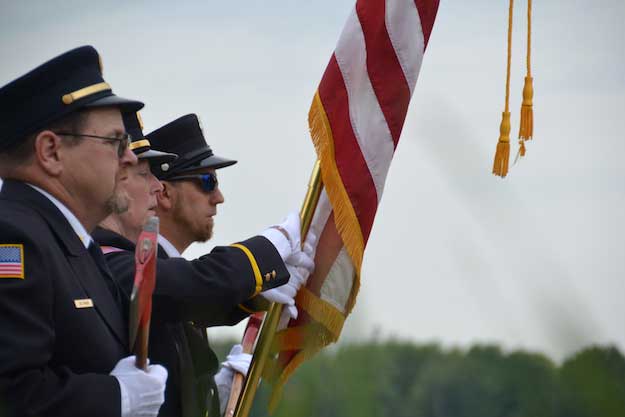 The honor guard for the Kendall Fire Department leads the group in the parade.
To see a schedule of events at the carnival, click here.