Kathy Hochul called 'definitely a friend of Orleans County'
Governor-to-be makes frequent local stops
The next governor for New York State is very familiar with Orleans County, and knows many of the local elected officials.
Kathy Hochul will become the state's 57th governor on Aug. 24 and the first woman to serve as the top's highest elected official. She will become governor when Andrew Cuomo resigns in 14 days.
Hochul has been a frequent presence in Orleans County, often on official duties for ground-breaking and ribbon-cutting ceremonies or to highlight a state initiative.
She also stops by incognito, wearing with a baseball cap, on a getaway with her husband Bill. They have rented a canal boat and stayed in Medina, visiting local restaurants and small businesses.
"She is definitely a friend of Medina and a friend of Orleans County," said Medina Mayor Mike Sidari. "She will be an advocate for Western New York."
Hochul was in the Town of Carlton on July 26 for the ground-breaking of a $2 million shoreline protection project along Lakeshore Road. The state is paying 95 percent of the cost of building 1,500 feet of breakwall.
It is one of many projects along the south shore funded with $300 million through the state's Lake Ontario Resiliency and Economic Development Initiative (REDI).
"As New York's lieutenant governor, Kathy Hochul has always been in tune with the needs and challenges facing both rural and urban communities," said Lynne Johnson, Chairperson of the Orleans County Legislature. "Her office is responsive and supports municipalities, large and small, across the region. Lt. Gov Hochul has become valued friend and colleague who has worked tirelessly for Orleans County, supporting REDI projects and other infrastructure, economic development, and tourism initiatives to improve the business environment and residential quality of life in rural communities. I am thrilled she will now be leading this state."
Hochul on June 15 was in Medina to promote a free kayaking program in the Erie Canal. Hochul even paddled in a kayak in the Canal Basin. Medina is one of five canal communities offering free "On the Canals" outdoor excursions this summer as part of the state's Reimagine the Canals initiative.
Sidari said Hochul is widely respected by elected officials at the local levels throughout the state. They respect that she rose through the ranks, first as a member of the Hamburg Town Board, then as Erie County Clerk, and then as a Democrat in Congress representing a heavily Republican district that included Orleans County. She defeated Jane Corwin to be elected on Congress in a special election in May 2011, but then lost to Chris Collins in a redrawn district that was even more Republican-leaning.
She returned to public office after being elected as lieutenant governor in 2014 and was re-elected in 2018.
While Hochul was often in Orleans County, Cuomo seldom stopped in the county. Cuomo, during nearly 11 years as governor, only made one official stop in Orleans County. That was on Aug. 2, 20212, when there was a blow-out on the Erie Canal in Albion and a sinkhole emerged on Albion-Eagle Harbor Road between Gaines Basin Road and West State Street. Cuomo was in Batavia that day and Assemblyman Steve Hawley convinced him to come to Albion and see the damage first hand.
Here are some other photos of Kathy Hochul in Orleans County: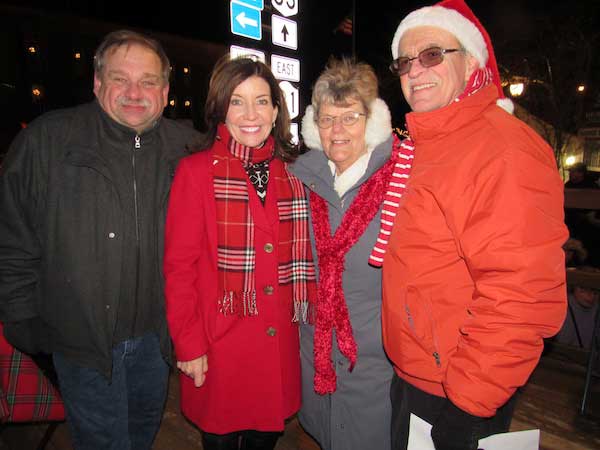 Photo by Ginny Kropf: Medina Mayor Mike Sidari, Lt. Gov. Kathy Hochul, Parade of Lights grand marshal Jackie DeHollander and parade chairman Jim Hancock pose for a quick picture before Lt. Gov. Kathy Hochul gave the command to light the giant Christmas tree in Rotary Park on Nov. 30, 2019.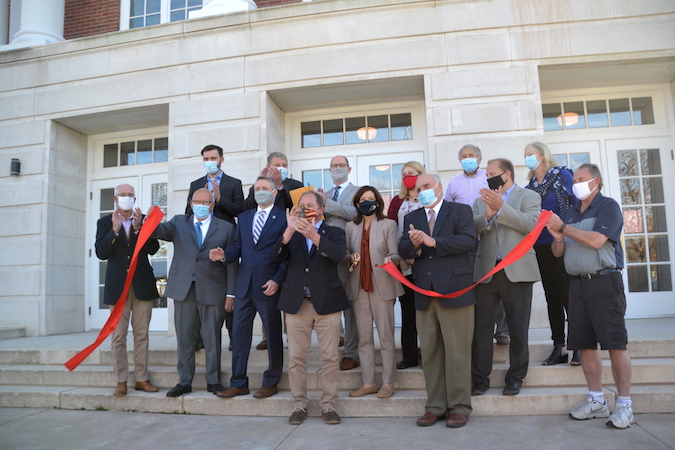 Photos by Tom Rivers: During a celebration of the transformation of former Holley High School, Hochul was among a contingent to mark the conclusion of a $17 million project on Nov. 10, 2020. The building was last used as a school in 1975. After two years of construction, Home Leasing has the building fully occupied with 41 apartments and the Holley village offices. Hochul, front center, cut the ribbon for the project.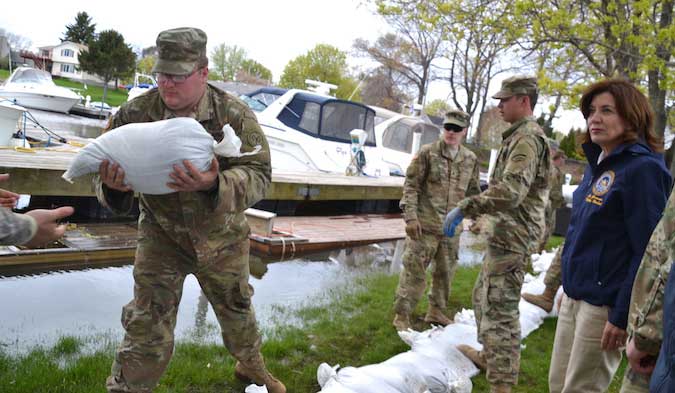 Kathy Hochul was in Kendall on May 12, 2017 to thank National Guard members stacking sandbags in Kendall. The Lt. Governor said then the eroding shoreline, which was threatening homes along Lake Ontario, was "cataclysmic."
One couple from Hamlin told her the lake has been devouring their land, forcing them to cut off their deck after two of their trees toppled into the lake. Hochul said so many other residents are vulnerable from the high waters.
"Our hearts are breaking for them," she said. "This is their life savings. We cannot solve this problem overnight."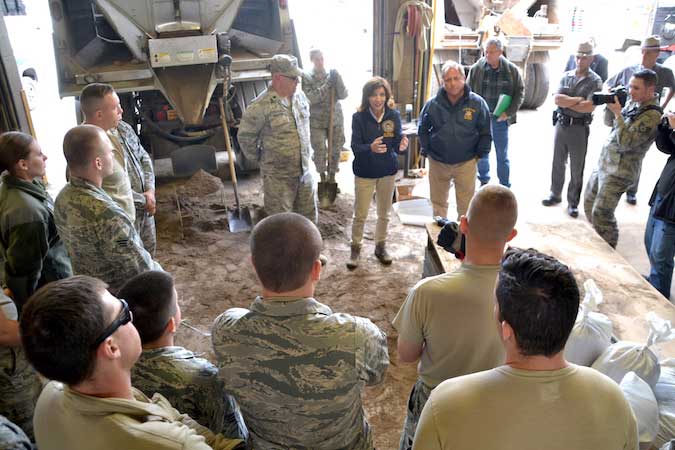 Lt. Gov. Kathy Hochul and State Assemblyman Steve Hawley on May 12, 2017 meet with members of the National Guard filling sandbags at the Kendall Highway Department garage. These Guardsmen are from the 107th Air Force in Niagara Falls. The Guardsmen were filling sandbags in the Kendall Highway Department, while another group stacked them near the shoreline to help fight flooding.
Hochul thanked them for their service to the lakeshore residents. The flooding is devastating to homeowners and businesses along the lake.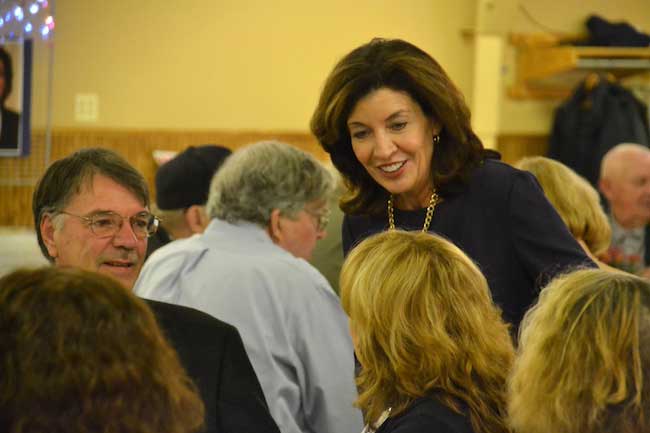 Lt. Gov. Kathy Hochul meets with Orleans County Democrats on Oct. 13, 2018 during their fall rally at the Elks Club. About 60 people attended the event. She is shown visiting Jim Renfrew and his wife, Robin Dunnington, who hosted one of the first candidate parties in their Clarendon home for Hochul in 2011. Those grass roots events helped her to get elected, despite a strong Republican advantage in the district.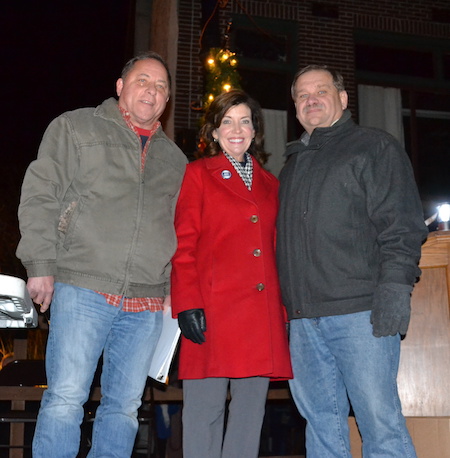 Kathy Hochul is pictured on the reviewing stand for the Parade of Lights in Medina on Nov. 26, 2016 with Assemblyman Steve Hawley, left, who served as announcer and Medina Mayor Mike Sidari.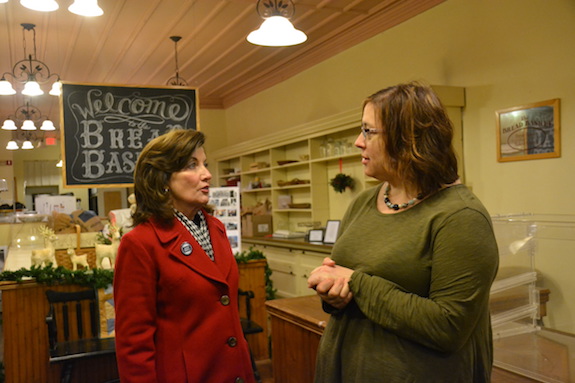 Lt. Gov. Hochul on Nov. 26, 2016 also stopped in Medina to promote small businesses. Hochul visited several business owners in Medina, including Bread Basket owner Lissa Stewart-James, during Small Business Saturday. "We want to showcase the small businesses that are the backbone of these communities," Hochul said in Medina.
She praised Medina for a "vibrant downtown" that creates jobs, a sense of community identity and revenue to maintain historic commercial buildings. The Medina downtown has a "tremendous variety" of retail shops, she said.
"This is out of It's A Wonderful Life," Hochul said about downtown Medina.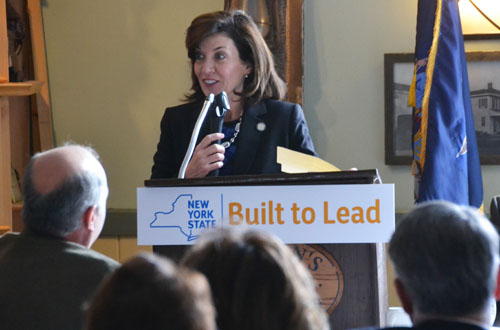 Lt. Governor Kathy Hochul stopped by the Legislative Luncheon for the Orleans County Chamber of Commerce on Jan. 22, 2016 at Tillman's Village Inn. She said New York State was making billions of dollars available for upstate infrastructure and economic development, bringing attention to a part of the state that had been largely neglected by state officials for many years.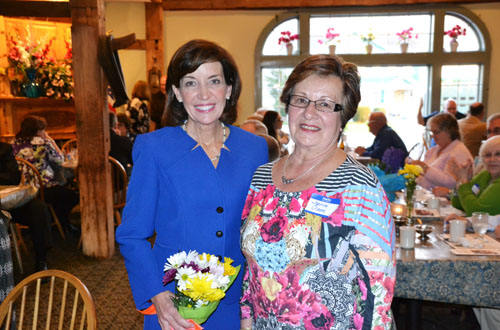 Lt. Gov. Kathy Hochul is pictured with Jeanne Crane on April 30, 2015 at dinner in Hochul's honor at Tillman's Village Inn. Crane was the county's Democratic Party chairwoman. This was Hochul's second time back in Orleans after being elected lieutenant governor. Hochul was a long-shot candidate in 2011 when she ran for Congress in a overwhelmingly Republican district. She pulled off the upset win and said Democrats in rural areas such as Orleans County were essential in that victory.
Hochul is a "personable person" with a work ethic, Crane said.
Hochul said she enjoys being away from the state capital and connecting with people outside of Albany. She said she enjoys meeting with people. When she was campaigning, it was often at diners and community events.
"I know what is in their hearts and minds because they told me," she said then.
Hochul said then she intends to be an advocate for Orleans and she won't be a stranger.
"I will always treasure our friendships," Hochul told the group of Democrats.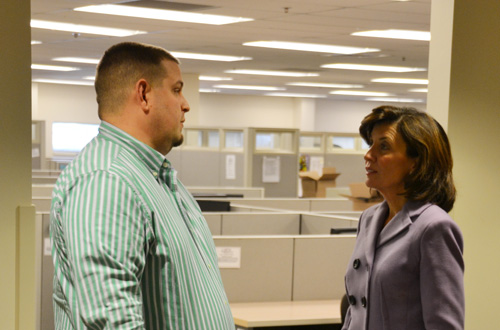 Hochul sees a home-grown success story at CRFS on Feb. 18, 2015, her first time back in Orleans after being elected lieutenant governor. She is shown speaking with Sean Snook, CRFS's chief operating officer. CRFS works to recover past-due interest, unpaid principal, unpaid taxes and unpaid insurance on houses.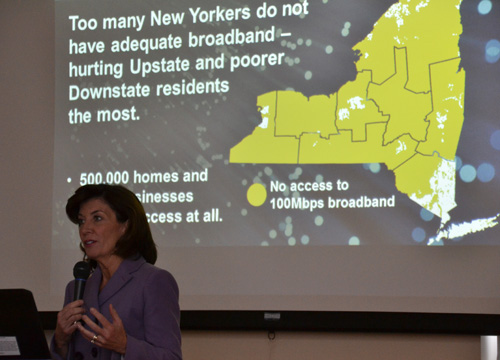 Lt. Gov. Kathy Hochul on Feb. 18, 2015 met with the County Legislature and other local officials to discuss the governor's "Opportunity Agenda," which included state resources to rural communities. She touted the $500 million plan to expand broadband Internet access throughout the state during a stop in Albion at Hoag Library. Hochul also shared details for boosting the economy, fighting poverty, enacting educational reforms, mitigating property tax increases and adopting new ethics reforms in Albany.