Karaoke singers star at Orleans County 4-H Fair
William Grimble of Albion wins top prize for 'We Are The Champions'
KNOWLESVILLE – Karaoke singers continued to be crowd pleasers at the Orleans County 4-H Fair.
The finals on Thursday included about 15 singers who qualified on Monday, Tuesday and Wednesday. Brad London has been the deejay for the event for about 20 years. The karaoke singers have now won $20,000 in prizes during those 20 years.
William Grimble of Albion won the event for the first time. He was third in 2019 and fourth in 2021.
Grimble, 26, recently earned his PhD in imaging science from the Rochester Institute of Technology. He sang "We Are The Champions" by Queen on Thursday. He said he felt like a champion after completing his doctorate degree.
"I just love singing and performing," he said.
He won $500 for first place.
Others in the top five included Tyler Thomas of Medina in second ($250); Brittany Dix of Albion in third ($125); Sonya Catalino of Bergen in fourth ($75); and Brilyn Rebisz of Bergen in fifth ($50).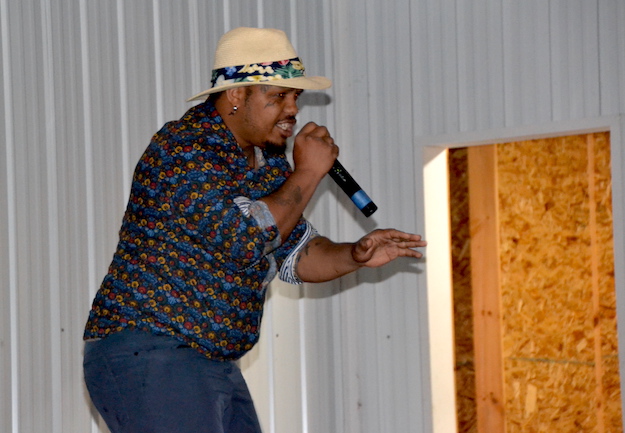 Tyler Thomas, 29, of Medina performs "Return To Sender" by Elvis Presley. Thomas won second place and $250 on Thursday. He was last year's champion.
Thomas said he enjoys performing for people as a singer. His grandmother was a big Elvis fan and Thomas said he grew up listening to Elvis music.
"I just love to make people laugh," he said. "I love entertaining people."