Karaoke singers provide lots of entertainment during fair
KNOWLESVILLE – The karaoke finals again proved a big crowd magnet at the Orleans County 4-H Fair. There were about 300 to 400 people who watched the event, plus many more who stayed for portions of the competition.
The top five singers from qualifying rounds on Monday, Tuesday and Wednesday advanced to Thursday's finale.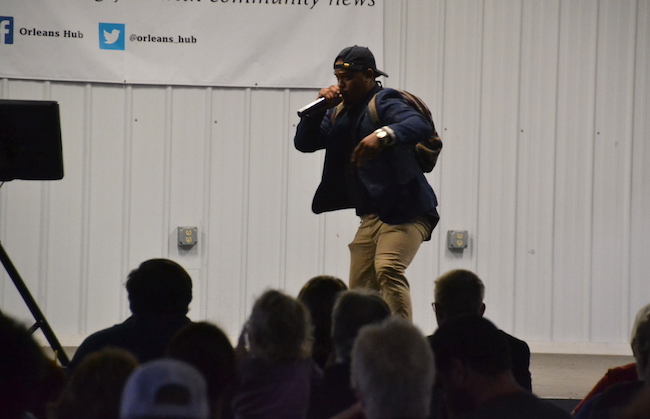 Tyler Thomas, 28, of Medina won first prize and $500 for his performance of "Blue Suede Shoes." Thomas, a professional deejay, entertained the crowd with his dancing, singing and exuberance to the famous song by Elvis Presley. Thomas even performed a back flip during his routine.
Thomas said he grew up an Elvis fan, listening to the music with his grandfather. On Monday, Thomas sang karaoke for the first time in public.
"I just wanted to make people smile," he said. "At this time in my life, the point is not to judge a book by its cover. We should live, laugh and love."

Samuel Robinson, left, of Albion was a crowd favorite with his performance of "Rock The Dance Floor." He was fifth and won $50. William Grimble of Albion was fourth overall and won $75 for his performance of "The Downeaster 'Alexa'" which was made famous by Billy Joel.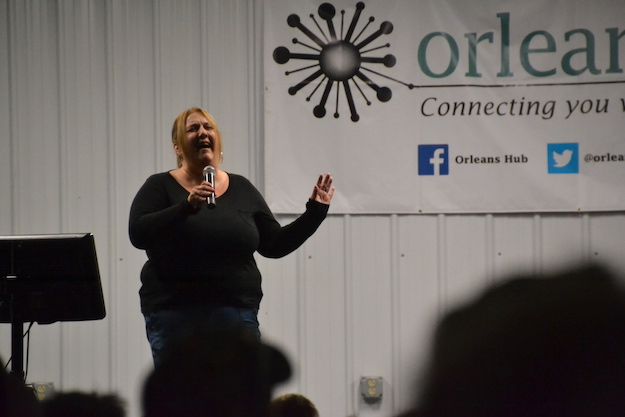 Susan Kehal of Batavia sings "Me And Bobby McGee" by Janis Joplin. Kehal works as a nurse during her professional career. She also enjoys singing. She has been performing since she was 13.
"Anywhere there is music, I want to be there," she said. "Music it heals just like with nursing."
She liked the vibe among the performers and the crowd at the karaoke competition. She said it was very supportive and encouraging.
"I love to see people up on stage," Kehal said. "They're so brave to get up there."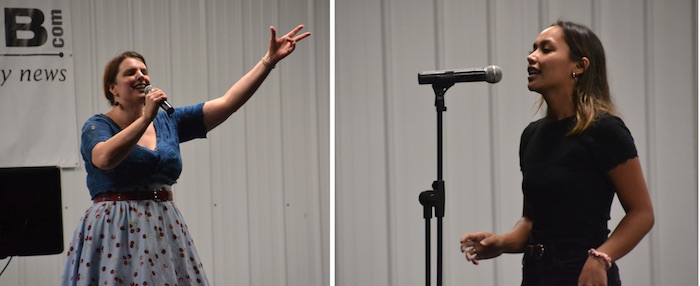 Melissa Shiels (left), a Hilton native who now lives in Ireland, performs "Satisfied" from the Hamilton musical. Layna Viloria, 19, of Medina sings "Dreams" by Fleetwood Mac.
Viloria has been performing karaoke at the fair since she was 9. "It brings everybody together," she said about the event.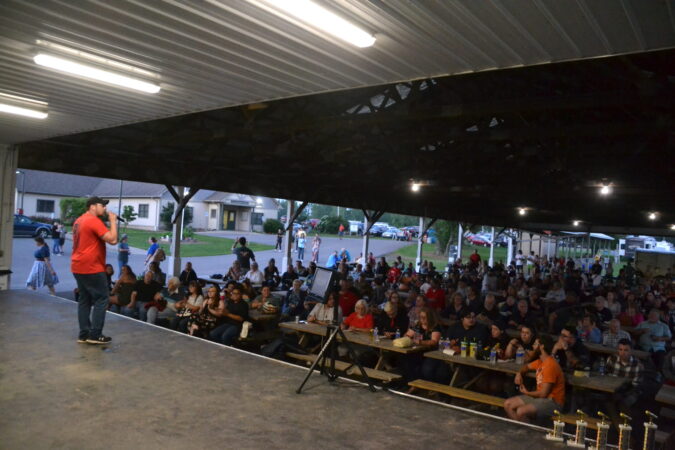 Rich Nolan, who has twice won the karaoke competition in the past, provided a warmup for the crowd, singing Luke Bryan's "Country Girl (Shake It For Me)."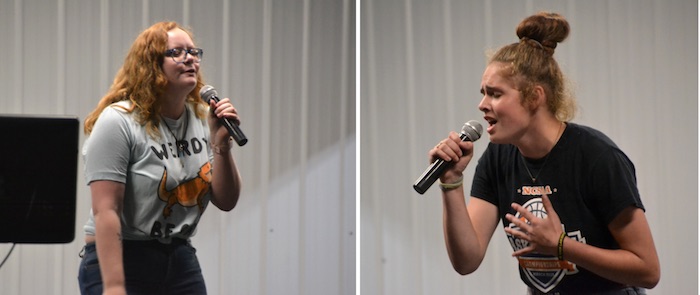 Tiffany Poynter (left), 21, of Medina sings "This Is Me" from The Greatest Showman. Brilyn Rebisz, 16, of Bergen sings "Jolene" by Dolly Parton. Brilyn also is a 4-Her showing animals in the livestock events.