Julie Berry of Medina has 2 new books out with a party planned Tuesday at Author's Note
MEDINA – Medina native Julie Berry may not have started out to be a writer, but once she got started, she never looked back.
At 7 p.m. Tuesday at Author's Note, the book store owned by Berry and her husband Phil, she will host a celebration to announce her two latest books, "Burglars and Bluestockings," the third in a trilogy, and "A Night Frolic," a book of illustrations by Jaime Zollars.
A daughter of Shirley and the late John Gardner, Julie graduated from Medina High School in 1991, then entered Rensselaer Polytechnical Institute to study chemistry. She earned a degree in technical communication, then went back to school and got her master's degree in writing. She had met her husband Phil Berry at Rensselaer and after they were married, they lived in upstate New York and Massachusetts before moving to Los Angeles where Phil could pursue his career in the movie industry.
In 2020, Julie learned the former Book Shoppe in Medina was for sale, and fearing it would be closed, she and Phil made the decision to move back to Medina with their four children.
"I couldn't bear to think there wouldn't be a book store in my home town," Julie said.
After extensive remodeling, which Phil did, they reopened the front half of the store on May 25, 2021, and celebrated reopening of the entire store on Sept. 25, 2021.
Julie shared how her writing career evolved.
"I always thought it would be wonderful to be a writer," Julie said. "But I didn't think it would be viable."
Julie completed her master's degree at Vermont College of Fine Arts in Montpelier, Vt. in January 2008. She was enrolled in a program designed to help people become writers. During 2 ½ years, she had written three books, the first of which she didn't think was worthy of publication. By the time she graduated, she had secured an agent and sold her first book.
She had seen a picture of a haunted house and it sparked an idea, Julie said.
"It seemed like a house full of sadness," she said.
It was called "Amaranth Enchantment," and it did very well, the author said.
In 2019, Berry's book "Lovely War" was named a New York Times bestseller.
"That was awesome," she said.
Since then, many of her other titles have won awards and starred reviews from giants in the industry.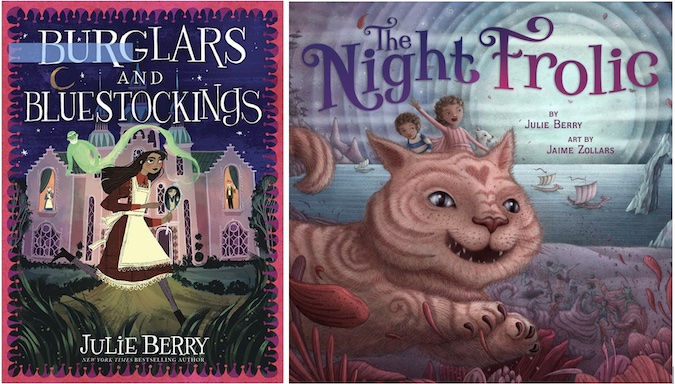 Berry said she likes to write picture books for little children, as well as titles for middle grades and books for teens. She likes fantasy, she said.
She is very excited about her new book "The Night Frolic," which is mythologically-based and was just named Amazon's "Best New Picture Book" for March.
"I think of it as a fantasia on bedtime," she said. "It begins by asking, 'Where do young the children go when they drift off to sleep,' and follows those sleepy children on a magical journey through nighttime realms of wonder, where they meet the Night Tiger, the Night Walrus and an ensemble of talking creatures."
The book has earned rave reviews from Kirkus Reviews, which calls it "a dream come true for readers seeking a new bedtime story"; Publisher's Weekly, which says "Berry's mesmerizing prose sounds like a saga from another world, and this vision of journey, adventure and happy clamor offers both antidote to and fodder for sleep's dark mysteries"; and Booklist, calling it "downright magical, this picture book made for dreamers."
Julie will read from the book during Tuesday night's event, as well as excerpts from Burglars and Bluestockings.
Her trilogy began with "Wishes and Wellingtons" and "Crime and Carpetbags," and with "Burglars and Bluestockings" tells the story of a young woman in a boarding school in the Victorian era who discovers a djinni in a sardine can. The books are a middle grade fantasy adventure novel suited for ages 8 and up.
Along with taking care of her family, participating with her husband in his swing dancing endeavors, pursuing her interest in software startup companies and running a book store, Julie said she still finds time to write.
"When you love something, you just get it done somehow," she said.
Tuesday will be a fun night, she said. It is free and open to the public. Copies of her new books can be ordered online at authorsnote.com or by calling the store at (585) 798-3642.