Jason Smith gets lots of high-fives in sendoff from Lyndonville students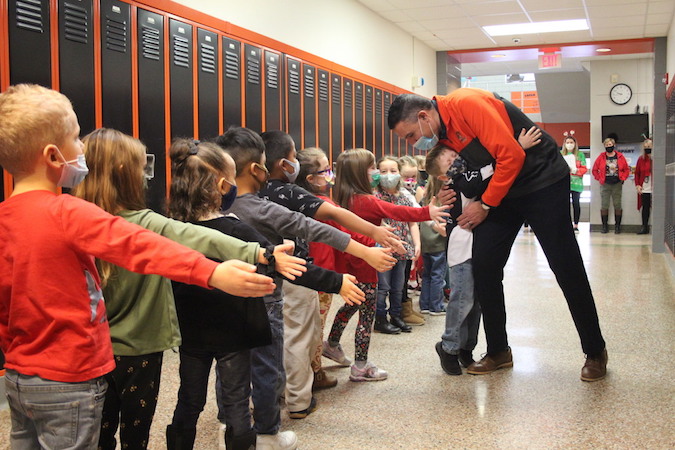 Photos courtesy of Lyndonville Central School
LYNDONVILLE – Jason Smith gets a hug from a Lyndonville elementary student on Thursday, his last day in school with students as the district superintendent.
Smith starts a new job on Jan. 3 as superintendent at Batavia City School District, his alma mater.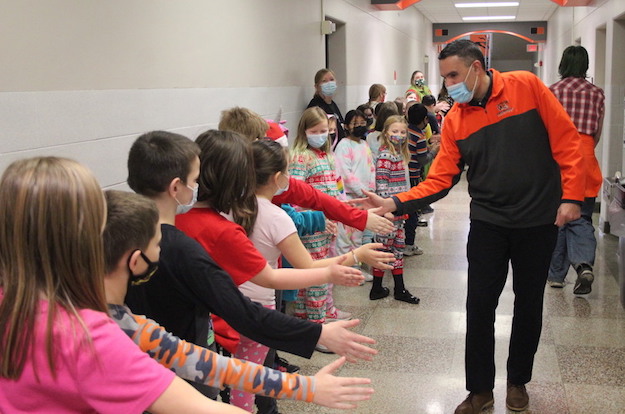 Smith received plenty of high-fives from students and staff in a walk through the halls. Smith posted on Twitter that he is thankful for his 10 years at Lyndonville, "a gem of a place in beautiful Orleans County!"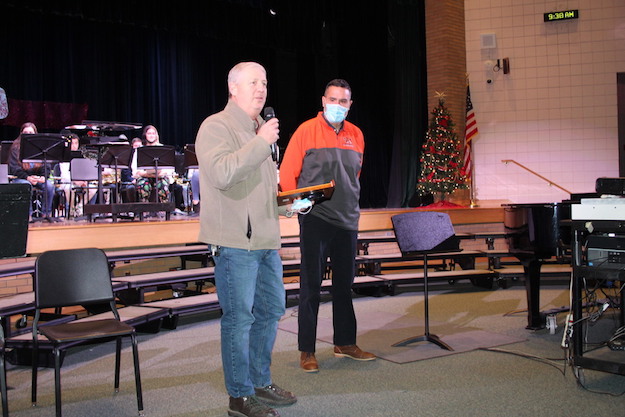 Ted Lewis, president of the Board of Education, presents Smith with an engraved during a holiday concert Thursday morning at the school auditorium.
Smith, in a letter to the community on Wednesday, said the district is in good hands with Sharon Smith as interim superintendent. She was worked the past two years at Lyndonville as director of instruction and student services.
"Mrs. Smith is a well-respected educational leader in our region, and the Board has made a wise choice," Smith said in his letter. "I can personally attest to Mrs. Smith's commitment to ensuring a high quality educational program for all students, and she has quickly become a visible member of the Lyndonville community."
Smith, in his letter to the community, said it was an honor to lead the Lyndonville district the past 10 years. He thanked the teachers, staff and Board of Education for providing a strong academic program the past two years of the Covid pandemic.
"However, our District is not defined by dealing with Covid," Smith wrote. "Instead, our District is defined by wonderful students, a supportive community, talented and dedicated faculty and staff, a high quality leadership team, and a committed Board of Education.  These attributes existed long before Covid and will exist long after Covid."