Jack Hill of Medina earns his Eagle Scout rank
MEDINA – Medina High School senior Jack Hill of Troop 35 has earned the rank of Eagle Scout.  His Court of Honor was held on Sunday at the Scout Cabin at Blackburn's Pond.
Special guests in attendance included Frank Berger, representing Orleans District of the Iroquois Trail Council and the American Legion Post of Medina and Ross Annable, Hartland Town Supervisor. Pack 35 Cubmaster, John Dieter, was the emcee for the ceremony, along with Scoutmaster Mike Hill.
Hill, the son of Mike and Mindy Hill, completed an Eagle Scout project by building a GaGa ball pit for the Town of Hartland park. GaGa ball is played in an octagon enclosure known as "the pit" using a lightweight bouncy ball. The game is believed to have originated in Israel and is similar to dodgeball. Hill played the game at many Scout camps and was excited to build a pit in this area for local children to enjoy.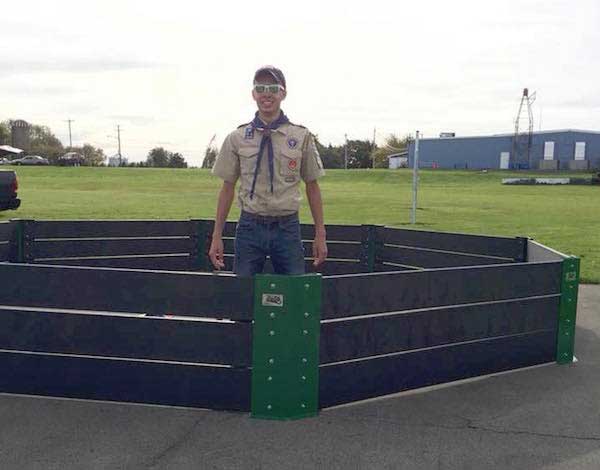 Hill's project was completed with the generous support of the Town of Hartland, Donald Payne, Pat and Duane Payne, Dr. Kaplansky, Randy and Diane Hill, Niagara Implement, Janice Hill, Ridge Animal Hospital, Darrell's Place, Seaman Norris Attorneys, Ross Annable, Wayne Rhinehart, Marc Silsby Insurance, Jack and Carolyn Hill, Drum Oil, Cornerstone Community Credit Union, Harris Farms, Pony's, Sigma Motors, and his parents.
Hill joined Scouting in first grade. As a Boy Scout, Hill has participated in many local camping and service activities. He has also traveled to the mountains of West Virginia for the 2013 National Boy Scout Jamboree and to Algonquin Provincial Park in Canada for a 65-mile canoe trip.
In addition to required merit badges, Hill earned elective merit badges in engineering, wilderness survival, electricity, small boat sailing, canoeing, swimming, cooking, fishing, chess and rifle.
Hill will attend Rochester Institute of Technology in the fall as a Mechanical Engineering Major and member of the Honors Program.