'It's time for every person to step up'
Kendall held Black Lives Matter demonstration on Saturday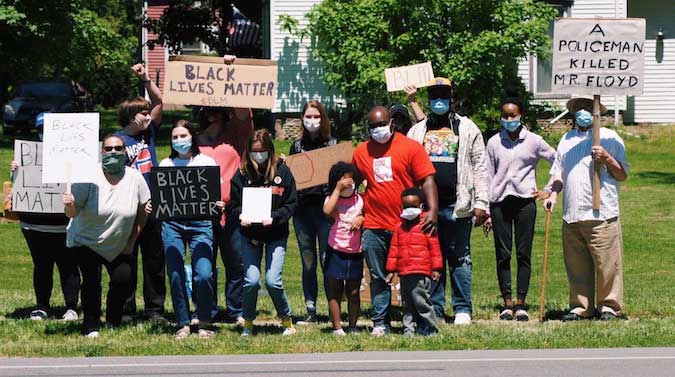 Photos courtesy of Mark Washington
KENDALL – About 20 people participated in a Black Lives Matter demonstration on Saturday in Kendall from noon to 2 p.m.
The demonstrators stood at Kendall's main intersection at Route 18 and Kendall Road.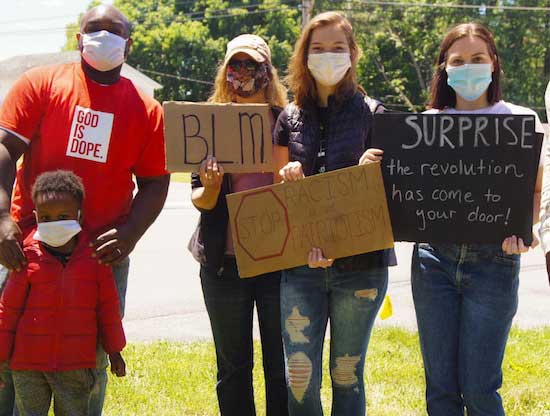 Ruthie Seabolt and her mother, Cynthia Blosenhauer, were the lead organizers of the event.
"It's time for every person to step up and pay attention," said Seabolt, 21, who will be a senior at the University of Rochester majoring in international relations and political science.
She wanted her small town to show its support for the Black Lives Matter movement against racism and police brutality.
She admitted she was nervous and a little scared before the demonstration. She didn't know what kind of response there would be.
There were a few of what felt like angry stares. But there were far more supportive beeps from the motorists.
"It was actually really nice," Seabolt said this evening. "We got a lot of honks."
One African American woman stopped her car and came over and spoke to the group.
"She said it's good to see people stand up," Seabolt said.
Seabolt attended a Black Lives Matter protest a week before in Brockport. She is pleased to see the demonstrations have gained a national following, and have spread to other countries.
The protests started in response to the killing of George Floyd, who was in custody of a Minneapolis police officer on May 25. Floyd was on the ground and died after being held down for nearly nine minutes while an officer had his knee on Floyd's neck.