Inmates praised for earning high school equivalency diploma in jail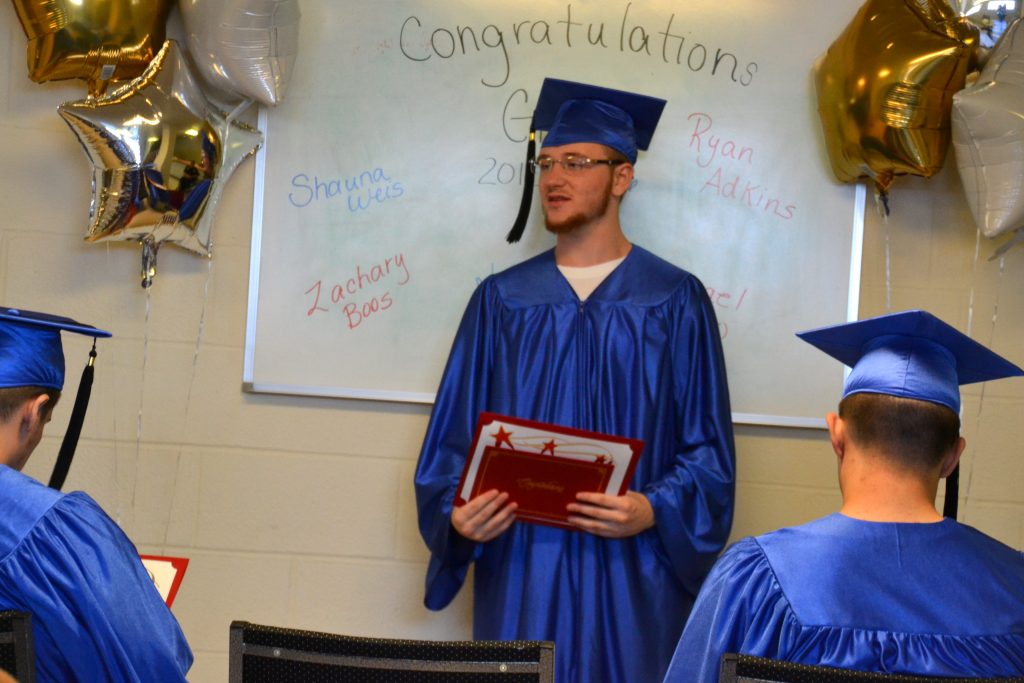 Photos by Tom Rivers
Zachary Boos was one of three inmates to earn his high school equivalency degree while taking classes in the Orleans County Jail. The graduates were celebrated Friday during a program at the jail. "Thank you everybody for allowing us to move forward in life," Boos said. "I really appreciate it."
ALBION – Three inmates were praised during a graduation ceremony at the Orleans County Jail on Friday. The inmates passed the rigorous Test Assessing Secondary Completion, the much-harder replacement of the former General Educational Development (GED).
The two-day test on July-25-26 measured students' skills in English, math, science, social studies and reading.
Ryan Adkins, Zachary Boos and Michael Borrero all showed a tremendous desire to learn and pass the test, said their teacher Jeff Smith, an adult literacy instructor with the Orleans/Niagara BOCES, which runs the program at the jail.
"They all had the 'want to' and the will," Smith said. "All I had to do is point them in the right direction."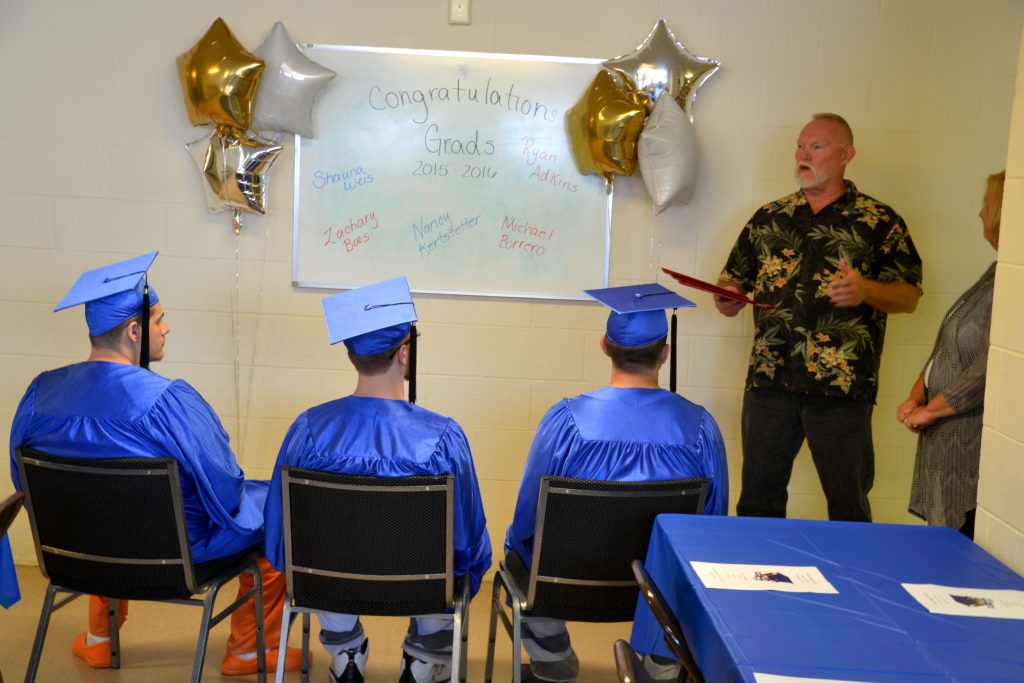 Jeff Smith, a teacher in the county jail, congratulates his students for earning their degrees. In addition to Adkins, Boos and Borrero passing the test, two other inmates, Shawna Weis and Nancy Kertstetter, passed the test in March.
"This was not easy," Smith told the graduates. "This is a major accomplishment. It's not an end-all, but it's a door of opportunity."
Ryan Adkins was the first inmate to speak and he thanked his grandmother and others for not giving up on him.
"I want to thank everybody for giving us a chance," Adkins said during the program at the jail. "It was really hard."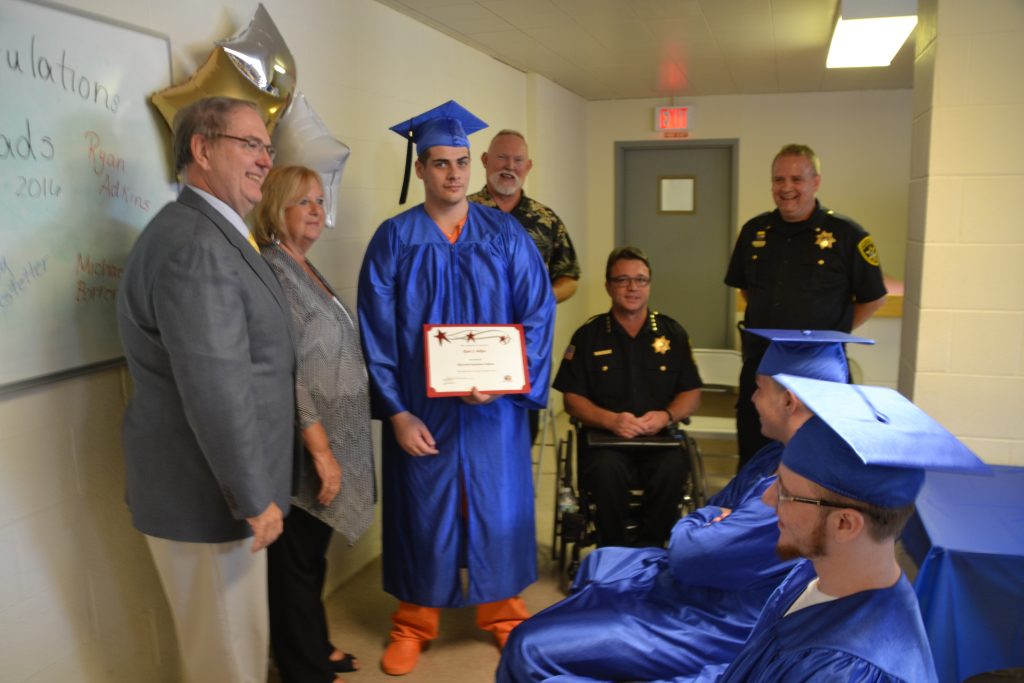 Ryan Adkins holds a certificate showing he earned his high school equivalency degree. He is pictured with, from left: Dr. Clark Godshall, superintendent of the Orleans/Niagara BOCES; Sue Diemert, Orleans/Niagara BOCES Literacy Specialist; Jeff Smith, adult literacy teacher; Sheriff Randy Bower; and Jail Superintendent Scott Wilson.
Albion Central School ran the adult literacy program in the jail for many years before contracting with BOCES this past school year. The Orleans/Niagara BOCES also runs a similar program in Niagara County at the jail in Lockport.
Smith was working in the Niagara jail before coming to Albion to work with Orleans inmates. Godshall said Smith has a good rapport with the students, pushing them to learn and stay motivated.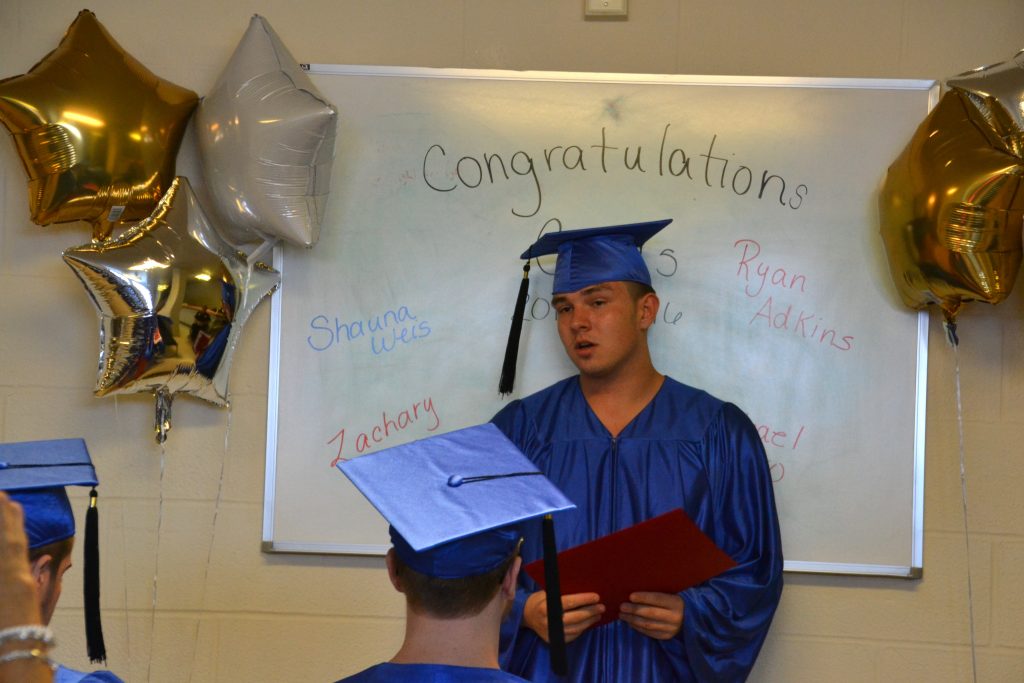 Michael Borrero said he appreciates the chance to earn his degree while in jail. "I want to thank everyone for putting the hard work into it," he said.
Scott Wilson, the jail superintendent, addressed the graduates, and said there futures are now much brighter after earning the degree.
"We hope this will be a stepping stone for you guys," he said.
Smith, the adult literacy teacher, suggested having a graduation ceremony for the inmates, and the jail superintendent and sheriff both supported the idea.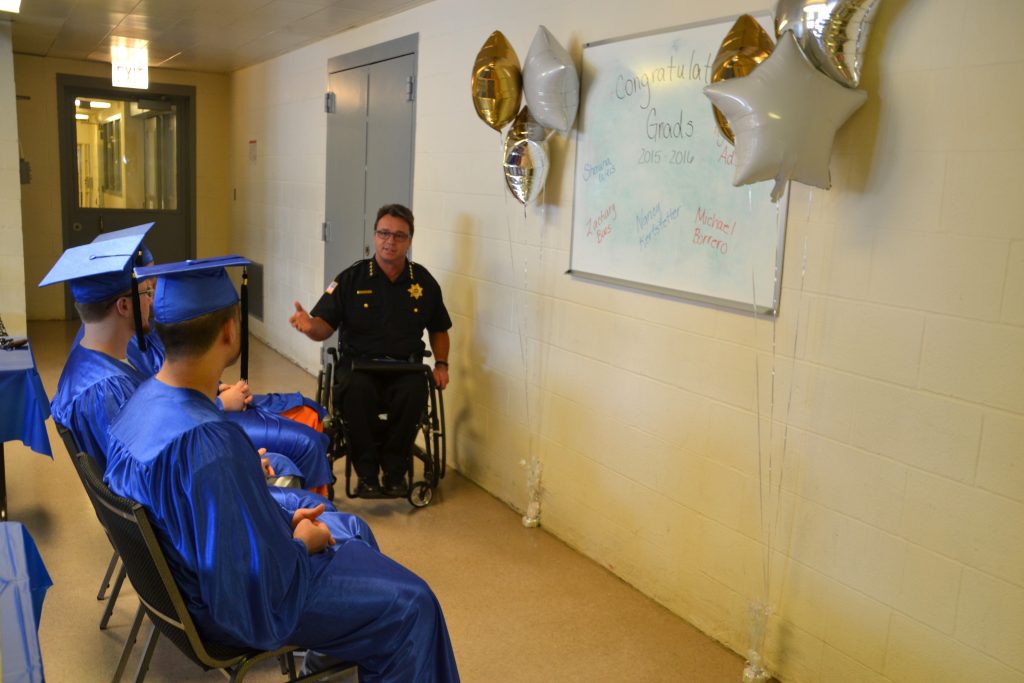 Sheriff Randy Bower addresses the graduates and urges them to keep working to improve themselves.
"They key here is to keep it up," Bower told them. "Don't ever stop working."