Illuminating Orleans: Letter in 1907 connects Holley woman to suffragists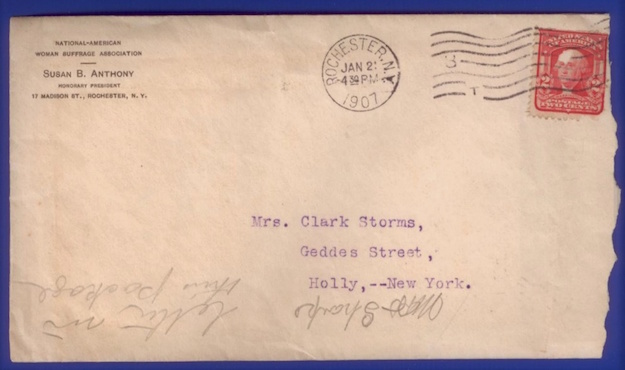 Illuminating Orleans, Volume 1, No. 8
By Catherine Cooper, Orleans County Historian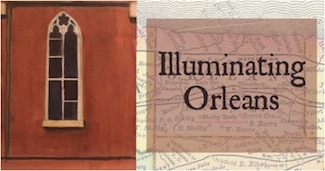 HOLLEY – A box of documents and letters in the Orleans County Department of History collection has yielded several treasures. The contents pertain to the Storms and Stierer families from Holley.
The envelope shown above, postmarked January 2, 1907 from the National-American Woman Suffrage Association in Rochester, caught our attention:
And inside – a treasure indeed! A letter, signed by Lucy E. Anthony, explaining that her "Aunt Mary" had been unwell when Mrs. Storms came to discuss a "personal matter". Of course we were intrigued! The search was on.
"Aunt Mary" was Mary Stafford Anthony, younger sister of Susan B. Anthony. Mary S. was actively involved in suffrage in her own right. She worked as a teacher and principal at Rochester area schools. She supported Susan B. Anthony's campaigns financially, lived with Susan B. at 17 Madison St., managed the household and cared for several family members as well.
Mary S. was instrumental in establishing the concept of the Political Equality Club, a local forum for both men and women to discuss the ethical concerns of the day and promote the goal of women's suffrage. There were active clubs throughout the state, including one in Holley.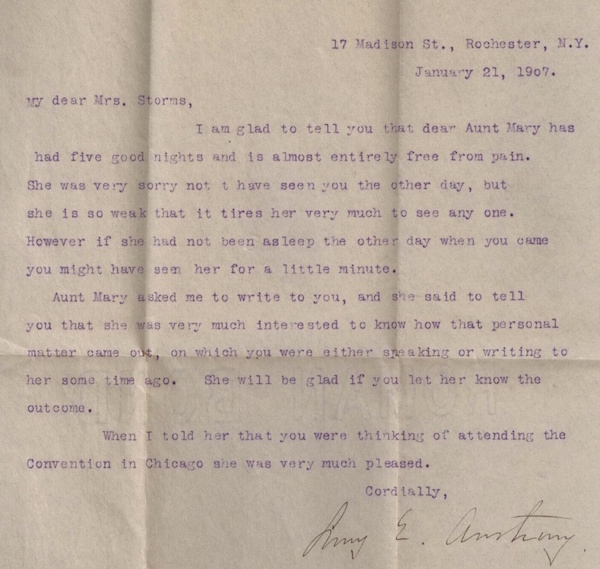 The time frame of this letter is of interest. Dated Jan. 21, 1907, it was just a short while before Mary S. Anthony's death on February 5, at the age of 80. On her deathbed, she composed a message for the Feb. 14, 1907 Convention of the National American Woman Suffrage Association, "the Convention in Chicago" referred to in the letter. Mary S. was buried at Mount Hope Cemetery in Rochester, next to her sister, Susan B., who had died in 1906.
Lucy E. Anthony, who composed the letter, was a niece of Susan B. and Mary S. Anthony and cared for both of them. She became a secretary and companion to Anna Howard Shaw, later president of the National American Woman Suffrage Association.
The Anthony home at 17 Madison St. in Rochester was the headquarters of the National American Woman Suffrage Association while Susan B. Anthony was president. Sold in 1907, the home was later purchased by the Rochester Federation of Women's Clubs and is now the National Susan B. Anthony Museum and House, open for scheduled visits.
And what of the recipient of the letter, Mrs. Clark Storms of Geddes St. in Holley? From census records (http://orleans.nygenweb.net/) and directories, we learn that Ida Storms lived at 91 Geddes St. in Holley. Her husband Clark was a retired farmer, they had a daughter, Millicent who married Lyell Storer. Ida died in 1927, Clark in 1928. They are buried at Hillside Cemetery.
Ida was a member of the Holley Political Activity Club, which is most likely the clue to the reason for her visit. As for that "personal matter" referred to and the outcome? Unless the other letters in the box shed some light, we may never know.