Identifying photos: a gift to posterity
By Catherine Cooper, Orleans County Historian
Illuminating Orleans – Vol. 1, No. 27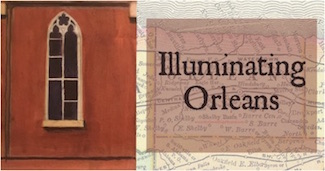 JEDDO – The group gathered around the pot-bellied stove, the cat dozing on the gentleman's lap, the box of biscuits for the cracker barrel, the packed shelves, the tin ceiling – our photograph contains all of the standard features of a general store in rural America early in the twentieth century. It could be any store.
However, at some point in time, a wise and thoughtful person took a few moments to note the location, date and names of the people in the store, details which add immeasurably to the historic interest of the photo.
Lacking first-hand knowledge, but armed with location, date and names, we can unearth more details using resources such as the 1915 Census and cemetery records from the invaluable Orleans County GenWeb site (click here)  and digitized newspapers at www.nyshistoricnewspapers.org. The 1913 Atlas of Orleans County map of Jeddo also provides some clues.
Lena Grier: Lena is the only female in the group. According to the 1915 Census, Lena was 16, she was employed as a Clerk at the store and lived with the Munzel family: Carl (28), his wife Ella (27) and their son Colton aged 4. We learn from a 1914 Medina Daily Journal article that she was Ella Munzel's sister. From a 1980 Journal-Register obituary, we learn that Lena married Harry Saxton and they operated a general store in Royalton for 31 years, retiring to Medina in 1960, they lived at 119 North Ave.
Josephine Tuttle, longtime Jeddo resident, recalled in a 1978 Journal-Register article that the store had been built by Albert Mietz in 1895. His nephew, Carl Munzel, who had worked with him for four years, purchased the store in 1915 and operated it for twenty-eight years. She wrote:
"In the evening, some of the gentry gathered among the barrels and nail-kegs to discuss the affairs of the day. Usually, the conversation was genial, but, on occasion, it became as heated as the pot-bellied stove around which they sat."
Mr. Merchant: The gentleman with the cat on his lap was most likely Theodore Merchant, aged 66. He and his wife, Vinnie, lived next door to Munzel's store, but owned a farm on the Ridge Road corner of County Line Road, just west of Jeddo. Mr. Merchant was one of the many "sunworshippers" from the North who later wintered in St. Petersburg, Florida.
Mr. Singleton: William Singleton, aged 59, was a plumber who also lived close by the store. His wife Arla was 63 and their adopted daughter Matilda aged 22 lived with them (1915 Census). William held the office of constable for several years.
Mr. Morton: A chance reference in the Journal-Register may provide the identity of Mr. Morton. Announcing that the Rev. Hugh Q. Morton would speak at the Jeddo Community Church in August 1975, it was noted that his father, also Rev, Hugh Q. Morton, was pastor of that Church from 1911 to 1915.
Mr. Beck: The map of Jeddo shows a W.W. Beck living in Jeddo. A William W. Beck is buried in West Ridgeway Cemetery. An obituary for William W. Beck in 1950 notes that he was a longtime resident of Jeddo and had worked as a painter for many years.
Mr. Tuck: Josiah Tuck was 82, and was born in England. He died in 1921 and is buried in West Ridgeway Cemetery with his wife Betsey.
Mr. Schilling: Lacking a first name, we cannot determine with certainty the identity of Mr. Schilling. An Elmer Schilling, aged 28, lived in Shelby in 1915.
The photograph was taken by W. C. Eaton, who dealt in "General and Commercial Photography, Farm Life, Buildings, Groups, Children, Stock, Post Cards, etc." He lived in Jeddo, Mr. Singleton and Mr. Merchant were his immediate neighbors, while the Munzel store was just two doors to the west of his home.
As the evenings darken and lengthen, we suggest a photograph sorting and labeling project. It would be enjoyable, and greatly appreciated by future generations.