Ice cream shop opens in former Holley bank with brewery expected to follow in fall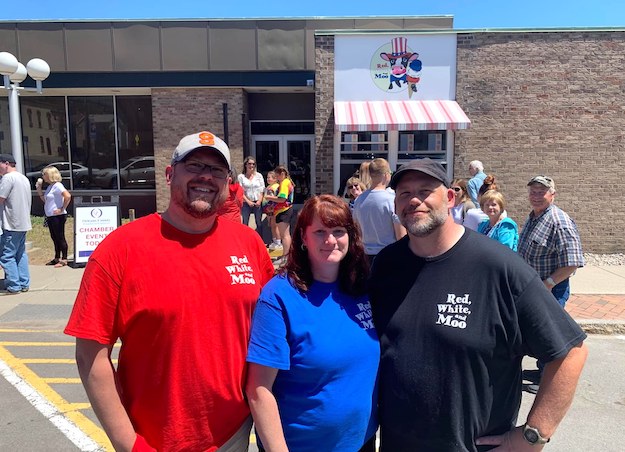 Photos by Tom Rivers
HOLLEY – A new ice cream shop – Red, White, and Moo – opened today in Holley at the former First Niagara bank site at 51 Public Square. The building had been vacant since the bank closed in October 2016.
The site was acquired by Jason Stott, left, and Becky and David Gagne. Their bigger plan for the building is for a brewery. That project, called Restauration Brewery Company, is planned for a fall opening.
But they saw a need for an ice cream shop in Holley, and another place for the community to gather and socialize.
Red, White, and Moo offers 20 flavors of hard ice cream as well as soft ice cream, slushies, sundaes and banana splits. Smoothies and blended coffee drinks will be added soon.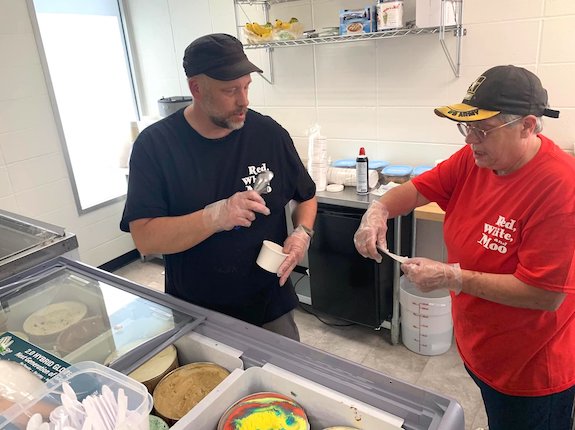 David Gagne, left, and Pamela Coopenberg work on an order at Holley's new ice cream business. There were long lines of customers the first two hours after the business opened at noon.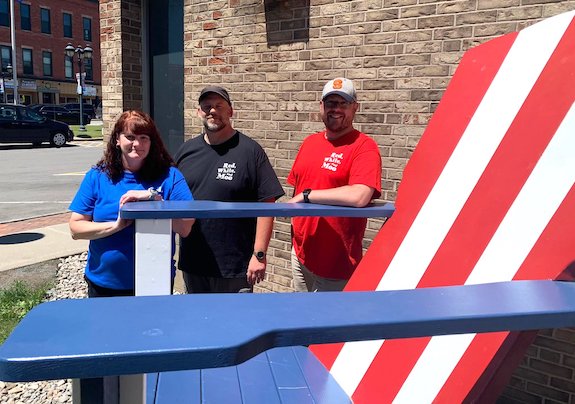 The owners put in a giant patriotic-themed chair that they expect will be popular with customers seeking selfies and some fun.
The Gagnes are long-time Holley residents and Stott lives in neighboring Brockport.
"We are excited to bring ice cream back to Holley," Stott said. "There has been an outpouring of support."
Mr. Gagne said he hopes Red, White, and Moo will keep visitors to the community in Holley longer. He knows many come to the village to go see the Holley Waterfalls.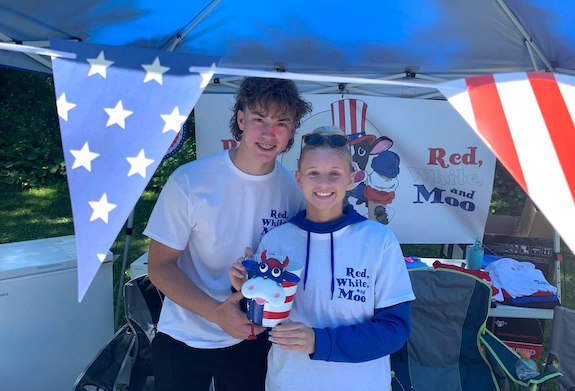 Tatum Gagne, Dave and Becky's daughter, was selling T-shirts and ice cream with her boyfriend Haiden Herring of Brockport along the canal trail. They were among 40 vendors in Holley's June Fest celebration.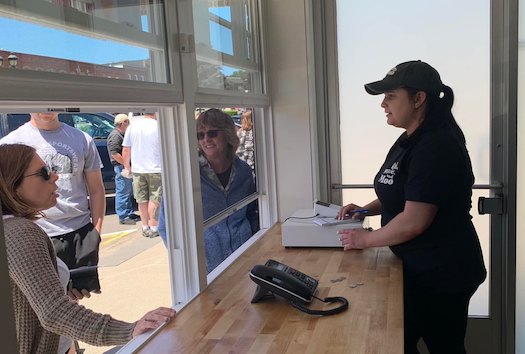 Sydney Gagne takes orders from customers in a window that used to be where the ATM vestibule was located. Stott's daughters, Adalyn and Kaylie, also work at the business.
Red, White, and Moo will be open seven days a week from 11 a.m. to 9 p.m., except on Sunday which is 2 to 9 p.m.
The Gagnes and Stott also will be busy in the coming months on the brewery. Restauration Brewery Company is named for the ship that brought Norwegian immigrants to the Holley community in 1825.