Hurd Orchards offers living history lunch and lecture
Murray farm one of 6 agriculture sites featured in Heritage Festival
MURRAY – Hurd Orchards on Ridge Road was one of six farms taking part in the agricultural facet of the Orleans County Heritage Festival on Saturday.
The Hurd Orchards program included a Living History Lunch and Lecture on "The Cannery."
Amy Machamer and her mother, Sue Hurd Machamer discussed how agriculture and the food processing industry have been the foundation of the local economy for more than 100 years.
The Machamers explained that during the 19th and 20th centuries, almost every village in Orleans County had its own cannery, surrounded by the fields and orchards which provided fruit and vegetables for processing. Examples include the Morton Canning Company in Morton, Hunt's in Albion and H.J. Heinz in Medina.
The Machamers also shared stories about the packing houses, trucks, characters, and the enterprising business of producing fruit for the local canneries.
The luncheon that followed included fresh baked breads with heritage preserves made from original Orleans County recipes.
A portion of the program was subsidized by the Bayer Corporation. Hurd Orchards won Bayer's 2016 Produce Innovation Award for their educational efforts in the field of agriculture including the luncheons, classes and tastings they hold each year at their farm.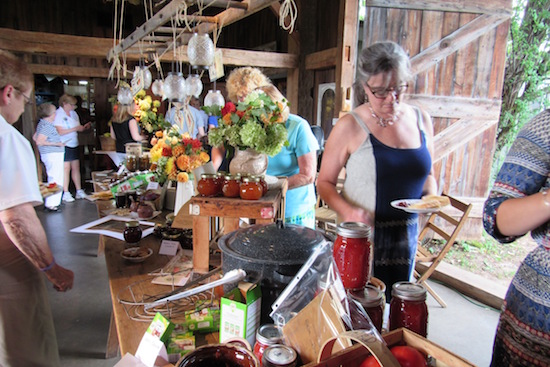 Orleans County Heritage Festival goers Saturday enjoy a luncheon at Hurd Orchards.  The menu included freshly baked bread and heritage preserves including Green Tomato Mincemeat and Plum Elegant.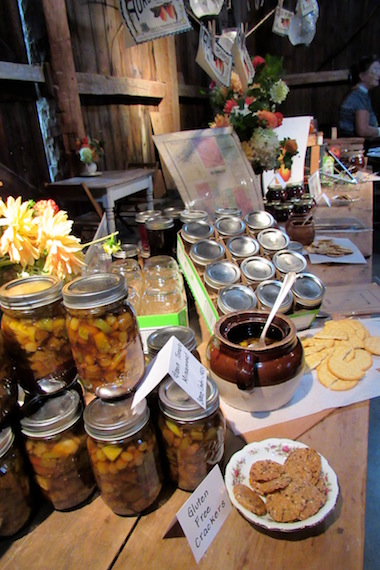 Hurd Orchards offered Heritage Festival visitors samplings of heritage preserves and information about the history of the canning industry in Orleans County.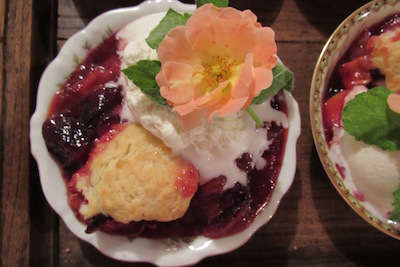 The luncheon dessert featured an apple/plum cobbler with vanilla ice cream.
Other farm operations included in the Heritage Festival included Leonard Oakes Estate Winery & LynOaken Farms in Medina, Orleans Poverty Hill Farms (dairy) in Albion, Partyka Farms in Kendall, Roberts Farm Market in Medina, and Watt Farms Country Market in Gaines.