Hundreds of cyclists, Traveling Troubadours returning to canal
Musicians that play from a canal boat and about 650 cyclists riding the towpath are all headed to Orleans County.
The 19th annual Cycle the Erie Canal – a 400-mile, eight-day cycling tour – starts on Sunday in Buffalo and reaches Medina later that evening. The cyclists will pass through Albion and Holley on Monday morning as they head to Fairport.
The eight-day tour highlights the recreational appeal of the Erie Canal and the Erie Canalway Trail. This year's event has attracted more than 650 cyclists from 38 states, as well as international participants from as far away as Australia, according to Parks & Trails New York, which organizes the event.
The journey covers 40 to 60 miles a day along the legendary Erie Canal. The trip ends in Albany on July 16. Along the way, cyclists will enjoy some of the finest scenery, most interesting history, and unparalleled cycling in the northeastern United States, according to Parks & Trails.
The Traveling Troubadour are also returning to Orleans County for a series a concerts along the canal. This year's concerts celebrate the bicentennial of the start of the construction of the canal.
Bill and Kay McDonald of Batavia spearheaded the concert series in 2015, traveling with their band mates from the Old Hippies. They played music atop a boat, visiting Middleport, Medina, Albion and Holley for concerts. Last year they added Lockport to the series.
The Troubadours kicked off this year's series on Friday at Niagara County Historical Society in Lockport. They play today at Farmers Market in Lockport at 11 a.m. and the Basket Factory in Middleport at 6 p.m.
On Sunday, the Troubadours perform at the Canal Basin in Medina at 2:30 before heading to Albion by the canal for a 6 p.m. concert.
They play in Holley at the canal park on Monday at 6 p.m. and conclude the series on Tuesday at the Widewaters in Lockport at 6 p.m.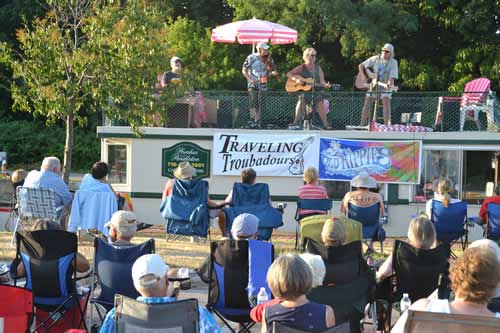 The Troubadours include Bill McDonald, Kay McDonald and Vinny Pastore. The band played the canal concert series for the first time in 2015. The Old Hippies are pictured last year in Albion.
Kay and Bill McDonald are both members of the Old Hippies. The canal series is supported with state arts funding administered by the Genesee-Orleans Regional Arts Council.