Hub editor picks his favorite photos from 2018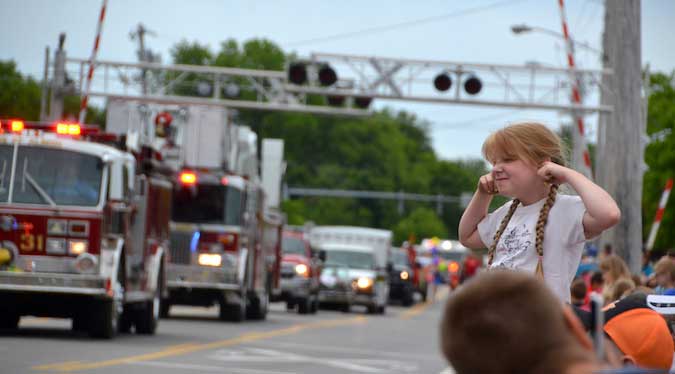 Photos by Tom Rivers
ALBION – Each year I pick some of my favorite "people pictures" during the past year. This one of a girl plugging her ears on June 9 is at the top of the list for 2018. She is pictured during the 32nd annual Strawberry Festival Parade in Albion while fire trucks head down Main Street with their sirens going. The parade included many marching bands, drum corps, community floats, classic cars and other entertainers.
Here are some other Orleans County moments during 2018: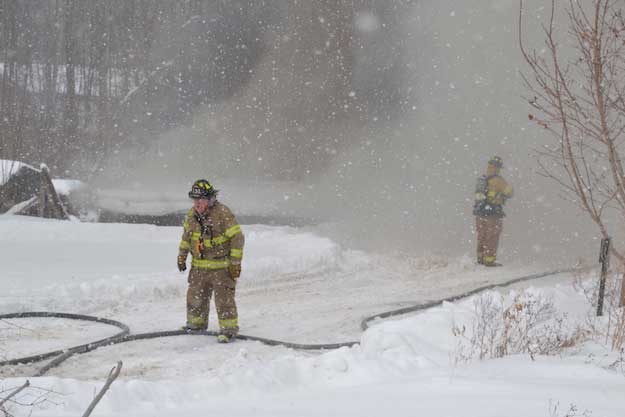 Darryl Szklany of the Albion Fire Department was among the firefighters who responded to a fire on Jan. 4 on Ridge Road in Gaines. Several fire departments responded to the scene and had to contend with snow and temperatures in the teens.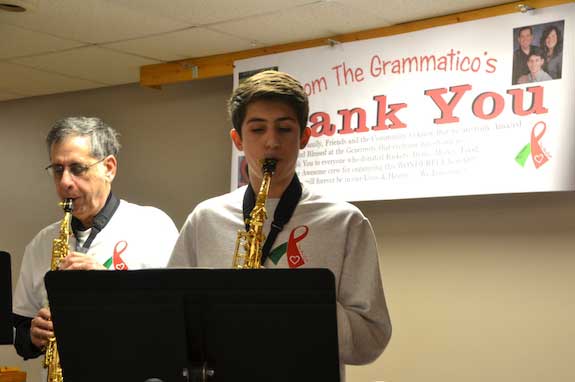 Nate Grammatico and his grandfather Mike Grammatico, a retired Albion music teacher, play their saxophones during a benefit for Matt Grammatico, who is Nate's dad and Mike's son. Matt, 45, is awaiting a heart and liver transplant. The community had a benefit for the Grammatico family on Jan. 27 at the Carlton Recreation Hall. There was enough food for 1,000 dinners and more than 100 gift baskets were raffled off.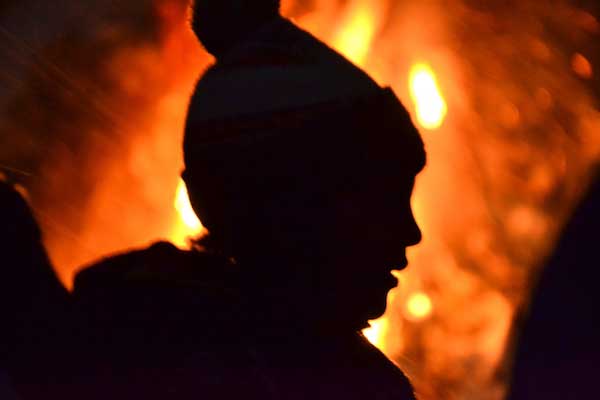 A young spectator watches a bonfire start at a pile of Christmas trees at Bullard Park in Albion on Feb. 10. The snow-covered trees were slow to become engulfed in flames. The bonfire capped a series of snow competitions and games at Bullard Park. There was sledding, snowboarding and a snowman competition, as well as food and other games.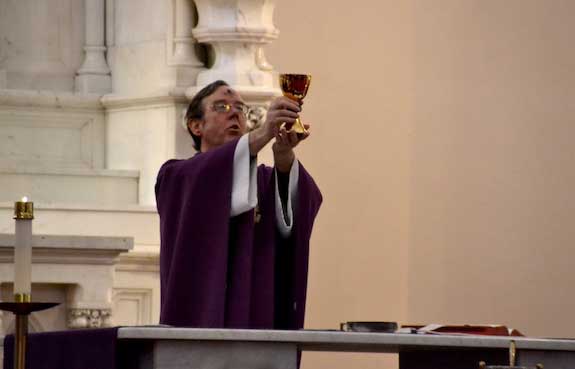 Father Dan Fawls, pastor of Holy Trinity Parish in Medina and Middleport, led an Ash Wednesday service on Feb. 14 at St. Mary's Catholic Church in Medina. For the first time since 1945, Ash Wednesday fell on Valentine's Day. Fawls, with ashes on his forehead, also served communion during the service at St. Mary's. He said the ashes are a reminder that "you are dust and from dust you will return." However, faith in Jesus Christ offers the hope of eternal life, Fawls said.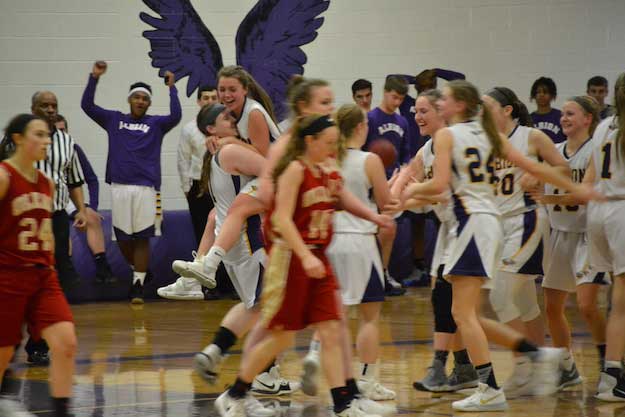 Albion girl varsity basketball players celebrate on Feb. 20 after a 50-38 victory over Olean in the Section VI Class B1 playoff opener. Elisabeth Baker jumped into the arms of Cassidy Wolcott when the final buzzer rang.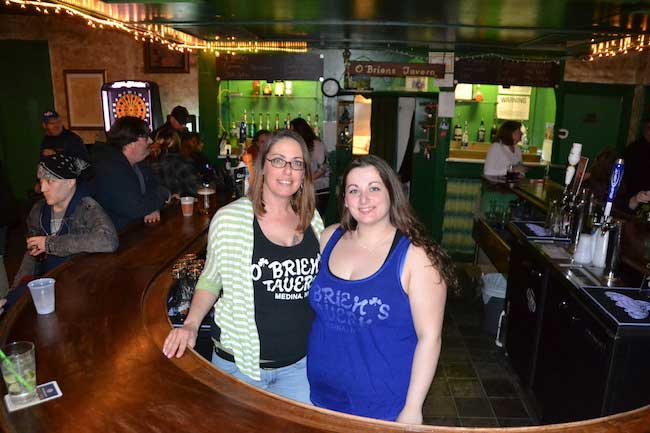 Feb. 28 was the last day of business for Alicia Hogan as owner of O'Brien's Tavern on Main Street in Medina. Hogan, left, is pictured with her daughter Allie Hogan at O'Brien's just before an open mic night. The Irish pub has a long tradition in Medina, with Hogan saying the site has been a bar for more than a century.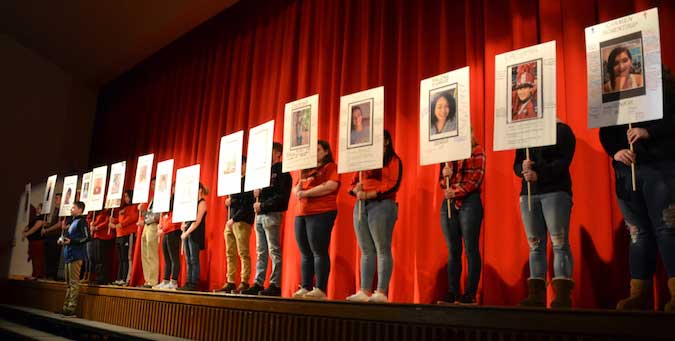 Students at Holley Junior-Senior High School held a 17-minute memorial observance on March 14 in the auditorium. The Humanities class in the high school created 17 posters of the victims from the shooting a month earlier at Marjory Stoneman Douglas High School in Parkland, Fla. Members of the class made the posters, and included the victims' photographs, age, and information about their hobbies and activities at school. "They're not just names," said Matt DeSimone, a member of the Humanities class and also the senior class president.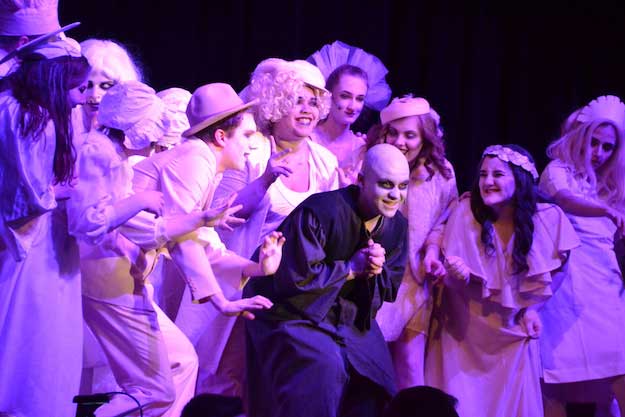 Qasim Huzair starred as Uncle Fester in the Medina-Lyndonville's production of The Addams Family. Huzair, shown on March 25, is performing with the Ancestors. He sings about his love for the Moon. Huzair won a "best supporting actor" award from the Stars of Tomorrow and the show won an "outstanding musical" award at the Stars of Tomorrow competition in Rochester.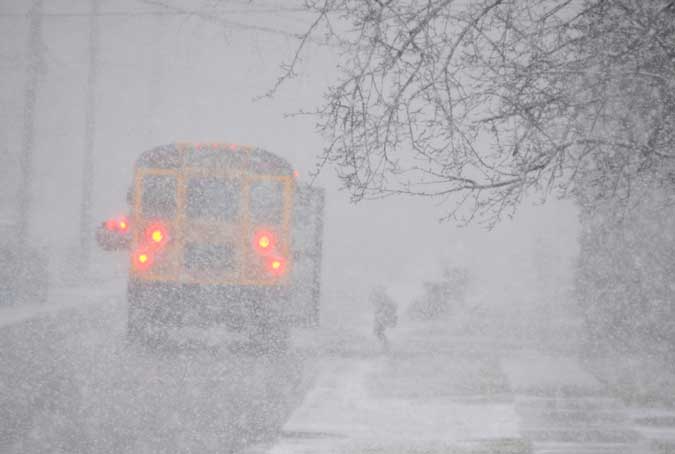 There was a morning blast of snow on April 10, which annoyed many people after a long, hard winter. This photo shows a kid getting on an Albion school bus on East Park Street.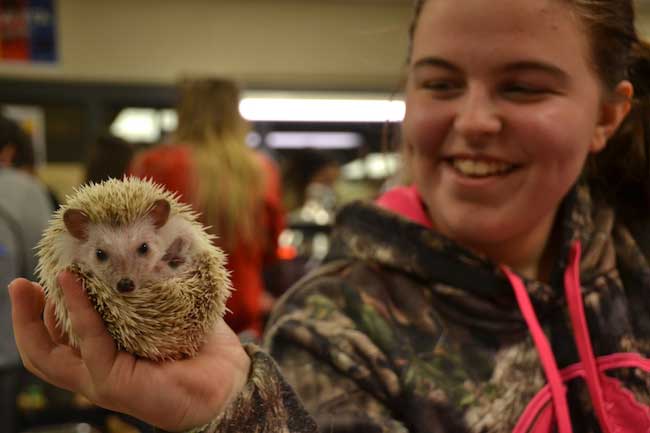 Makayla Heideman, a freshman, brought her hedgehog, Sonic, to the Medina FFA's Animal Appreciation Day on April 26. The hedgehog is about 2 months old. This was the first time a hedgehog was part of the Medina FFA animal showcase. About 1,000 students stopped by the FFA to see the animals, which in size from a small mouse to as big as a Morgan horse.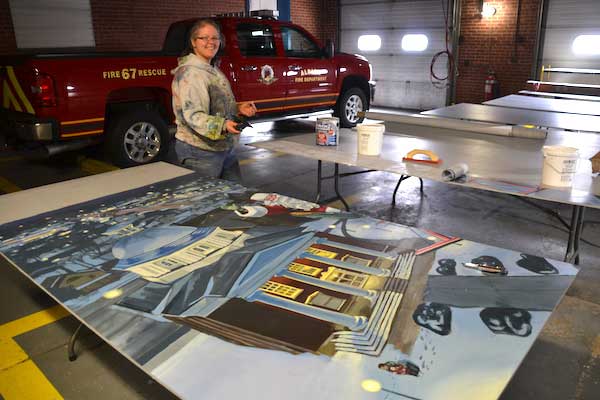 Stacey Kirby Steward works on a large mural of Santa Claus in a sleigh flying over the Courthouse Square and downtown Albion. She is pictured on April 26 inside the Albion fire hall. The 24-foot-long mural was installed in downtown Albion in June.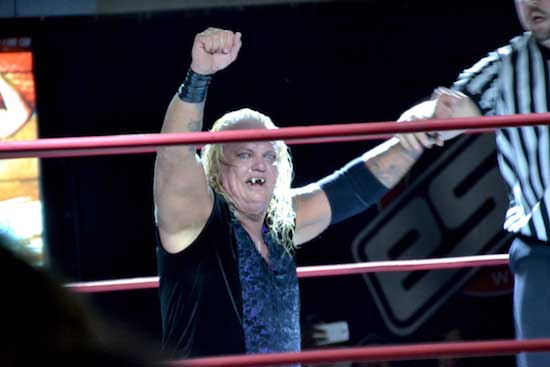 Gangrel, a former WWF wrestler, raises his arms after defeating Gregory Iron in the main event on April 28 at the "Fairgrounds Fallout" at the Orleans County 4-H Fairgrounds. There were about 10 matches in the three-hour show, which featured independent professional wrestlers. About 350 people attended the wrestling matches, which was a fundraiser for the East Shelby Volunteer Fire Company.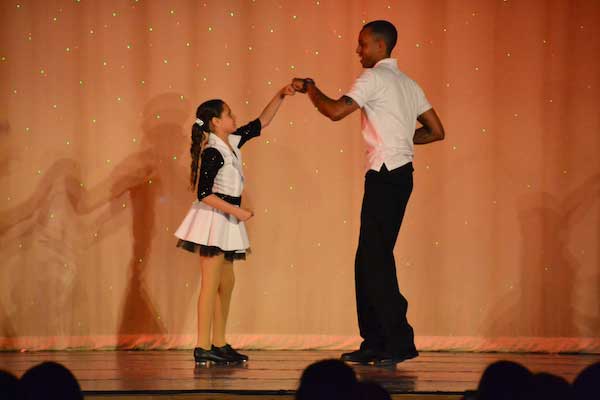 Jeremiah Knight joins his daughter McKinley, 9, for a dance on May 5 at the Gotta Dance by Miss Amy recital at the Albion Middle School Auditorium.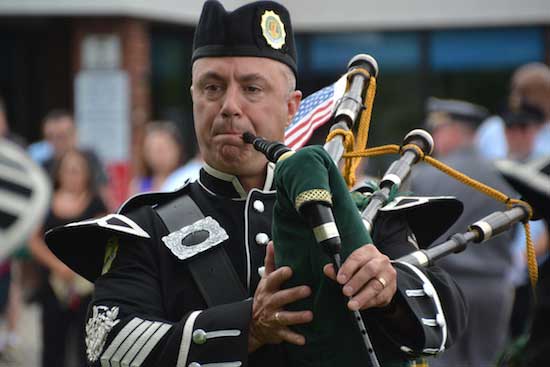 A member of the NYS Corrections Emerald Society Pipe Band plays on May 31 during a dedication for a new memorial at the Orleans Correctional Facility in Albion. The memorial is in honor of 13 employees who died while they were active employees at the medium-security men's prison.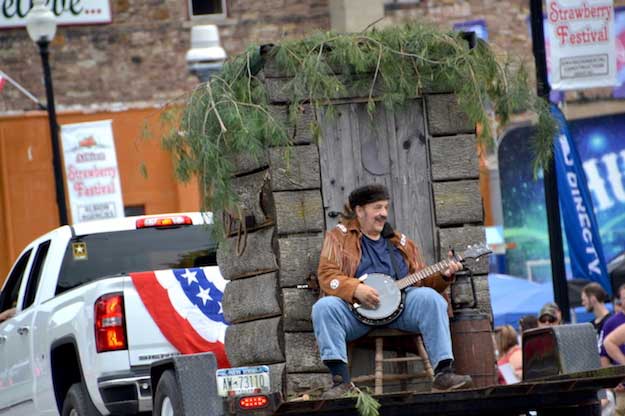 Al Capurso portrays a pioneer on this float by the Orleans County Historical Association on June 9 during the Strawberry Festival Parade in Albion. Capurso and the Historical Society won a special recognition award for community service by judges of the parade.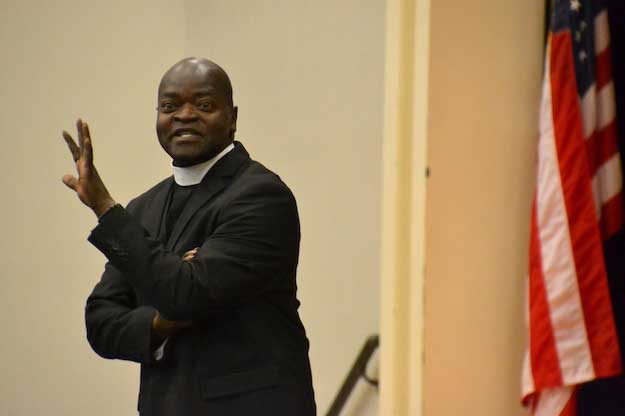 Dan Doctor, director of community outreach for Medina Central School, was keynote speaker at a "moving forward" service on June 10 evening for Medina's Class of 2018. The service was like a baccalaureate with a religious message and blessing. Doctor wore his collar as an ordained elder for Ephesus Ministries in Buffalo. He praised his mother, now 92, for being so devoted in her prayer life, lifting up her nine children. Doctor urged students to have a prayer life, even if it is a whisper.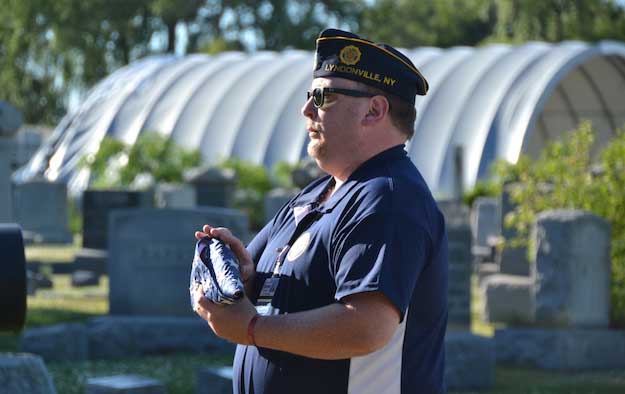 Steve Goodrich, commander of the Houseman-Tanner American Legion Post 1603 in Lyndonville, led a flag retirement ceremony on June 14 at Lynhaven Cemetery. Three veterans from the American Legion – Joe Hausler, Carl Boyle and Goodrich – burned 2,300 of the American flags. Goodrich is shown holding a flag he has kept for 23 years. It was flown in South Carolina at the Naval Hospital Beaufort. He was given the flag on his last day of active duty. He served in the Navy for 10 years. Goodrich said the flag became faded in the center and the seams ripped. He said the flag should have been retired a few years ago but he couldn't bear to part with it. "There is a time to let go," he said. "Now is the time."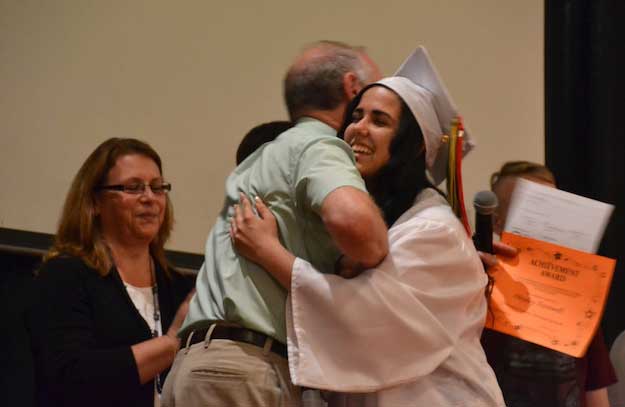 Hayley Farewell gets a hug from teacher David Stacey during a graduation and achievement night on June 14 for the Orleans County Christian School. Farewell delivered the graduate address on Thursday. She has been a student at the school for eight years, and praised the staff for their support, especially since her mother, Christina Ashton, died on June 27, 2016.
The school celebrated the graduation of three students, bringing the number to 32 who have graduated from the school since it started in 1996. OCCS used the former Medina High School, which was purchased by the Calvary Tabernacle Assembly of God, for the past 17 years. The former high school building was purchased to become apartments. The Christian school in September went to a new home, the Alabama Full Gospel Fellowship on South Gravel Road in Shelby.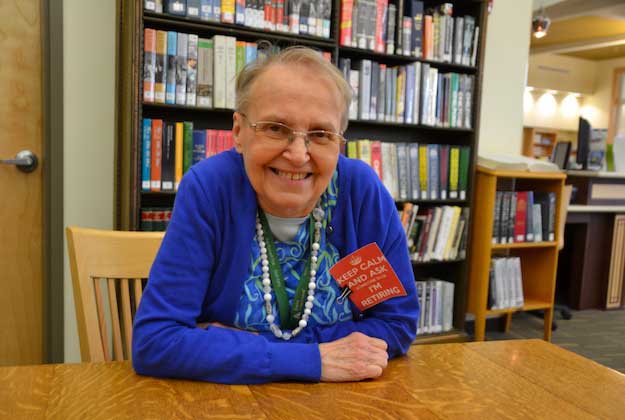 Cheryl Mowatt smiles on her last day as a reference librarian at Hoag Library in Albion on June 18. She was a steady presence at Albion's public library for 33 years. She is wearing a card that says, "Keep calm and ask someone else I'm retiring." Mowatt typically worked at the front desk, ready to answer a question or help people track down answers. "I've met many interesting people in the 33 years. I've really enjoyed it. It's kind of like being a detective. I like the challenge."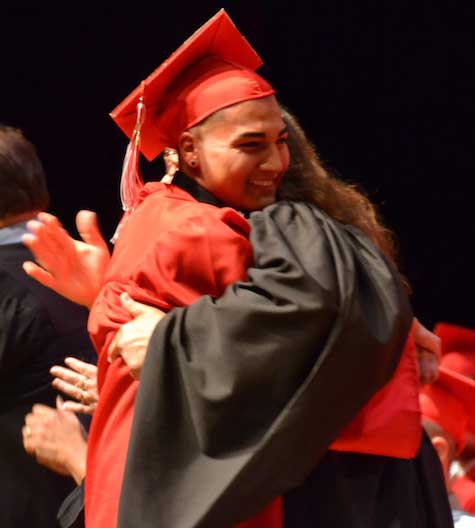 Salvador Solis is hugged by Holley Board of Education member Melissa Ierlan during commencement on June 23, when 89 students graduated from Holley. The school usually holds commencement outside at the Holley Hawks Stadium but the event was moved inside to the auditorium due to rain.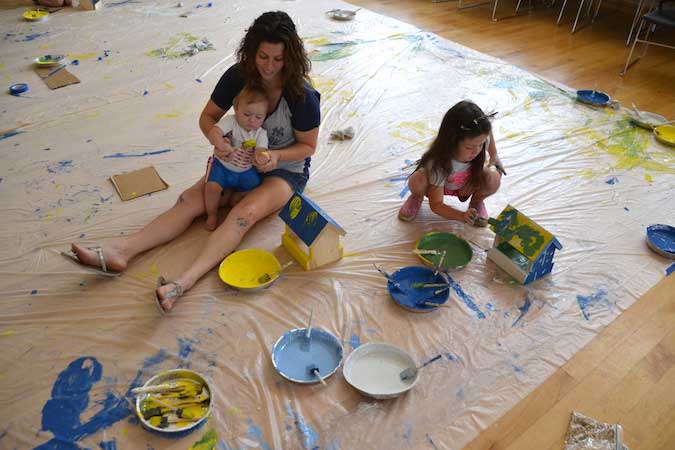 Janeen Denero and her children – Colton Ferris and Aubree Flanagan – of Kendall were among about 100 people who made birdhouses on July 2 at Hoag Library in Albion. Jim Babcock Construction helped make birdhouses for 63 children and 43 adults. Most of the crowd had cleared out when Denero and her kids painted their birdhouses. The activity was part of the summer reading program at the library.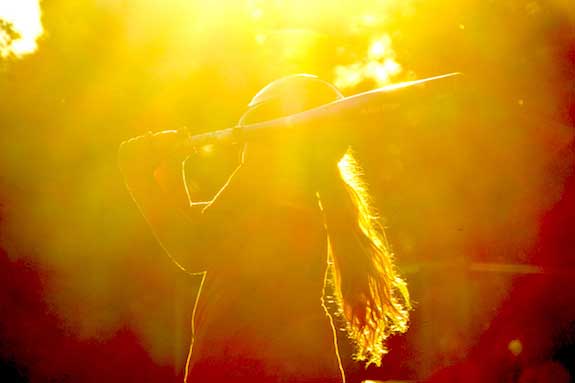 Leah Pawlak, a member of the Rotary Lions team in the Albion Midget League, takes a practice swing before it was her turn to bat on July 20. The Rotary Lions defeated Sandstone Park to advance to the championship game.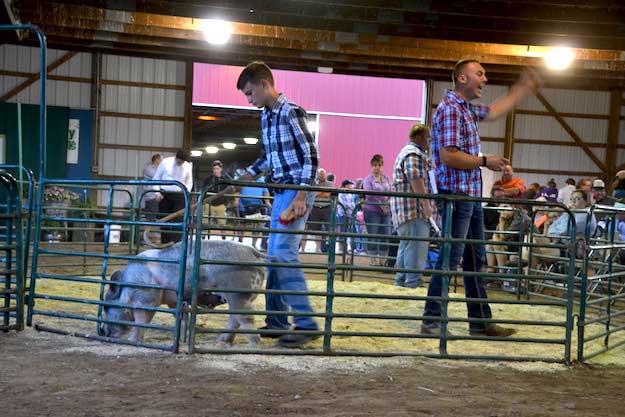 Jack Cecchini of Medina is in the show ring with his pig on July 28 during the 4-H Animal Meat Auction at the Orleans County 4-H Fair. Zack Welker lets the auctioneer know a bidder has the price going up. The auction included winning bids totaling $17,096.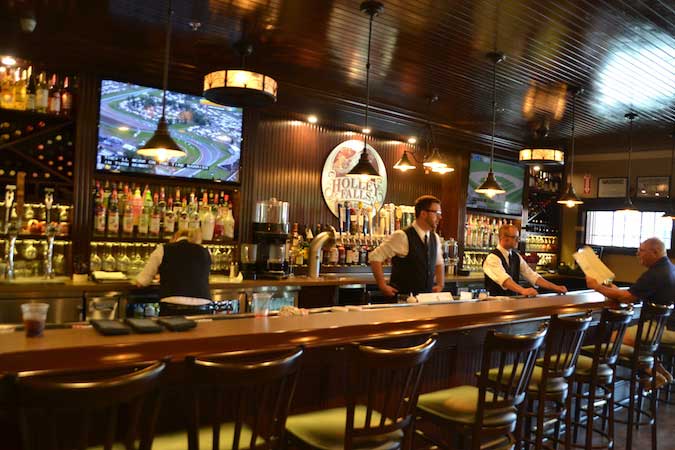 Damian Alexin, center, and Jesse Seeler are ready to serve customers at the new Holley Falls Bar & Grill. They are shown on Aug. 4. The business started serving some customers on Aug. 2 with a "soft opening." Dan and Monica Seeler, owners of the restaurant, opened the business to the community on Aug. 6 after a major transformation of a historic downtown building. The Seelers worked on the project for five years. "No one can believe it's the same place," Mr. Seeler said.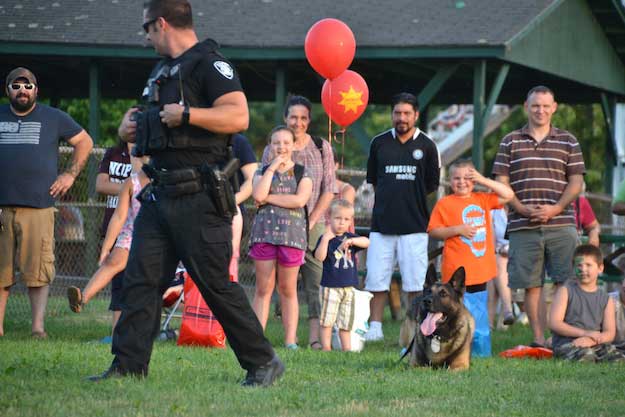 Robert Wagner, an Albion police officer, did a demonstration with Rex, the department's K9 on Aug 7 during the fourth annual National Night Out in Orleans County. Wagner had Rex sit and show obedience. Rex also found a ball that one of the children hid in the field as part of the demonstration. About 1,000 people attended National Night Out, which provided a chance to meet local law enforcement agencies, fire departments and numerous agencies that provide services to people in need.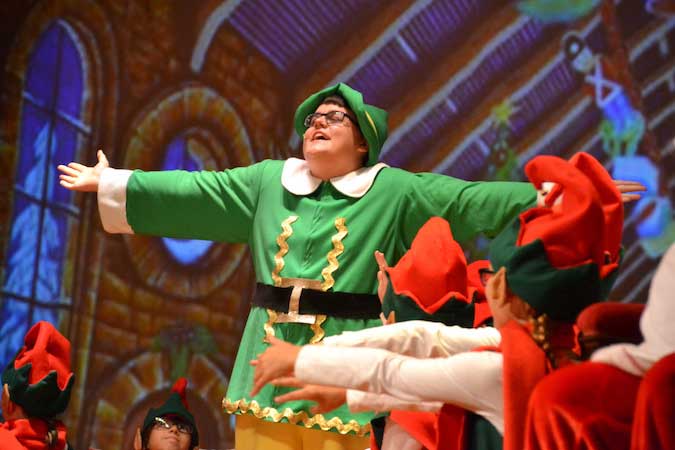 Anthony Chavers of Newfane plays Buddy, the lead role in Elf Jr. The Musical. He is shown on Aug. 10, opening night of the musical at Roy-Hart High Scholl Auditorium. There were 45 children in the cast for the Lake Plains Players, which put on the show for its five-week summer theater camp for children in Orleans and Niagara counties. This photo shows Buddy singing "Happy All The Time," the opening number of the musical.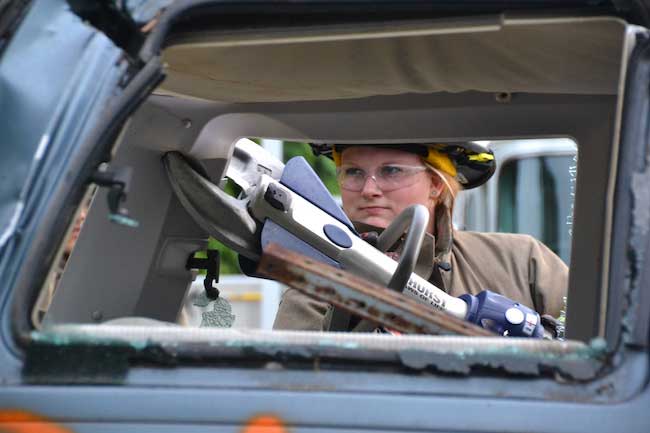 Nicole Boldt of the South Byron Fire Company uses a Hurst cutter to break apart the back end of a vehicle on Aug. 21. The South Byron firefighters practiced with the extrication tools alongside firefighters from Clarendon. About 200 firefighters from three counties practiced extrication drills at Lyons Collision. This was the sixth annual event at Lyons which included demonstrations and drills.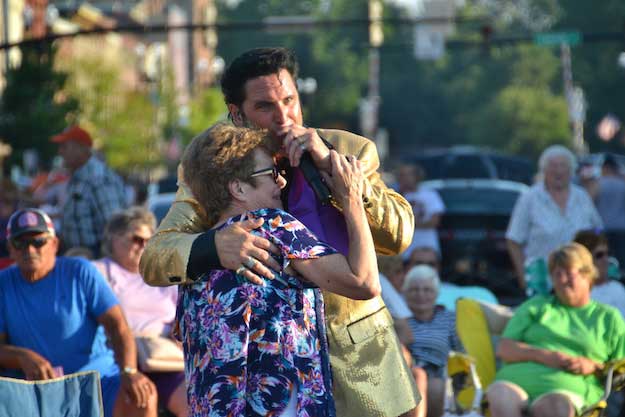 Terry Buchwald, an Elvis Presley impersonator for the past 28 years, sings "Are You Lonesome Tonight?" while dancing with Fonda Carr of Barre. Buchwald performed on Sept. 5 at Medina's annual Super Cruise when a section of Main Street is closed to traffic and instead filled with classic cars.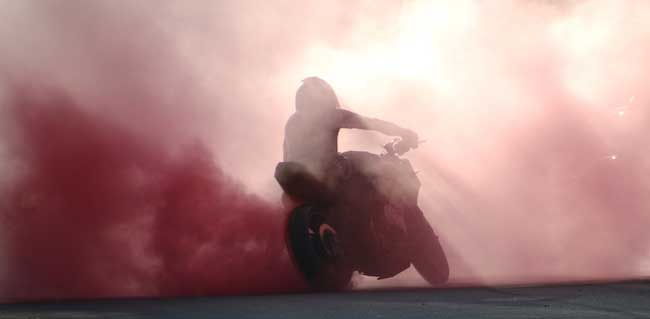 Scott Caraboolad, leader of the Ride 4 Life stunt bike ministry, burns a tire that left red smoke in the air near the end of a stunt bike show on a closed off section of East State Street in front of the Orleans County Courthouse. Caraboolad and three other daring riders performed many tricks on their motorcycles in front of a crowd of about 400 people on Sept. 14 in Albion. Caraboolad said the show was "a celebration of life and a celebration of the future." He urged people struggling with addiction or misery to find help.
Anna Halpa, the drum major for the Webster High School Marching Band, practices with the band at halftime during the fall Festival of Bands at Medina on Sept. 22. Webster was one of 10 bands that performed at Veteran's Memorial Park in Medina. The bands performed for about three hours. Medina had the highest score on the night.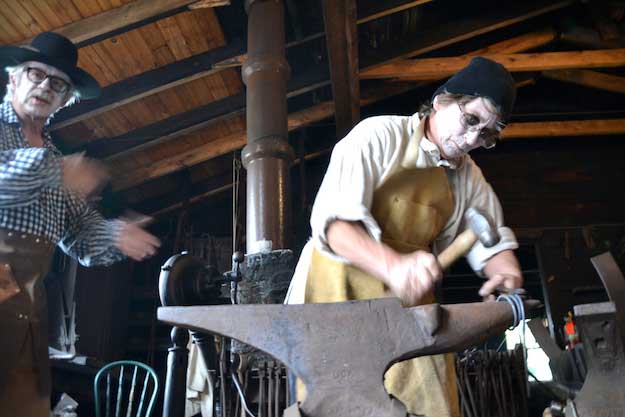 Judy Larkin of Ridgeway and Bill Ott of Lockport both portrayed Joe Vagg, a blacksmith, during the second annual Ghost Walk on Oct. 7 at the Cobblestone Museum. Larkin and Ott are both members of the New York State Designer Blacksmiths. A cast of about 40 people portrayed characters from the community's past during the Ghost Walk.
Dave Skrip works with Albion lineman during a practice on Oct. 9. Skrip, a 2008 Albion graduate, returned to his alma mater to teach high school social studies. He was part of a coaching staff that led the team to an 8-1 record in 2018.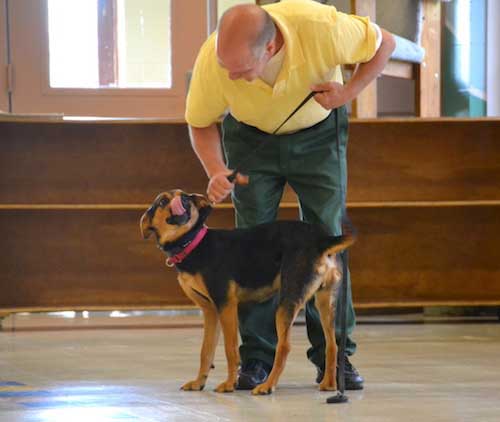 T. Jones, an inmate at the Orleans Correctional Facility, works with Richie in a new canine training program at the prison. They are shown on Oct. 9 during a graduation program. The Orleans Correctional Facility celebrated the first class of a canine training program where inmates served as handlers for rescue dogs. The debut class lasted 13 weeks. The three dogs that were taught obedience and socialization are now available to be adopted to a "forever family."
T. Jones said he lost 10 pounds through the program, by walking the dog and leading it through the obedience training. Jones said his blood pressure also went down. More importantly, he said, he welcomed the chance to be responsible and care for an animal. "I've learned to be patient and caring," Jones said during the graduation ceremony. "I hope all of the dogs find their forever home."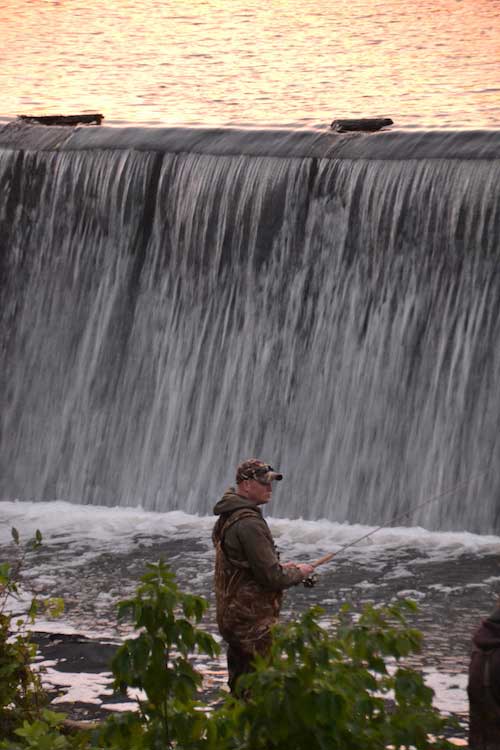 A fisherman tries to catch a salmon or trout on Oct. 11 at Johnson Creek near the Lyndonville Dam. The fall salmon and trout run attracts many out-of-state fishermen to the county. This angler is shown near the dam while the sun is setting just before 7 p.m.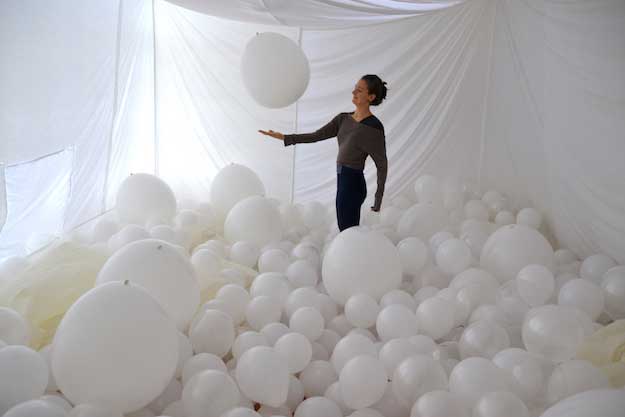 Kyla Kegler of Buffalo created "Thin Space" for an art exhibit at the former Medina High School on Oct. 13. She welcomed people to get in the space with the balloons. The former school was transformed by 29 artists for a special three-day show. The "PLAY/GROUND" initiative gave artists free rein to create in old classrooms, stairwells, hallways and other space in the school.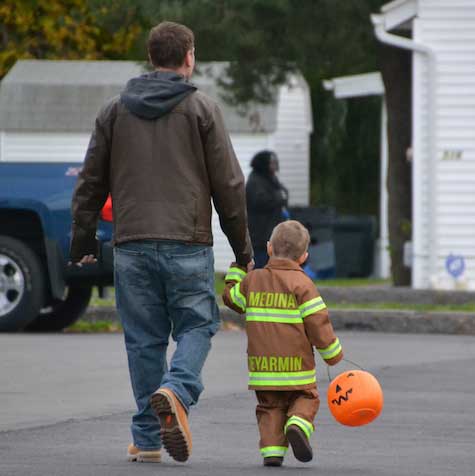 Bruce Deyarmin of Medina and his son Austin, 2, get in line on Oct. 26 for the annual Beggar's Night in Medina, when local business owners hand out candy on the Friday before Halloween. Austin wanted to be a firefighter for the event. Organizers said at least 800 kids were dressed up in costumes.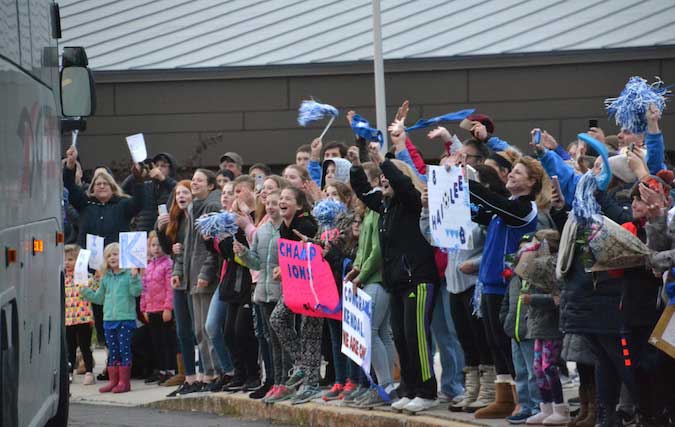 A throng of Kendall community members welcomed home the 2018 Class D state girls soccer champions on Nov. 11 at the Kendall Junior-Senior High School. The Kendall girls won the first team state title in the school's history after defeating Fort Ann 1-0 in a game at Tompkins Cortland Community College. Their bus was escorted into Kendall by fire trucks.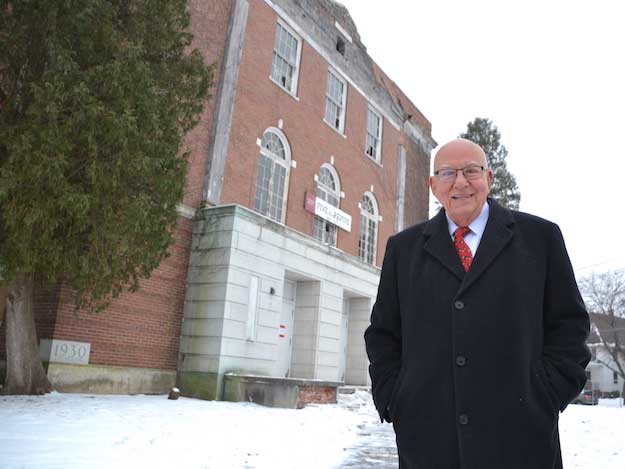 Nelson Leehouts, chairman and CEO of Home Leasing, stands in front of the former Holley High School on Dec. 11 when the community, and local, state and federal officials gathered for a "preservation celebration" for the building. Home Leasing has started construction on a $17 million transformation of the former school, turning the building into 41 apartments for senior citizens and also the new village offices for Holley.