Hospice, American Legion honor vet in Carlton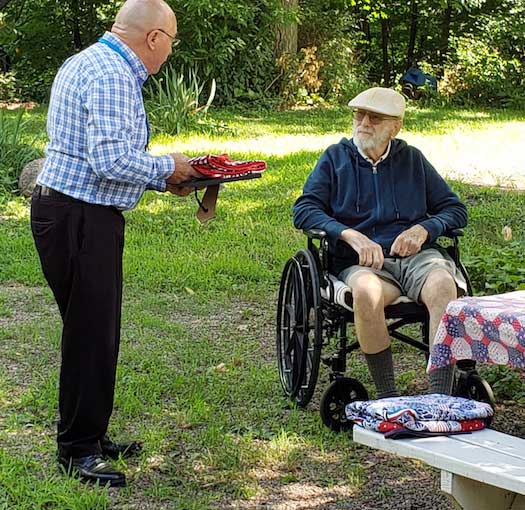 Photos courtesy of Jeanne Crane
CARLTON – Roy John Follman of Carlton was presented with certificates last week in appreciation for his military service in 1953 and 1954.
The top photo shows George Way, a social worker for Hospice of Orleans, presenting Follman with a framed certificate.
"We pay special tribute to you for you military service to America and for advancing the universal hope of freedom and liberty for all," the certificate states.
Follman, who is currently under hospice care at his home, attended Alfred State in 1952 and in 1953 entered Basic Training with the U.S. Army and was sent to Fort Drum. After his training he was sent to Iceland and then to guard the Russian border. He was honorably discharged in 1954 and then graduated from Cornell in 1958.
John spent most of his life working for farmers and retired in the early 2000s to tend to his own garden, especially his rhubarb. Close to 800 pounds of rhubarb were harvested this year with help from his family.
John and Dorothy were married at Thanksgiving time in 1954 and raised four boys. Many of their grandchildren and great-grandchildren live close to home.