Home & Garden Show has record number of vendors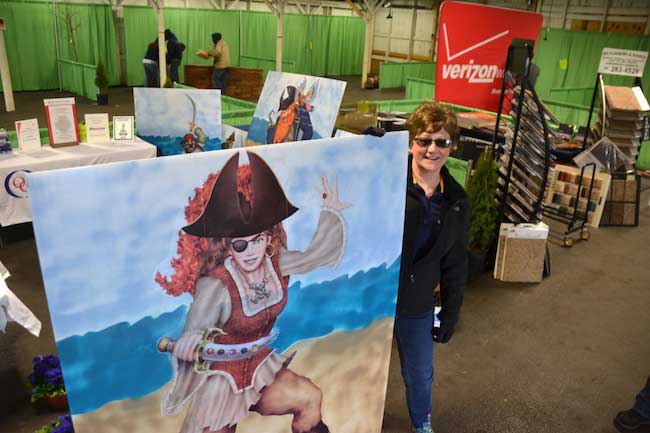 Photos by Tom Rivers
KNOWLESVILLE – Becky Charland, executive director of the Orleans County Chamber of Commerce, is pictured this afternoon setting up for this weekend's Home, Garden & Outdoor Show at the Orleans County 4-H Fairgrounds. There will be a pirate theme at the event, including a treasure hunt on Sunday from noon to 4 p.m.
There will be clues for children to complete a pirate themed challenge. If they can solve it, they will win prizes. Nine of the vendors will have clues in the contest.
All 50 spots for the show have been taken for the Home, Garden & Outdoor Show, a first for the event. After taking a break from the show in 2016, the Chamber brought in back in 2017 and this year is the biggest one yet. There are vendors for home projects, landscaping improvements and other household upgrades and services.
"It promotes the businesses in Orleans County," Charland said about the show. "That is really what the Chamber is here for."
The show will be open on Saturday from 10 a.m. to 6 p.m. and on Sunday from 10 a.m. to 4 p.m. Parking is free with a $3 admission for adults. Kids can enter for free. (Click here to see a list of vendors and to download a coupon for free admission.)
The Albion Elk's Club will be serving chicken barbecue on Saturday from 1 to 4 pm. There will be a wine-tasting both days.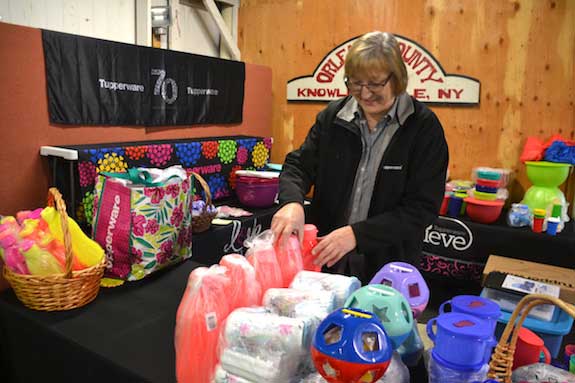 Judy Szulis of Medina gets her Tupperware products ready for the weekend's show. Szulis has been selling Tupperware for 11 years, including eight years as a director. Szulis is looking forward to the Home & Garden Show.
""It's hometown," she said. "It's nice to touch base with a lot of people."
This is the 70th anniversary of Tupperware and Szulis said the company keeps innovating, offering new products in new colors, including Tupperware that can be used in the microwave and dishwashers. There are new Tupperware water bottles, and other items, she said.
"It's not your grandmother's Tupperware anymore," Szulis said.