Home, Garden & Outdoor Show braves the weather
(UPDATE 7:51 a.m. on April 15: The Home, Garden & Outdoor Show has been cancelled for today due to the weather conditions.)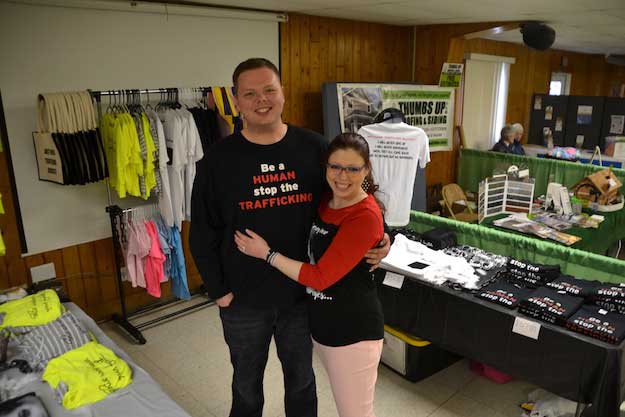 Photos by Tom Rivers
KNOWLESVILLE – Liz and Roger Midkiff are among the vendors at the Home, Garden & Outdoor Show at the Orleans County 4-H Fairgrounds this weekend. Liz Midkiff is the owner of Stolen Angels, Inc., a clothing line that creates awareness about human trafficking.
The business has an office at the Arnold Gregory Office Complex at 243 South Main St., Albion. Midkiff opened her office there in January. She visits churches and other community groups to raise awareness about sex trafficking.
The Midkiffs are at the Home, Garden & Outdoor Show to try to build awareness about the trafficking issue. The Home Show opened at 10 a.m. today and there was a big crowd in the beginning of the day before the weather turned cold in the early afternoon.
"There was a burst of people in the morning," Mr. Midkiff said.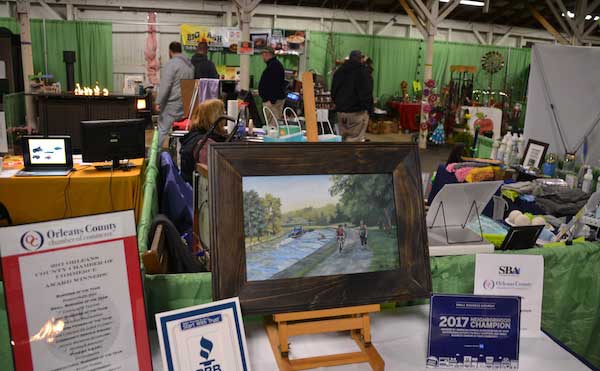 The Orleans County Chamber of Commerce organized the show, which was maxed out with 50 spots for vendors. The show is scheduled for 10 a.m. to 4 p.m. on Sunday, with a treasure hunt for children from noon to 4 p.m. That hunt will be a chance for participants to get clues from many of the vendors, clues that are needed to solve a puzzle and win a prize.
The photo shows a painting of the Erie Canal by artist Stacey Kirby. Because the Chamber doesn't have a storefront office anymore, it wanted to display the painting as part of a welcome booth at the Home Show.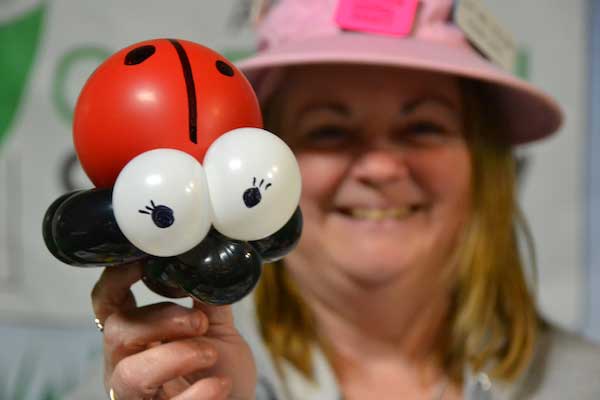 Sheryl Watts of Shelby holds a lady bug she made out of balloons. Watts is the owner of Air Raising Events. She has been balloon twisting and face painting for 20 years.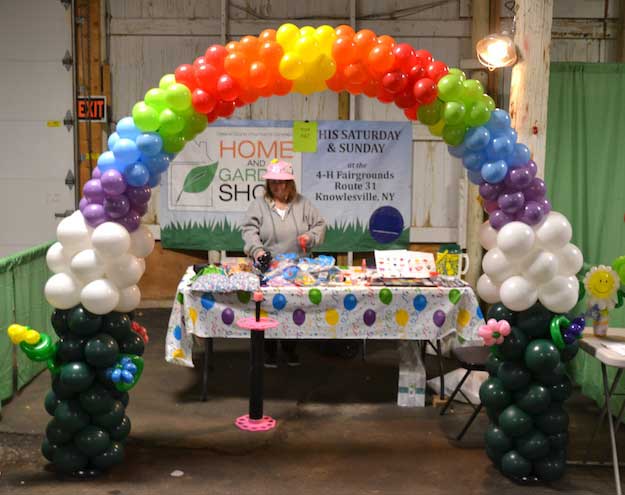 Watts created a big entrance out of balloons at her booth.