Holley's Class of 2019 celebrates commencement in the sunshine
Rain stayed away for outdoor ceremony at Holley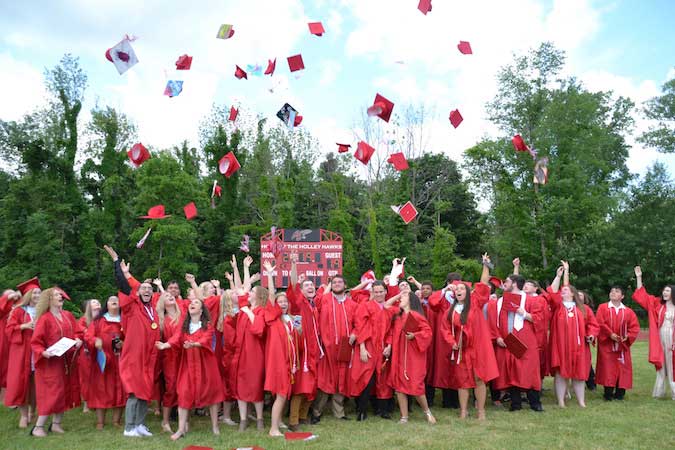 Photos by Tom Rivers
HOLLEY – After the graduation ceremony this morning at Holley Hawks Stadium, the 63 members of the Class of 2019 gathered near the scoreboard and tossed their caps high, an annual tradition after commencement.
The rain stayed away the ceremony was able to be outside.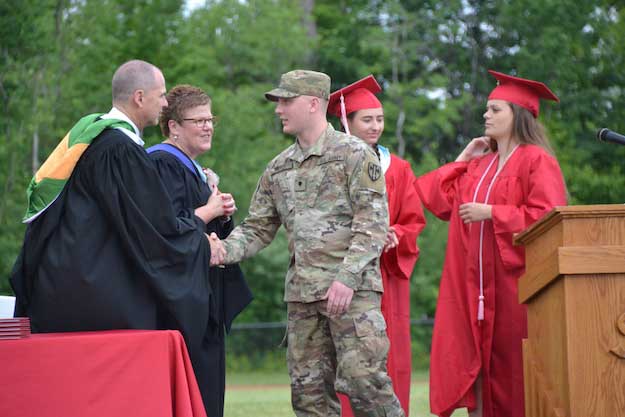 Clarence Moyer, a member of the Class of 2016, was on stage for the Pledge of Allegiance and the National Anthem. His brother Dalton is a 2019 Holley graduate. Abrianna Kruger (back left) is the class president who welcomed the crowd for commencement. Michaela Williams, right, sang "The Star-Spangled Banner."
Moyer is shaking hands with Brian Bartalo, the district superintendent, and Susan Cory, the high school principal.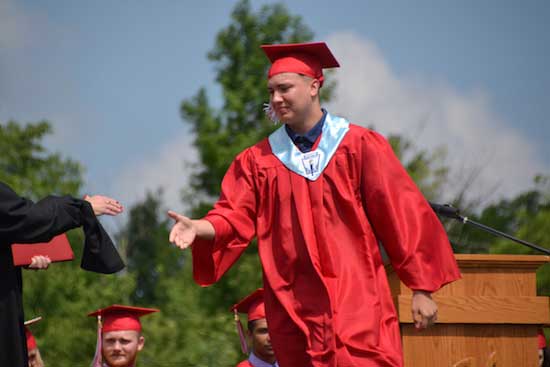 William Lavender crosses the stage to accept his diploma today.

Holley administrators, teachers and Board of Education members (wearing the black robes) lead the Class of 2019 to the Holley Hawks Stadium this morning. The ceremony used to be held at the Woodlands soccer field, but is now at the Holley Hawks Stadium where there is more seating.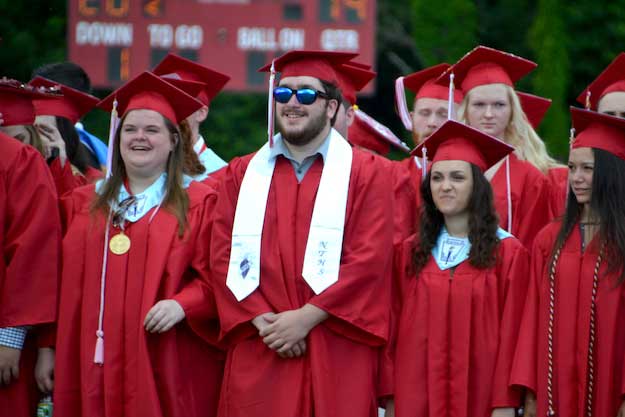 The students take their spots at the start of commencement. From left include Emily Bibby, Ethan Bibby, Jocelyn Cervone and Jocelyn Chilton.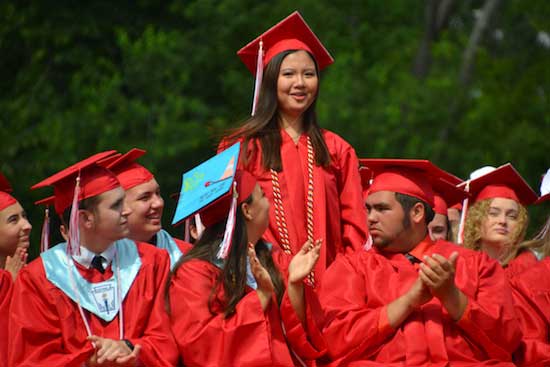 Xi Lin stands to be recognized after winning the award for the graduate "who showed the biggest heart, enthusiasm for high school, and brought happiness and laughter to all those around them."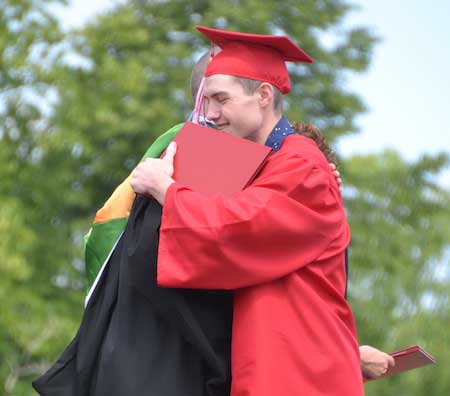 Matt Skehan and Brian Bartalo, the district superintendent, embrace after Skehan was presented his diploma. Skehan won several awards during graduation including one of the new $512 scholarships in memory of Floyd Hanes, a fiery Holley soccer player who wore No. 12. Haines passed away on May 24 at age 43.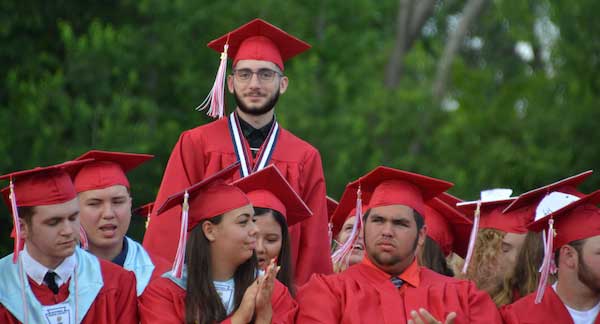 Kory Puente is recognized with one of the awards. Holley presented about $25,000 in awards and scholarships today.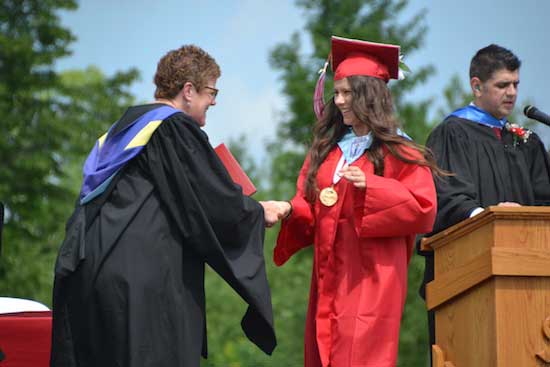 Anastasiya Yaroshchuk smiles after being presented her diploma by Susan Cory, the high school principal. Matt Hennard, middle-high school social studies teacher, is the announcer.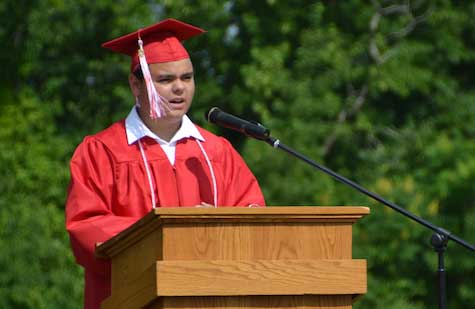 Aaron Strathearn, the class president, announces the class gift of $500 for flowers and trees in memory of Holley students and alumni who recently passed away.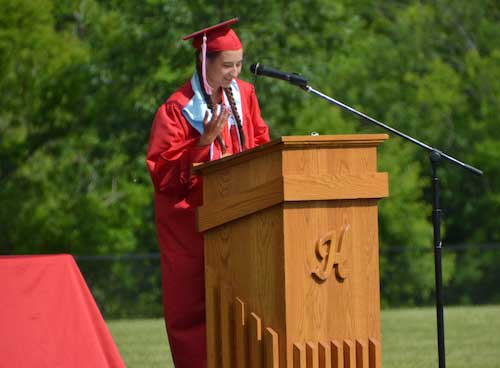 Abrianna Kruger, the class salutatorian, gives her speech. She will be majoring in political science at Geneseo State College.
She congratulated her classmates on their achievement of finishing high school. They are all starting from the same position for the next stage of their lives, she said. They won't be defined by their grades, or misses or "lates."
She urged them to go out and gain new perspectives. She quoted from Dr. Seuss in, "Oh, The Places You'll Go!"
"You have brains in your head. You have feet in your shoes. You can steer yourself any direction you choose. You're on your own. And you know what you know. And YOU are the one who'll decide where to go…"

Shawna Lusk gives the valedictory address. She is headed to Roberts Wesleyan College in Rochester this fall to major in nursing.
She thanked parents and teachers for helping the graduates attain success in high school.
"We should always embrace our Holley roots and the supportive community we have here," she said.
Lusk urged her classmates to find contentment, even in difficult situations.
"Find joy in all circumstances," she said. "If you focus on the positives nothing will get you down."
Shawna Benzn gives the commencement message, and urges students to face their fears. Benzn said she is honored to give the commencement speech, but it also terrified her. She said she wanted to show the graduates they should put themselves out there, even when they are scared or nervous.
They could be asking someone on a date, pursuing a promotion, or learning a new skill. That doesn't mean they will always get what they want, she said.
She offered a four-step plan for overcoming fears:
• Evaluate your fear: "Does that thing you fear really have the power to hurt you?" she asked.
• Find your cheerleader: She said her husband told her she should accept the request to give the speech and that she would do great. The Holley students have supportive friends, staff and teachers they can always reach out to for a pep talk.
• Don't think "What if?" but instead think, "What will I be missing out on?": Don't just imagine bad outcomes with something that makes you fearful, Benzn said. Consider a scary situation instead as an opportunity for personal growth, a chance to make new friends, or perhaps more money.
• Look backward to look forward: Holley students have already conquered many fears, from getting on a school bus when they were 4 or 5 years old, to learning to read and write, perform on stage or on the athletic field.
They came to school in prekindergarten or kindergarten knowing few people and were surrounded by hundreds of strangers. They would go on to make lots of friends.
Some of the students have been on school trips outside of the state and country. Three international students in the Class of 2019 came to Holley after leaving their families and familiar surroundings for nearly a year. Those students include Janne Grasshoff and Teresa Szcepanski of Germany, and Basile Guillo of France.
"Some of you have dealt with trauma and loss and you still got here every day and did what you needed to do," Benzn said.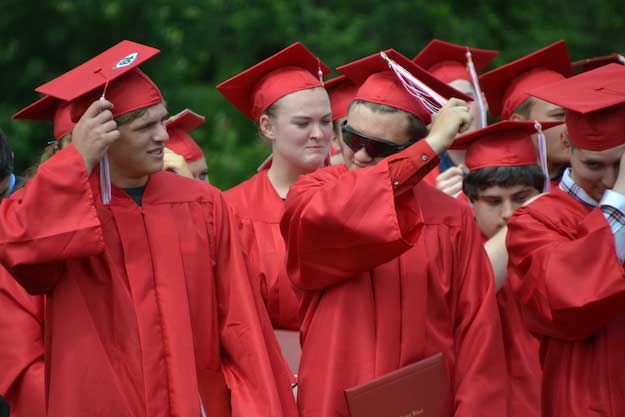 Cade Aina, left, and Erik Balys move over their tassels after the district superintendent said the class met the standards of graduation.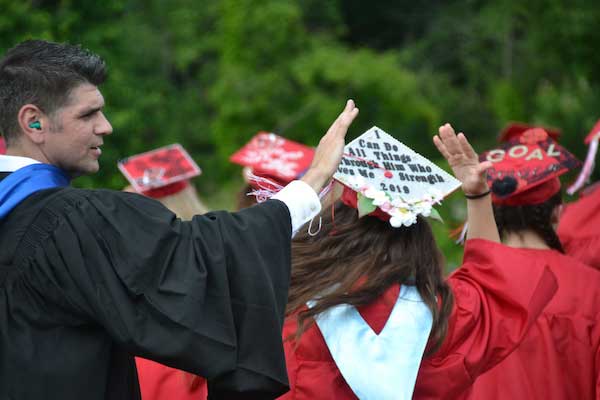 Matt Hennard, middle-high school social studies teacher, high-fives students as they make their way towards the scoreboard for a group photo.