Holley will miss retiring teachers and staff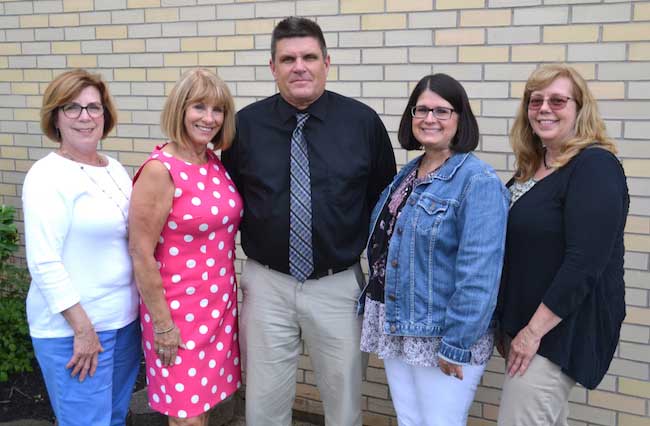 Photo by Tom Rivers
HOLLEY — The Holley Board of Education recognized retiring teachers and staff at the board meeting on Monday. Pictured from left include Maureen Christian, an instructional aide in fourth grade for 23 years; Toni Barber, kindergarten aide for 30 years; Dan Orbaker, chemistry and physics teacher for 34 years, as well as varsity boys soccer coach; Jolynda Elsenheimer, second grade teacher for 33 years; and Denise Johnstone, special education teacher for 28.5 years.
The board also recognized Tim Rogers, who is retiring as the technology teacher.
Barber joined the staff as a kindergarten aide when her daughter, Jenna, started kindergarten. Barber decided to work for the school after 18 years as a secretary at a Brockport manufacturing plant.
She is sad about retiring full-time at the school, and expects she will stay on as a substitute next year.
"I just love the kids," Barber said. "I focus on the kids who need me the most."
Orbaker joined Holley after a year at Lyons. He was praised by district superintendent Brian Bartalo for helping students to excel in the classroom and on the sports field. Orbaker-led team won two state championships and have had a winning record every season the past 30 years.
"I have no regrets," Orbaker said. "I never had a day I didn't enjoy here."
He said 135 of his Holley players went on to play at the next level in college.
The Board of Education also recognized Brenda Swanger, who is retiring from the board after 15 years, including the past six as president.
She praised the retirees, the other teachers and staff, and her colleagues on the board.
"I'm really proud of everything you've done," she said. "You've all been working very hard."