Holley will make parade changes after 'offensive float'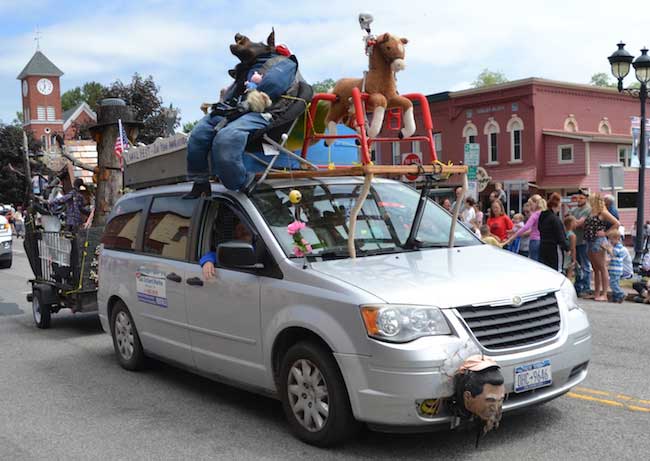 Photos by Tom Rivers
HOLLEY – A float in the June Fest parade that many people have found to be offensive and racist has prompted the June Fest Committee and the village to insist on a final check of all entries before the parade, Mayor Brian Sorochty said today.
A vehicle pulling a trailer had a detached fake head mounted by the front bumper and other strange "decorations," included a black baby doll that was chained to a tree. There was a Sandy's Oak Orchard Marina marker on the vehicle, but Sandy Kintz, marina owner, said she didn't endorse the decorations.
A friend, Peter Gewerz, created the display. She was told it would be a water theme with a kayak and maybe an alligator.
"I had no idea," she said. "I'm flabbergasted."
Mayor Sorochty and Kintz have both spoken with Gewerz who insisted he meant nothing racist or offensive in the display. He is known for big Halloween displays.
"He didn't seem like the kind of guy to do that," Kintz said about a racist message. "If you know him, you know he would never do that."
She apologized to the community for the display.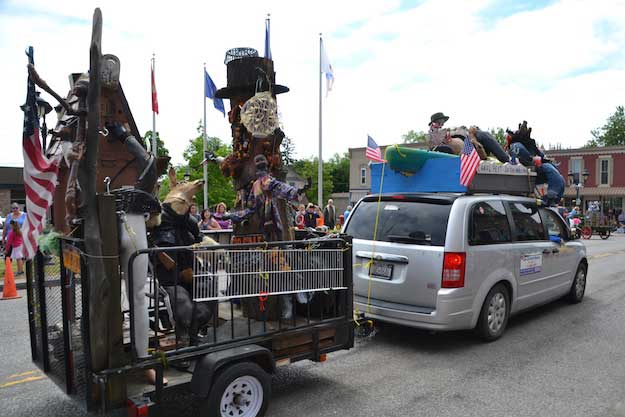 Sorochty said the committee and village will do a thorough review of all floats in the future while they are in the parade staging area at the elementary school.
He issued this statement to the media:
"It has come to our attention that one of the parade participants had display material on their float that offended many people. I have spoken with this person and he claims that he had no intention what so ever of displaying any kind of racist or offensive message. I have also spent the last day looking into the matter, keeping in mind that we had several committee members all who were responsible for a variety of aspects of this fast growing event. The bottom line is that when this individual arrived we clearly did not perform a thorough review and scrutinize the float content.
"This event is supposed to be an opportunity to celebrate our community and the floats are supposed to family friendly. The fact that this happened is very saddening to me and for all those that were disturbed and offended by this float I am sorry. Please note that neither the Village of Holley nor our Community Events Committee would ever approve of any offensive content for our festival.
"Our committee has done a wonderful job pulling this festival together and growing it the last two years and I hope that this one incident does not take away from what a great day it was. Our committee has only done this now for two years and we are learning each year how to improve the operations of this event. Going forward we will absolutely have an individual dedicated to performing a final check on all floats to ensure this does not happen again. Thank you for your understanding."