Holley welcomes back students with plenty of hugs and high fives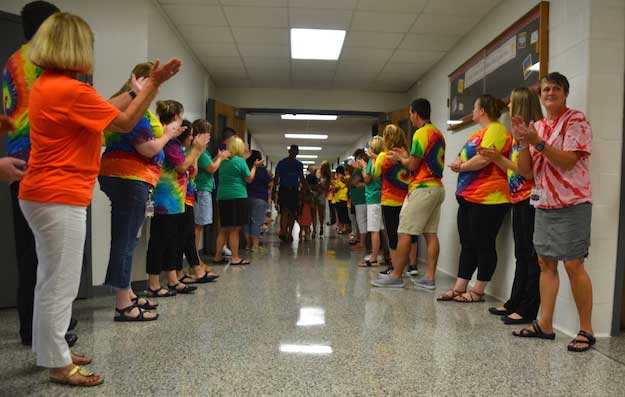 Photos by Tom Rivers
HOLLEY – The Holley school district welcomed students back on Tuesday with open houses and a pep assembly. In the elementary school, teachers and staff lined the hallway and applauded for students as they headed to the gym for an assembly.
Each grade level in the elementary school wore T-shirts in a different color. Those grade levels also decorated their wings in their respective color. It will be a unifying theme throughout the school year.
Teachers, staff and administrators who work in more than one grade level wore multi-colored shirts for the open house and pep assembly.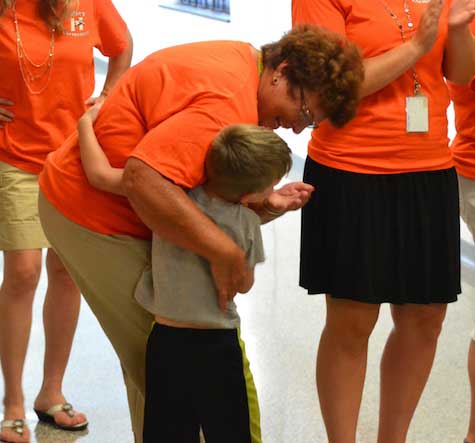 Exzavier Pellegrino gets a hug from Mrs. Susan Thornton, who was his first grade teacher last year. Mrs. Thornton is teaching kindergarten this year while Exzavier heads to second grade.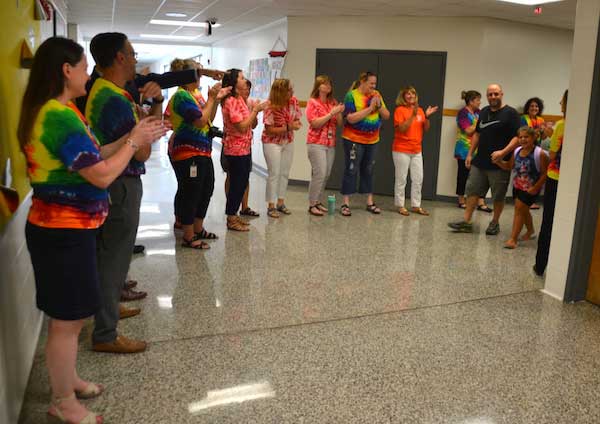 Brian Fitzpatrick and daughter Olivia, who is headed to third grade, get a big welcome as they head to the gym for the opening assembly.
This is the third year that Holley has lined the corridor with teachers and staff to welcome students.
"It's to get the kids excited about being here and to show them that we've missed them," said Karri Schiavone, the school principal.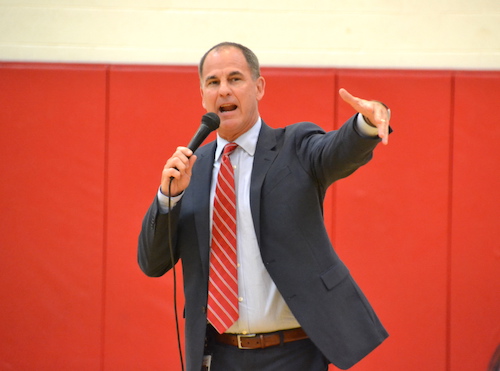 Brian Bartalo, the new superintendent at Holley Central School, addressed parents and students during the assembly. He started as superintendent on July 16 after working as principal at Hilton High School.
Bartalo grew up in Dansville, a small town in Livingston County that is similar in size to Holley.
"It feels like home," he said about Holley.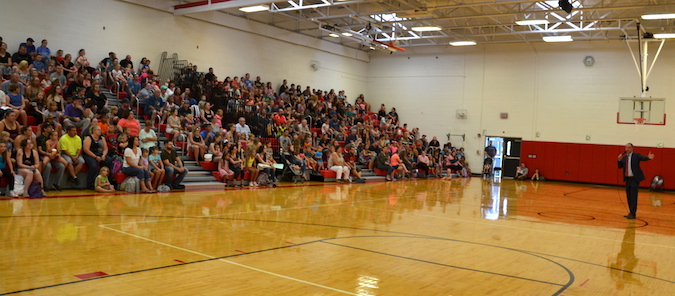 Bartalo addresses a crowd of about 500 people in the gym. He said he is impressed by the teachers, staff and administrators at Holley, who make the extra effort in showing they care about the students.
"This was high energy with lots of hugs and high fives," he said after the students were welcomed in the hallway and at the assembly.
The new superintendent said he appreciates the warm welcome he has received from the community since he started the job. "Everybody has been super-friendly," he said.
Bartalo also urged parents to be active partners in helping their children learn and excel this school year.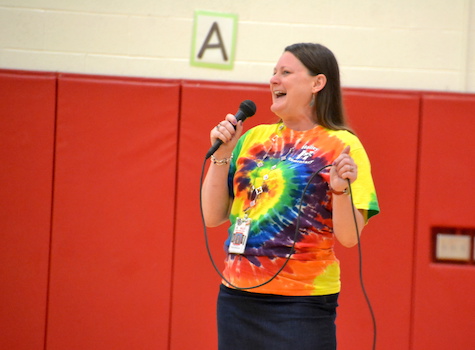 Karri Schiavone, the elementary school principal, said she has been looking forward to the start of the school year.
"I'm very excited," she told the students."It's been very lonely here all summer."
Schiavone started a new outreach this summer where she, teachers, guidance counselors and a social worker meet in teams of two or three people with kindergarteners and their families at their homes. They go over paperwork and forms needed for the school year and allow the incoming students to meet their teachers.
Schiavone and the school visited about 80 percent of the kindergarteners, an incoming group of about 85 students.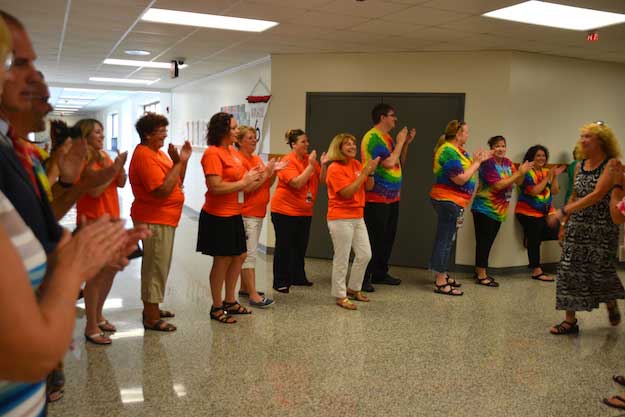 Anne Smith (right), a retired teacher who is now on the Board of Education, also received a round of applause from the teachers.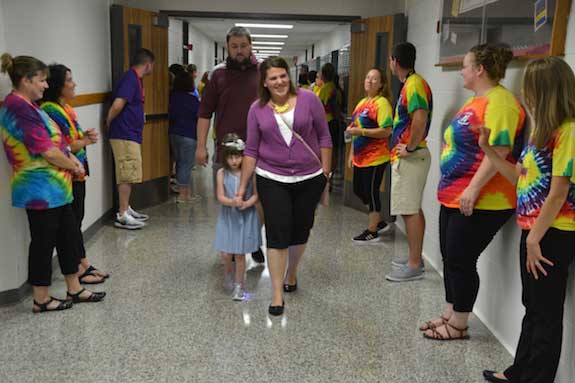 Ruthie Davis is starting kindergarten. She is led through the hallway by her parents, Joanna and Chuck Davis.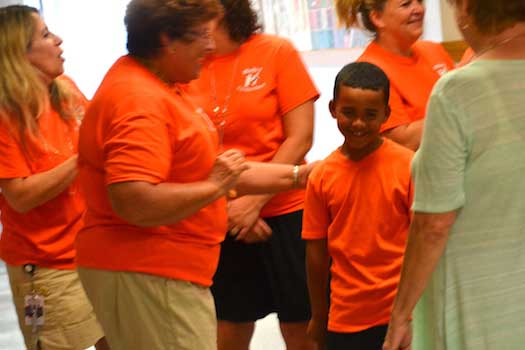 Tarek Garrett, a third grader, is welcomed back by the teachers at Holley.