Holley tops in Orleans for snow from storm with 25 inches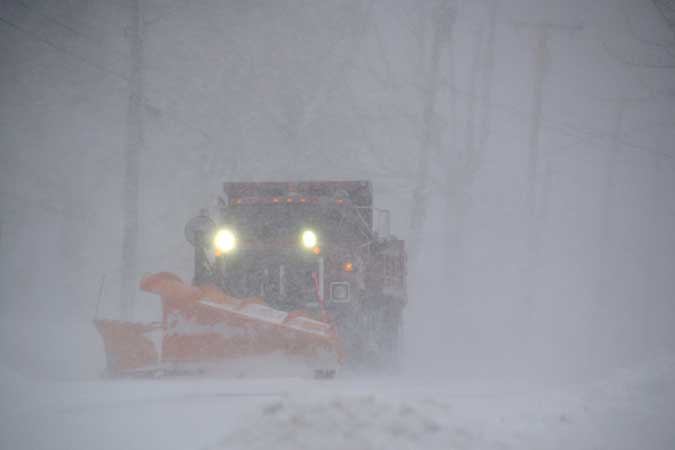 Photo by Tom Rivers
ALBION – A Village of Albion plow truck heads down East State Street on Wednesday during near whiteout conditions. Albion received nearly 2 feet of snow in the 2-day storm from Monday to Wednesday.
The National Weather Service in Buffalo today released a tally of the snowfall around Western New York from the storm known as "Stella." Holley led Orleans County with 25 inches, followed by 24 in Clarendon, 22.9 in Medina and 20.6 in Albion.
Other communities with the most snow in nearby counties include:
• Amherst, Erie County, 26.2 inches;
• Corfu, Genesee County, 14 inches;
• Rochester (northwest), Monroe County, 31 inches;
• Lima, Livingston County, 15 inches;
• Lockport (northeast) in Niagara County, 33.4 inches;
• Geneva in Ontario County, 20.5 inches;
• Perrysburg, Cattaraugus County, 25 inches;
• Savannah, Cayuga County, 24 inches;
• Forestville, Chautauqua County, 21.5 inches;
• Fulton, Oswego County, 30 inches;
• Palmyra, Wayne County, 33.3 inches;
• Warsaw, Wyoming county, 19.4 inches.