Holley teen gets big welcome back to school after completing chemo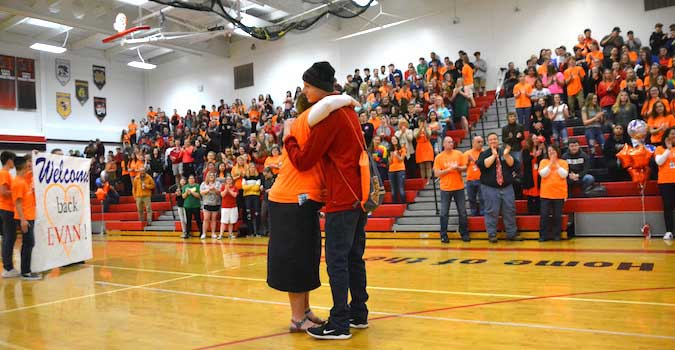 Photos by Tom Rivers
HOLLEY – Evan Valentine returned to Holley Junior-Senior High School today for the first time since being diagnosed with leukemia on Oct. 19.
Evan, 16, completed four rounds of chemotherapy. He is greeted by Susan Cory, the school principal, and about 450 of his classmates in grades 7-12.
Cory gives Evan a hug. "It's been a long time and we've missed him," she said.
Many of the teachers and students wore orange "Evan Strong" shirts to celebrate Evan's return.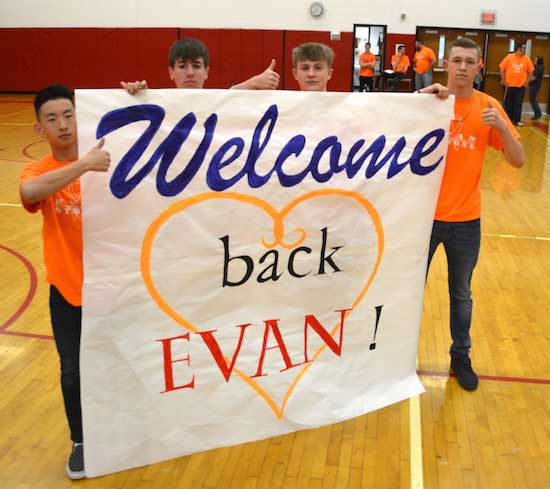 Four of Evan's close friends hold a big banner welcoming him back to school. They include, from left: Karl Biedlingmaier, Chuck Turpyn, Nathan Nothnagle and Kohl Morgan.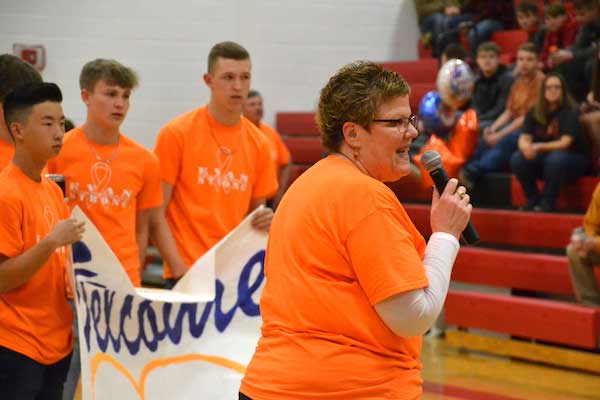 Sue Cory, the school principal, tells students Evan is about to enter the school gym. This photo was taken a little after 7:30 this morning.
"We are very happy to have him back," Cory told the student body. "Our family is all back together."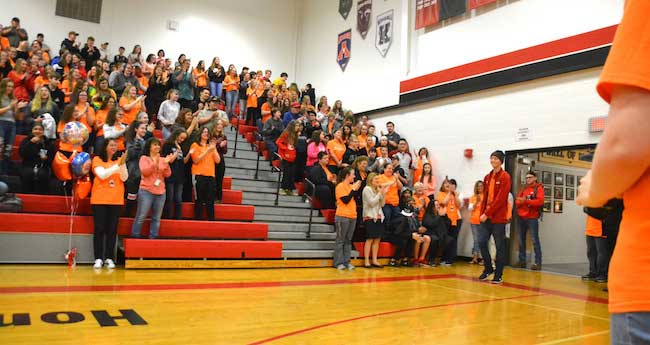 Evan Valentine received a standing ovation from students and teachers this morning. He endured five months in the hospital for his chemo and recovery.
"I just want to say thank you to the community," he said.
He was visited by many students and residents during his time at the hospital, and had a wall of get well cards in his hospital room.
About 600 people attended a benefit dinner at the Clarendon Rec Hall on Nov. 18 in his honor. The Kingdollar family also made 800 of the orange "Evan Strong" T-shirts to show support for Evan and raise some money for his family.
"Everybody has been incredible," said Evan's father, Neil Valentine. "He is one of those miracle kids."
Evan, a sophomore, was diagnosed right before a Sectional soccer game. He was moved to varsity this fall. He is eager to join the golf team this spring.
He kept up with his school work at Golisano Children's Center in Rochester.
"He was ready," his mother Diane said about his return to Holley.  "He was missing all of his friends and the environment."
The nurses at Golisano were impressed by the many visitors from Holley, who often checked in on Evan.
"The hospital staff was amazed by all of the support from this school and community," Mrs. Valentine said.