Holley students give cemetery markers a cleaning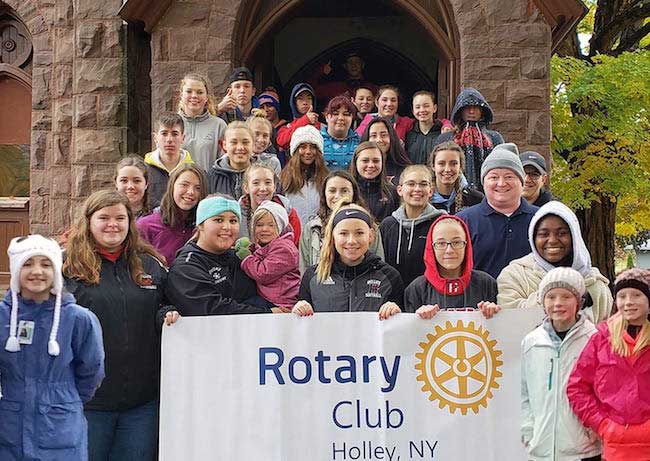 Provided photos
HOLLEY – About 30 members of the Interact Club at Holley Central School spent part of Saturday cleaning grave markers at Hillside Cemetery.
The group that helped on the project Saturday include: First row – Emily Bibby, Morgan Cary, Rachael Howard, Harleigh Andrews and Breanna Girangaya. Second row – Kamryn Berner, Kayleigh Neale, Sarah Harrington, Jocelyn Cervone, Rotarian Jessica Mandigo and Rotarian Brian McKeon.
Third row – Chuck Turpyn, Janne Grasshoff, Amaya Cancinco, Ally Lyndaker, Rachel Killian and Historian Melissa Ierlan. Fourth row – Hayley Passarell, Jordan Wright, Madison Marsh, Harley Felerski and Allana  Knopp.
Fifth row –Kohl  Morgan, Jamel Hildreth, KJ Biedlingmaier, Libbie Pecora, Grace McKeon and Hope Falls. Last row – Nathan Nothnagle.  Missing from picture – Casey  Onisk, Ave Quincey and Elise Quincey.
The Interact Club is sponsored by the Holley Rotary Club. Samantha Zelent and Evinn Neadow are advisors of Interact, and John Heise is the Rotary Club adviser.
Melissa Ierlan, a member of the Holley Board of Education, also helps oversee the cemetery and is the town historian. She was instrumental in the cleaning effort on Saturday. She laos gave the student a tour of the cemetery and the chapel.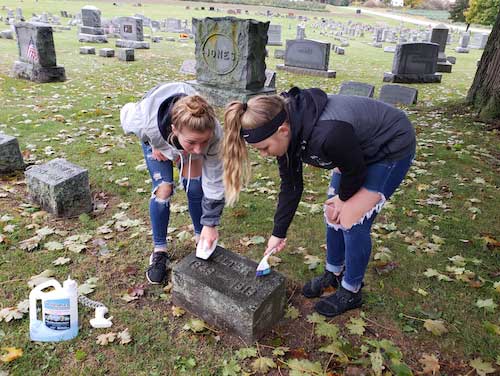 Hayley Passarell and Rachael Howard give a century-old stone a cleaning.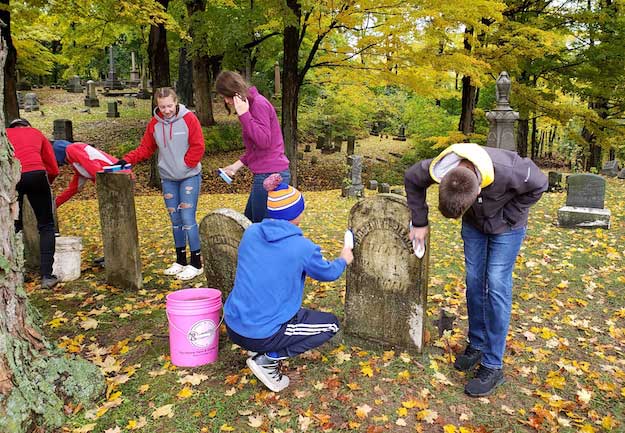 Sarah Harrington, Kayleigh Neale, Jamel Hildreth and Chuck Turpyn help in the historic section of the cemetery.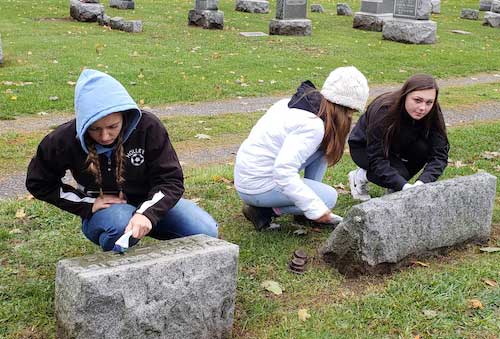 Rachel Killian,  Amaya Cancino and Ally Lyndaker volunteered on Saturday.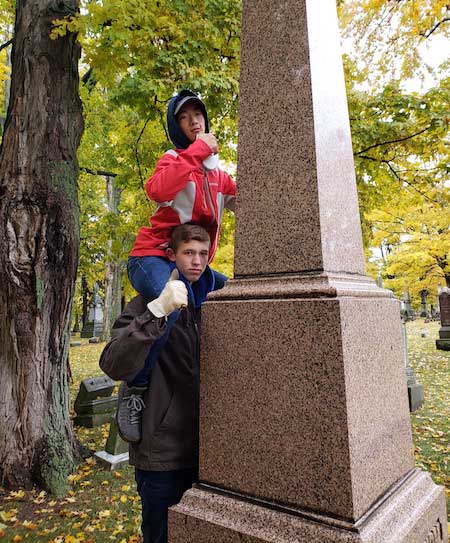 Kohl Morgan and KJ Biedlingmaier work together to get a high spot of this elaborate gave site.