Holley student raises $500 for community center by making squirrel tables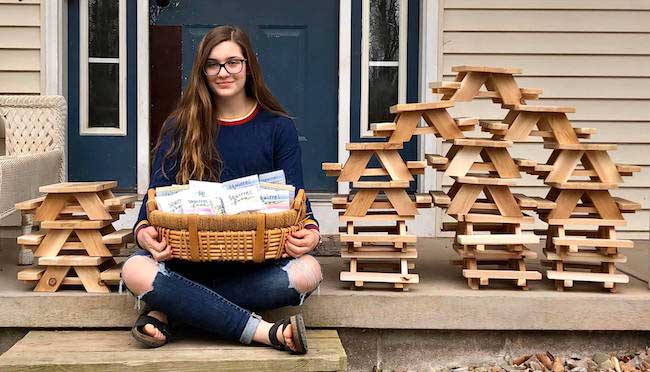 Provided photos
HOLLEY – Katie Dobri, a Holley 8th grader, is pictured with some of the squirrel tables she made over the weekend with her mother, Crystal Dobri.
This morning they announced the tables were for sale for $25 each and proceeds would go to the Eastern Orleans Community Center in Holley. Within an hour, all 18 tables were sold, raising about $500 for the community center. Many of the people gave more than $25 per table.
Squirrel tables have become a quarantine phenomenon, a fun project for many families. The tables are about 10 inches long.
Katie and her mother cut the wooden pieces of cedar and put the tables together on Sunday.
Crystal said she and her husband, Tibor Dobri, are thankful they have both been able to keep working during the pandemic. Mrs. Dobri is a nurse and teaches nursing classes at St. John Fisher.
The family decided to support the local community center by selling the tables. (They included a bag of food for the squirrels with each sale.)
The center at Holley's Public Square is providing take-out lunches and emergency food for local residents.
"We are so fortunate to be working through the pandemic, and putting food on the squirrel table is fun but not a necessity," Dobri said today. "Katie and I decided that we want to put food on our community's table, too."