Holley school library dedicated in honor of John Heise
HOLLEY – The school district today dedicated the library at the junior-senior high school in memory of John Heise, who served as principal of the building for many years.
He also was an elementary school principal and director of education and special programs. In his retirement, he was elected to the Board of Education and was the vice president when he passed away on Dec. 23, 2020. He was 73 and given 40 years to the Holley school district. He also served as a village trustee, Community Free Library trustee and was on the board for the Monroe II-Orleans BOCES. He was deeply involved in Rotary, and was a past Holley club president and served as district governor for an area that included about 70 Rotary clubs in Western New York and southern Ontario.
He was very involved in bringing foreign exchange students to Holley and delighted in taking them to visit sites all over the region.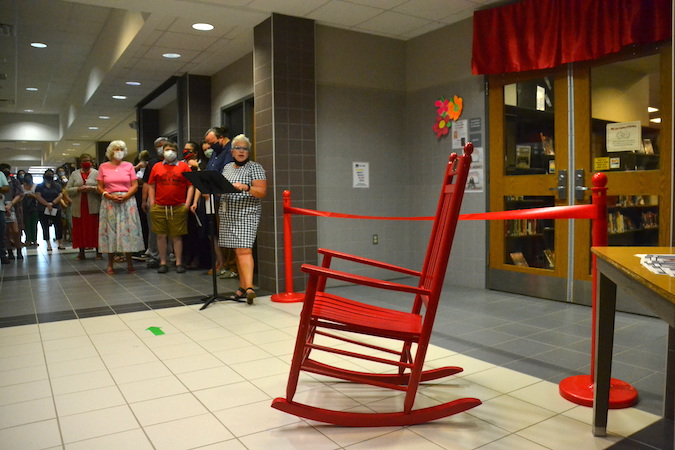 Robin Silvis, the Board of Education president, speaks to the group gathered in the school for the dedication ceremony. The red chair in the photo will go in the elementary school. That chair was donated in memory of Heise by the other members on the Board of Education and Jeff Martin, the school attorney who also has been in the Holley Rotary Club for many years with Heise.
Silvis said the district wanted to pay tribute to "our friend and colleague." Naming the library for Heise is a fitting tribute because he loved to read and was such a strong proponent of education, Silvis said. He was often seen on his front porch on North Main Street, reading a book.
Silvis said Heise is "sorely missed" by the Board of Education members and his many friends.
"No amount of words can offer gratitude that this district, community, your friends and family have for all that you gave of yourself for the good of others," Silvis said.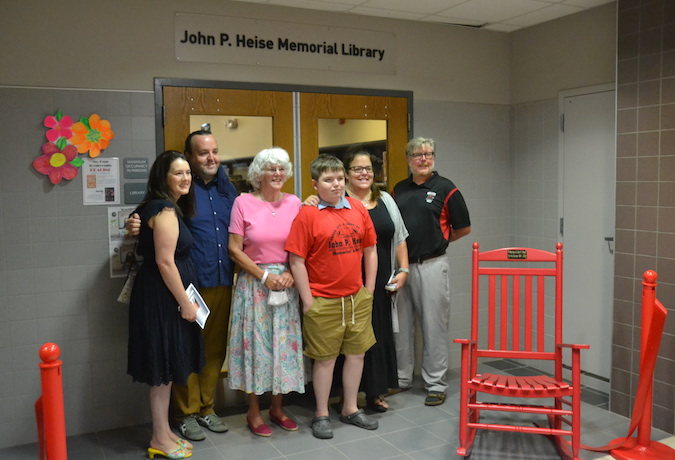 Heise's family is pictured by the entrance of the library. Pictured from left are Heise's son Kevin and his wife Iris, John's wife sandy, grandson Alexander Zelent, and daughter Samantha and her husband John Zelent.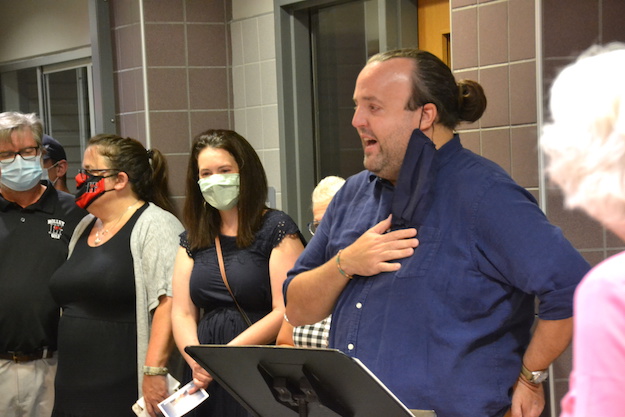 Kevin Heise said his father loved to read and learn about many different subjects. He kept a reading log and challenged his son to keep reading and learning.
Kevin said naming the library for his dad "is a wonderful tribute for a wonderful man."
"He'll be able to continue to share his love for reading," said Kevin, who lives in Richmond, Va.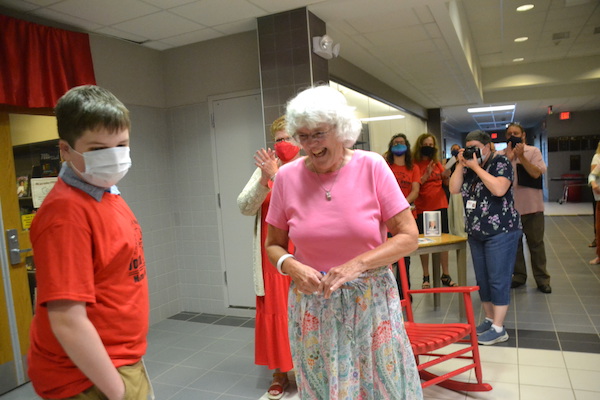 Sandy Heise reacts after cutting the ribbon for the library. Her grandson Alexander joined her in cutting the ribbon.
Sandy said her husband found just about any book interesting, whether nonfiction about a historical topic or a mystery thriller.
"He loved books," she said. "He loved to read."
Her husband's death was unexpected and she continues to feel the grief of his loss.
"Some days it's one step forward and one step back," she said. "Some days it's one step forward and three steps back."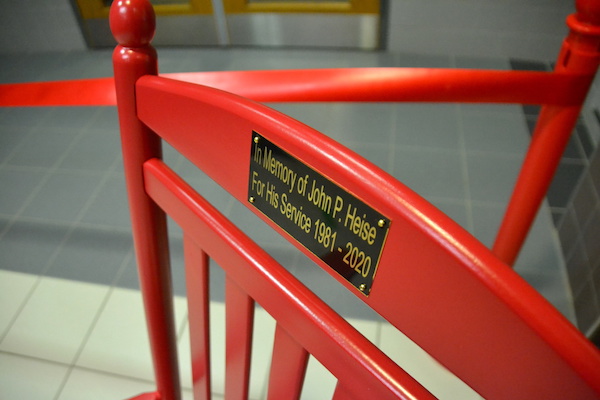 The plaque on the chair notes a nearly 40-year commitment to Holley from John Heise.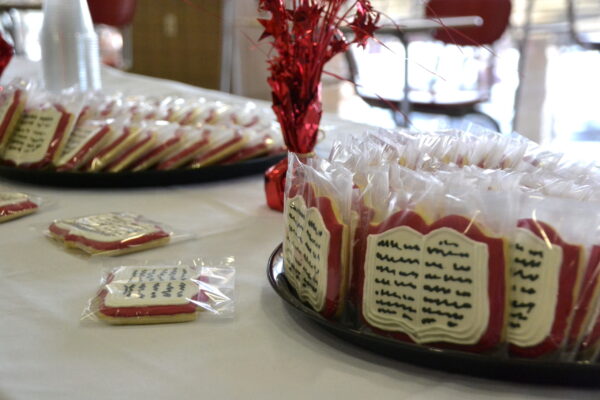 After the ceremony punch and cookies were served in the school cafeteria. The cookies were decorated with a book design.