Holley returns to musical stage with Footloose after 3-year absence
Covid wiped out shows in 2020, 2021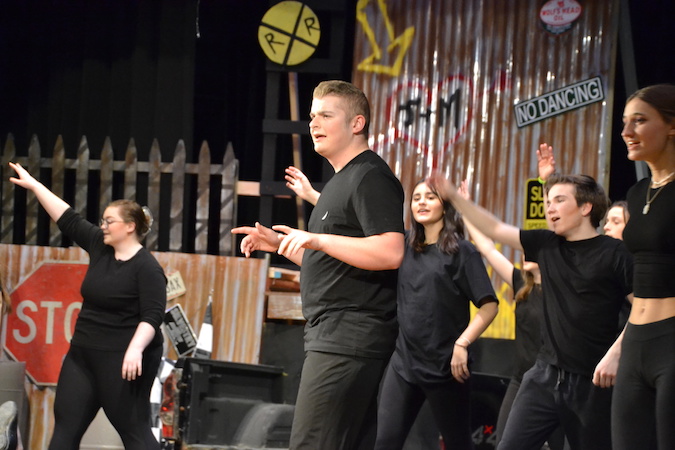 Photos by Tom Rivers
HOLLEY – Thomas Dobri plays the lead role of Ren McCormack in Holley's musical performance of Footloose. Shows are 7 p.m. Friday, and 2 p.m. and 7 p.m. on Saturday
Dobri, a senior, is grateful to be performing for a live audience after there wasn't a show last year and in 2020 the musical was cancelled on the day of the show. Holley had prepared for about three months for High School Musical. Opening day was March 13. The cast and crew were told that afternoon the show wouldn't go on – that night. Dobri remembers they believed they would be able to perform in about two weeks. But school never opened again for in-person learning that year due to Covid-19 restrictions.
"We tried and we tried and we tried," Dobri said about the cast and crew for High School Musical. "It's such a relief that things have come back to normal and I get one more try."
Last year there wasn't a musical at Holley. This year, the production is back and is led by a new team – executive director Dustin Gardner, and music directors Samantha Heagerty and Brandon McArdell. Previous director Dan Burke retired. Kellie Burke also was the longtime musical choreographer.
Gardner grew up and graduated from nearby Kendall. He said he is happy the mask mandate was lifted for indoors and students can perform with cloths covering their mouths or with shields. He didn't want muffled voices or faces obscured.
During rehearsal on Wednesday he urged the cast to give a high-energy performance, with smiles and exaggerated movements. But he stressed to have fun – and enjoy the opportunity to be on stage.
There are 35 student sin the cast and another 15 in the stage crew.
Dobri said being in the musicals – first in seventh grade – helped him develop confidence and become much more outgoing.
"I was a very shy and reserved student in the seventh grade," he said.
He praised the cast and crew for working hard on the show since early January.
"We're putting a lot into it because we're so glad to have this program back."
Tickets are $7 and can be purchased online (click here) or at the door.