Holley recognizes retiring teachers, honors top grads
HOLLEY – The Holley School Board of Education recognized retiring teachers and staff during the board meeting Monday evening.
Board President Brenda Swanger said this is the first time "in a long time" the board as recognized teacher and staff retirements. This year's retirees have "a total of 176 years working hard helping children," Swanger said. "Thank you and have a wonderful retirement, you will be missed."
Each was presented with a gift.
"Some of you, I remember your interviews," said board member John Heise, a retired Holley principal. "Thank you for your years of service."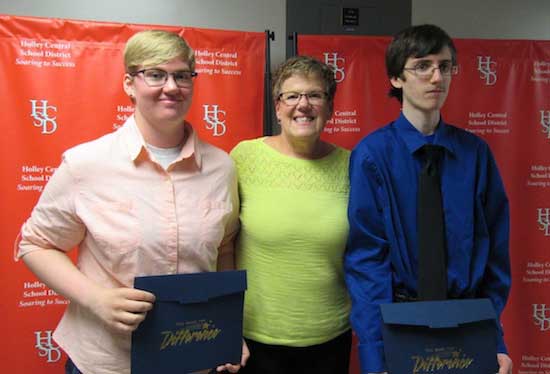 Holley Middle School/High School principal Susan Cory (center) poses with Class of 2017 valedictorian Anna Brasted (left) and Salutatorian Jesse Beach (right) Monday evening. The top two scholars received Soaring to New Heights awards during the regular meeting of the school Board of Education for their academic accomplishments. Graduation ceremonies are 10 a.m. Saturday at the Middle/High School Stadium.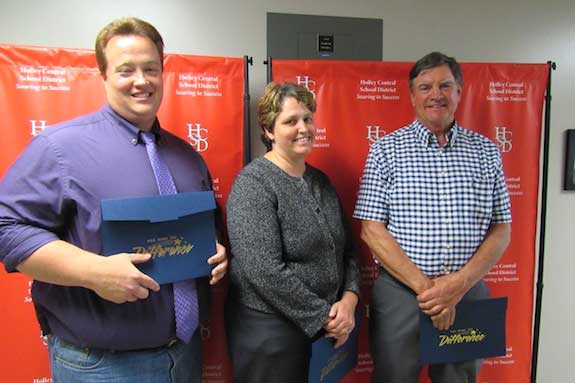 The Holley High School Geometry in Construction class was also recognized by the Board of Education with a Soaring to New Heights Award. Teacher Russ Albright, Leslie Tanner – Monroe 2 – Orleans BOCES STEM coach, and teacher Tim Rogers received the awards. Tanner presented the idea for the class to the Holley School District and it was offered for the first time in the 2016-2017 school year.
Students learned how math concepts can be applied to real-world problems to create solutions and took part in a service project – constructing a small house for Second Wind Cottages in Newfield, NY.  After assembling the house at the school, students, teachers and administrators transported it to the Second Wind site near Ithaca and re-assembled it on site. Second Wind Cottages provides one-man shelters for homeless men as they work to turn their lives around.