Holley recognizes Charlene Sielaff for her 41 years of service to village residents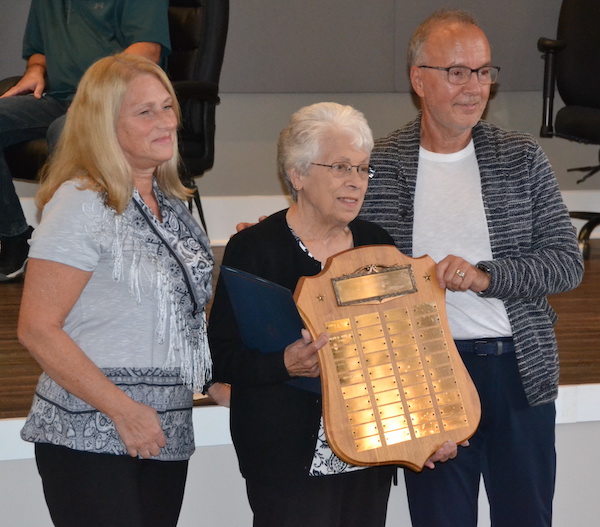 Photos by Tom Rivers
HOLLEY – Charlene Sielaff, a retired village clerk who worked 41 years in the village's clerk's office, holds a plaque listing her as the 2022 recipient of the Mayor Vaughn Award for her years of distinguished service. She is joined by Village Trustee Connie Nenni (a former village clerk) and Mayor Mark Bower.
Bower and Nenni presented the award to Sielaff at Tuesday evening's Village Board meeting. Bower pushed to bring back the award which was last presented in 2003 to Fedora Formicola. Other recipients include Daniel Mawn in 1982, Roland Nenni Jr. in 1983, and Evelyn Smalley in 1986.
Sielaff was hired in the village clerk's office on June 11, 1978 by former Mayor Herman Vaughn.
"Everybody thought he was a great person," Sielaff said about Vaughn.
Sielaff worked for the village for 41 years until retiring on June 1, 2020.
"I enjoyed working with the public," Sielaff said on Tuesday. She was joined by many of her family members when she was presented with the award.
"It's an honor to be on the same plaque with all those other names," she said.
Bower said Sielaff was always professional and always represented the village well in her role at the village office. She was often the person at the front counter or on the phone, assisting residents with their village business.
Bower recalled going to the village office to pay a water or electric bill, or his village taxes.
"She was the first face I saw," Bower said. "She was a great representative of the village at the office."
Bower, who started as mayor on July 1, recently learned of the Mayor Vaughn Award and wanted to bring it back as an annual award for a deserving citizen. When he announced the return of the award, Sielaff "was one name that came up immediately."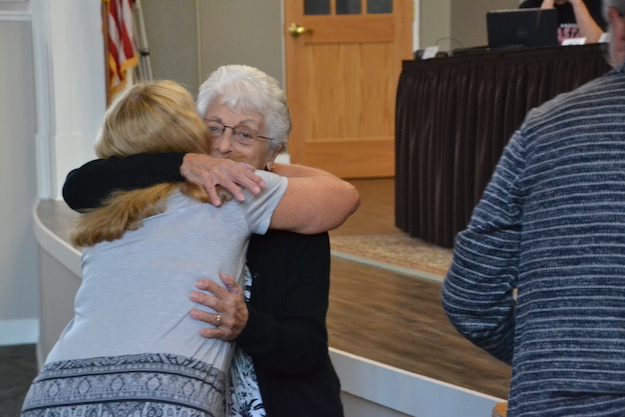 Connie Nenni hugs Charlene Sielaff after she was presented with the Mayor Vaughn Award.
Nenni, who is the Holley school district clerk, was the village clerk and worked 4 ½ years with Sielaff. Nenni said Sielaff was very well organized with village records and knew local residents very well.
"Everyone loved her," Nenni said. "I learned quite a bit from Charlene but I never got to her level of knowledge."