Holley grads urged to soar as Hawk alumni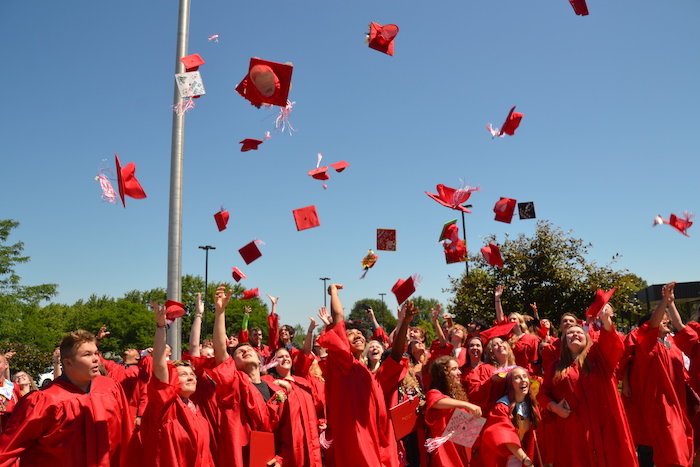 Photos by Tom Rivers
HOLLEY – Holley graduates toss their caps by the flag pole in front of the junior-senior high school after commencement on Saturday.
Holley graduated 60 students in the Class of 2022.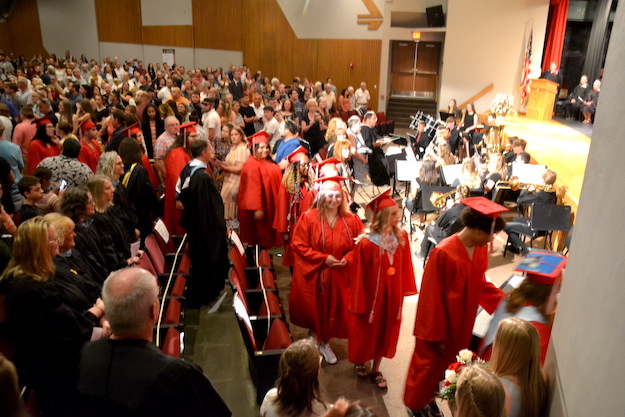 The graduates follow a processional inside the auditorium for the 73rd annual commencement program.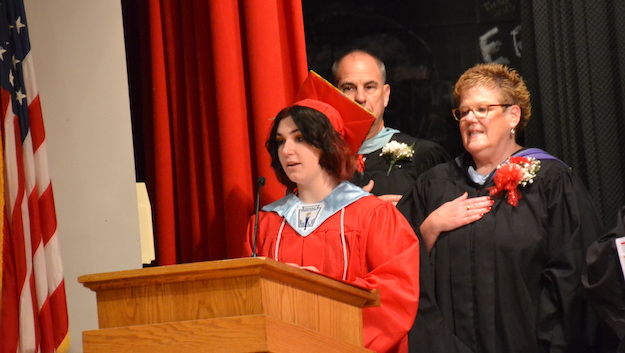 Libbie Pecora, the class president, gave a welcome message and led the group in reciting the pledge of allegiance. She urged her classmates "to not let the fear of failure hold you back." Behind Pecora are District Superintendent Brian Bartalo and High School Principal Sue Cory.
Class Vice President Breanna Girangaya announced the class gift. The Class of 2022 will give some of its remaining class funds to the other high schools classes that have been hampered in fundraising due to Covid cancellations and restrictions. The Class of 2022 also set aside money for the buildings and grounds staff to treat themselves for all of their extra hard work with cleaning the buildings in the pandemic.

Grace McKeon sings the Star Spangled Banner.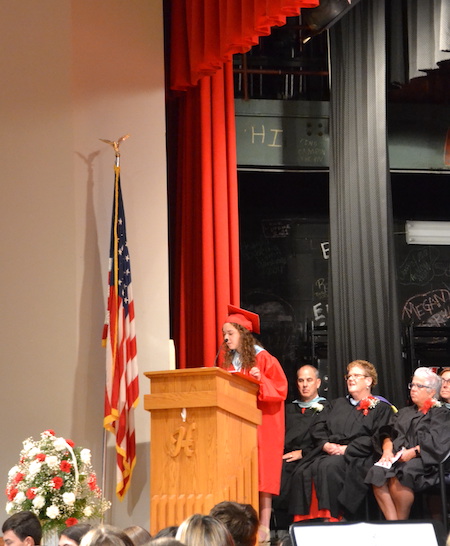 Salutatorian Adriana Botello delivers her speech. She said the class wouldn't be derailed by Covid. They pushed to get their school work done and still be involved at school. She said she is fortunate to be at a school with "beautiful souls" who are kind.
"We are lucky we are such a small class where we could watch each other grow," she said.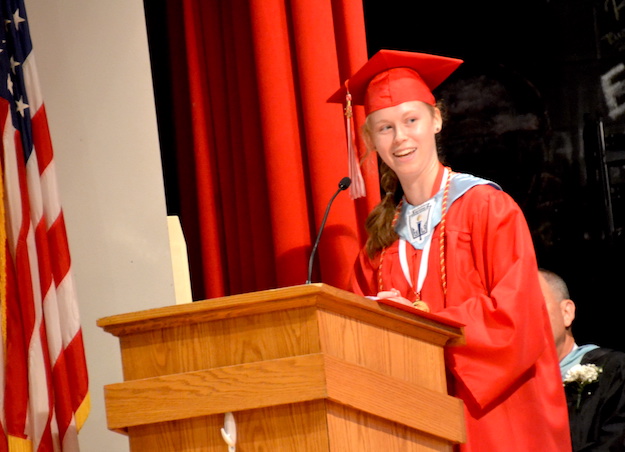 Valedictorian Cora Bennage wrote her speech almost entirely from favorite quotes collected from her classmates to give them a voice in the ceremony. Her speech also featured a section in Spanish for the native speakers in the audience.
She quoted from the Kung Fu Panda movie when she reminded them that each day is a gift. That's why it is called the present.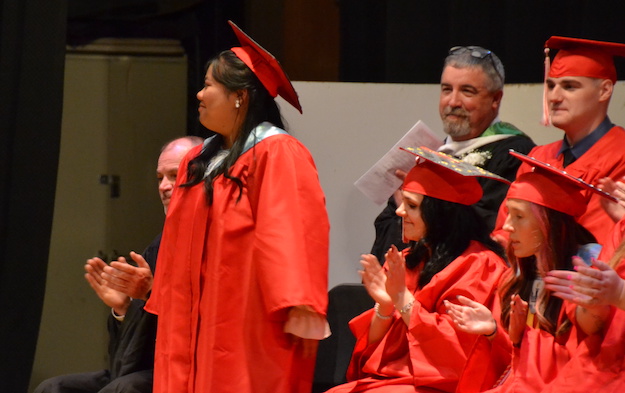 Kirsstin Althoff stands to be recognized as one of the scholarship winners. About $35,000 in local scholarships were announced during the commencement program.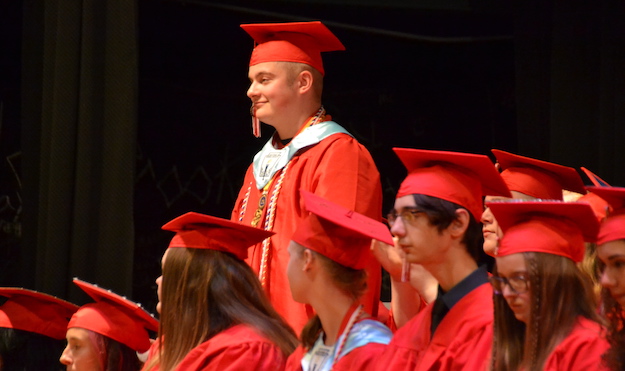 Thomas Dobri stands after being recognized as a scholarship winner.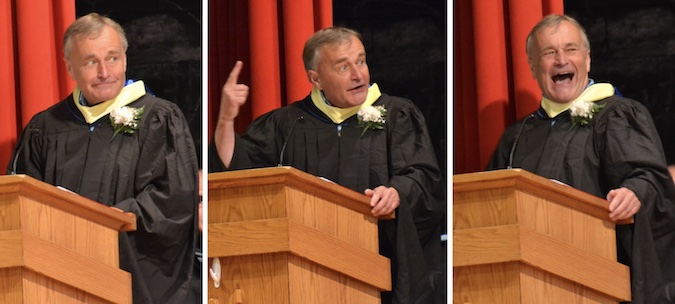 Retired Holley biology teacher Dan Burke gave the commencement address. Burke retired a year ago after more than 30 years at Holley. In addition to teaching biology, he was a baseball coach and musical director. He was picked by the class to give the speech.
In retirement Burke has followed a lifetime passion by studying history at Arizona State University. Burke said he wanted to major in history right out of high school but was swayed by his father who didn't think there would be good job prospects with that major. Burke had a career selling pharmaceuticals before starting a teaching career at Holley.
He urged the grads to never give up learning and to "embrace the uncertainty of your future."
He didn't expect to become a teacher. But he answered an ad about a job in Holley. He wanted a more meaningful career, even though he took a big pay cut.
He said he is so grateful for his time in Holley. When he retired a year ago, he received 1,200 messages from former students, thanking him for being their teacher, coach and director.
He was struck by how successful and happy the Holley graduates were in their careers and family lives. They have excelled as teachers, lawyers, doctors, mechanics and skilled tradespeople.
"I was struck by what good and decent people they all are," he said. This is a wonderful place. This is a wonderful school."
Burke gave the grads a final message: "Give more than you take from this world."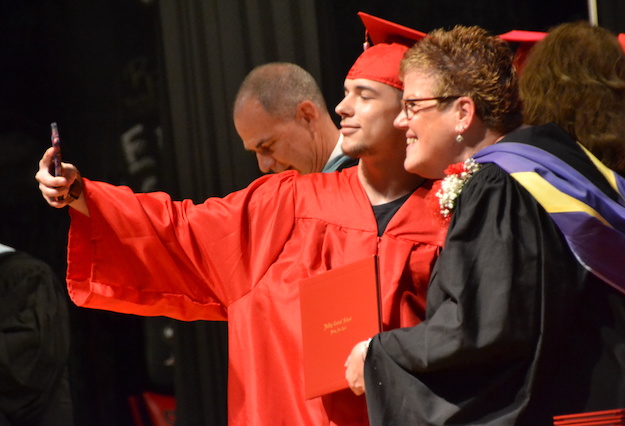 Zander Carpenter takes a selfie with Principal Sue Cory. This was Cory's last commencement as principal. She is retiring.
She said the graduates lived up to this year's theme at the school district of "family." She thanked the students for being passionate, caring, opinionated and compassionate.
"You are a special group that rallies and supports others," she said.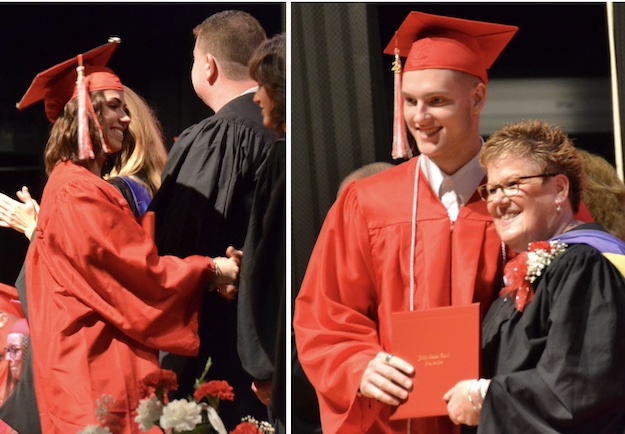 Emily Webster is congratulated by the Board of Education members after getting her diploma. James Tette poses for a photo with Principal Cory.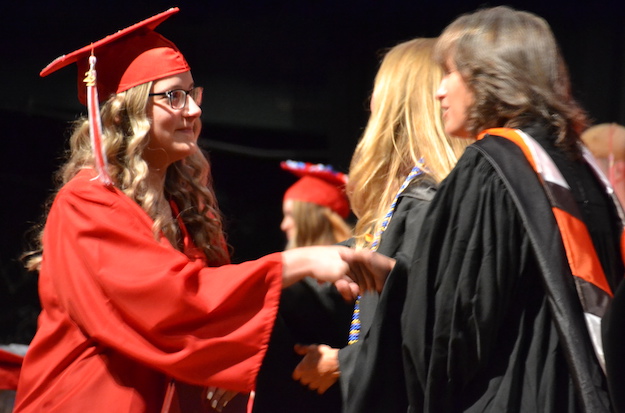 Kayla Pagano celebrates getting her diploma and is congratulated by the Board of Education.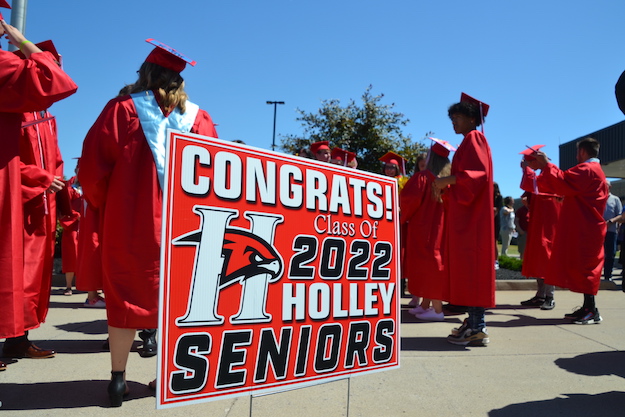 A sign outside the school near the flag pole praises the Class of 2022 for their graduation.