Holley grads start next chapter of their lives, thankful for small-town roots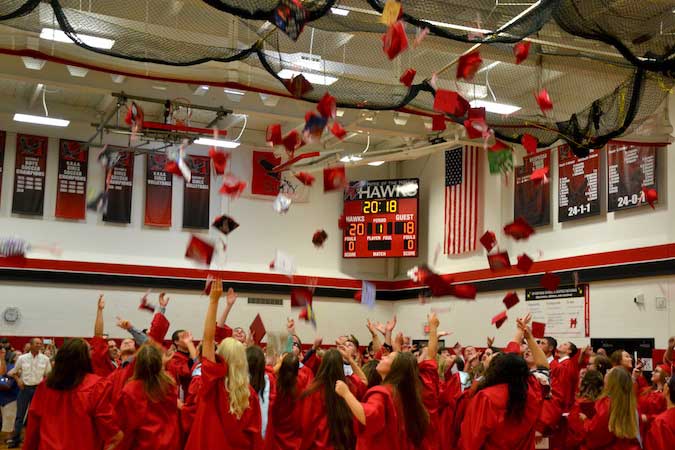 Photos by Tom Rivers
HOLLEY – The 89 students who graduated from Holley on Saturday toss their caps inside the gymnasium after the commencement ceremony. Holley usually holds commencement outside at the Holley Hawks Stadium but the event was moved inside to the auditorium due to rain.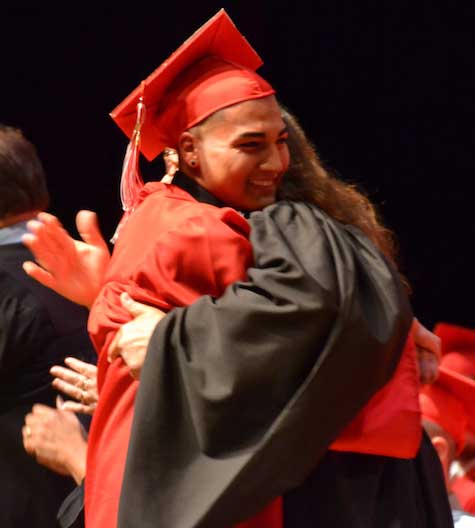 Salvador Solis is hugged by Board of Education member Melissa Ierlan during commencement on Saturday.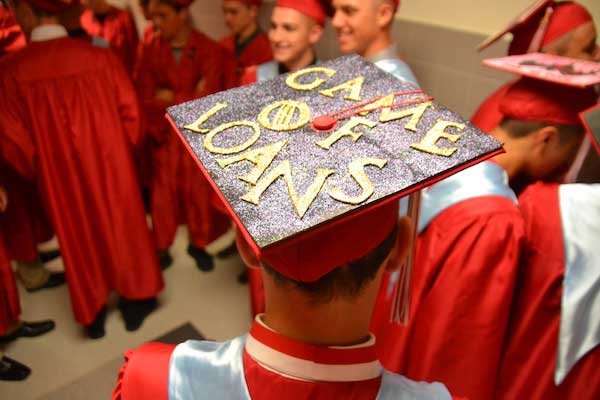 Dalton Thurley decorated the top of his graduation with "Game of Loans." He is shown in the hallway with his classmates before the start of commencement on Saturday at the Jr./Sr. High Auditorium.
"I thought it was a funny take on Game of Thrones," Thurley said.
He is headed to Alfred State College to study mechanical engineering technology.
Some schools discourage students from decorating their graduating caps, but Holley encourages it, with the art teachers even lending a hand.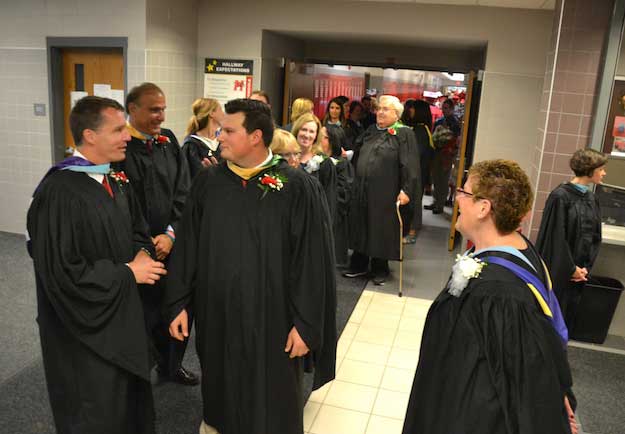 Nicholas D'Amura (center), a middle/high school history teacher, was picked by seniors to be the commencement speaker. He is pictured near the front of the procession with Susan Cory (right), middle/high school principal, and Dan Courtney, middle/high school assistant principal.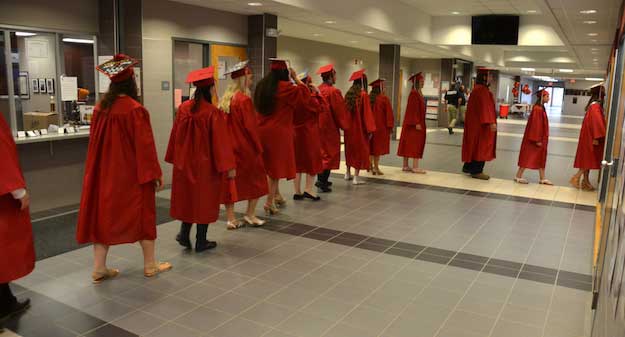 The graduates head into the auditorium.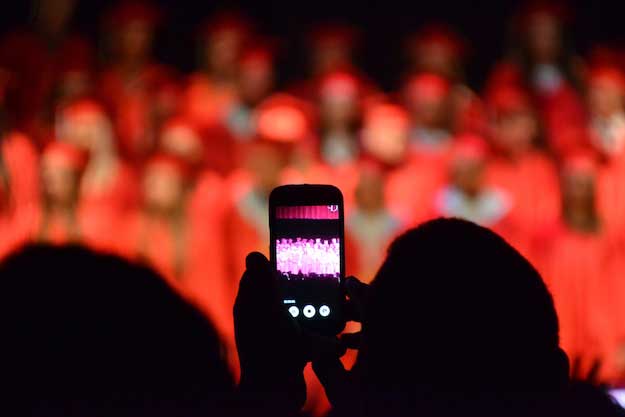 As the graduates filed on to the stage, the smartphones came out to record the event.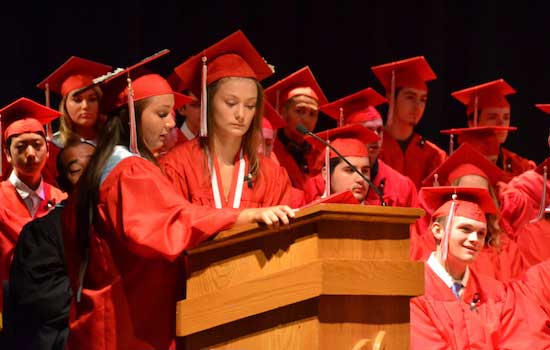 Madison Papaj (left), class vice president, and Melody Purtell, class secretary, announce the class gift – a $700 donation to the music department.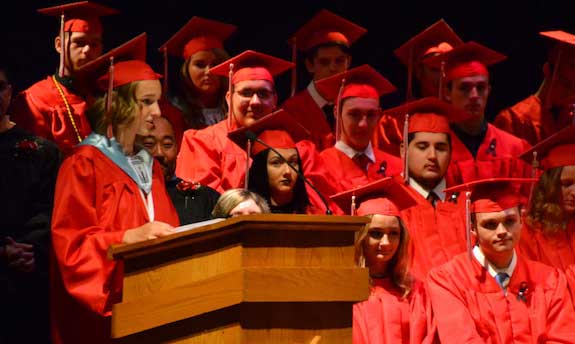 Nina DiLella, the class salutatorian, said the graduates' small-town roots are an asset as they begin the next phase of their lives.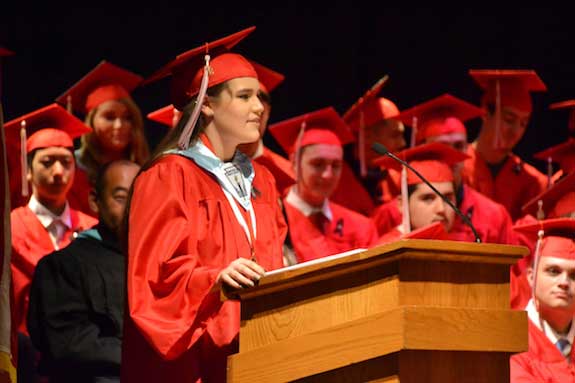 Dakota Thompson gives the valedictory address and urges her classmates to "seize the day." The new graduates shouldn't be hung up on their faults. "No one is perfect," she said. "Go out there and make your dreams a reality. No one will do it for you."
Nicholas D'Amura, a middle/high school history teacher, gave the commencement address. D'Amura is a graduate of Lewiston-Porter High School and Geneseo State College. He has taught at Holley for five years. D'Amura said he is very grateful for the welcome he's received from students, teachers and the community since he started. He told the student they are fortunate for "the tight family bond in the community."
D'Amura said the Class of 2018 has left a mark on Holley through their thoughtfulness and caring.
"You'll be hard-pressed to find a more spirited class," he said.
D'Amura urged the group to thank their family members, teachers and others who helped them have success in school.
The 89 graduates are now headed in many different directions, and they will encounter numerous challenges, D'Amura said.
"Nothing in life is given to you," he said. "It is earned. I encourage you to meet the challenges head on. Run through them."
The commencement speaker said the world has a lot of anger, and doesn't need any more. The graduates can make a difference by treating others with love and kindness, "even if they are unkind to you."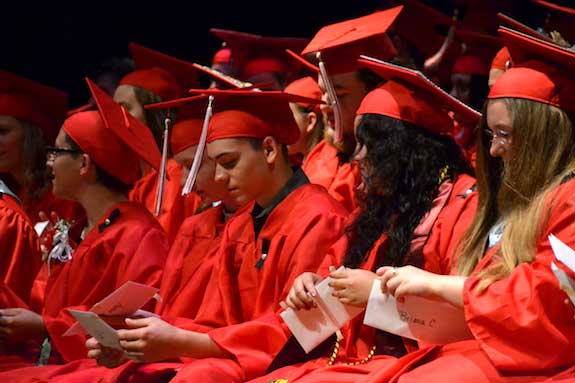 Holley graduates, including Cory Caccamise (center), look at a personal note that D'Amura wrote for each student. He asked them to look under their chairs to find the message.
"Holley will remember you," he said. "You will never be forgotten. Now go show the world what love, kindness and grit looks like."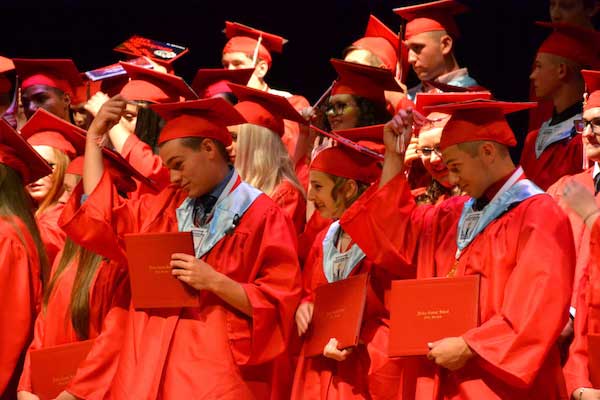 Holley Class President Matt DeSimone, left, joins the class in moving his tassel to signify graduation from high school. Nina DiLella is at center and Brandon Dillenbeck is at right.
DeSimone gave the welcome message during graduation. He told his classmates they are lucky to have been in a small school where they could do so many activities together with strong community support. DeSimone also noted the students were wearing ribbons in memory of victims at Parkland, Florida and other school shootings in the country this past year.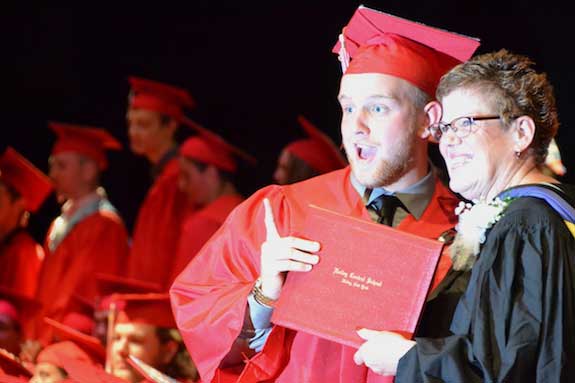 Glenn Thrower hams it up during a photo with Susan Cory, middle/high school principal.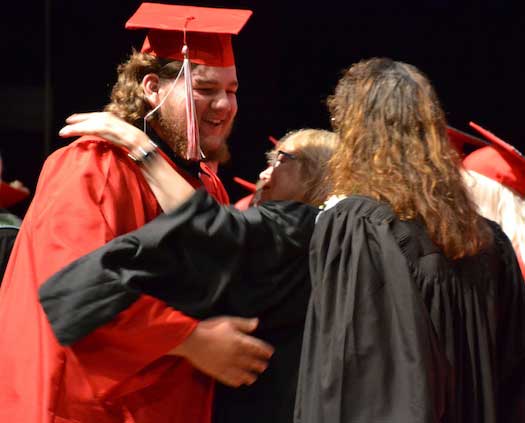 Kyle Ierlan gets a hug from Brenda Swanger, president of the Board of Education. Kyle's mom Melissa, right, is also on the Board of Education.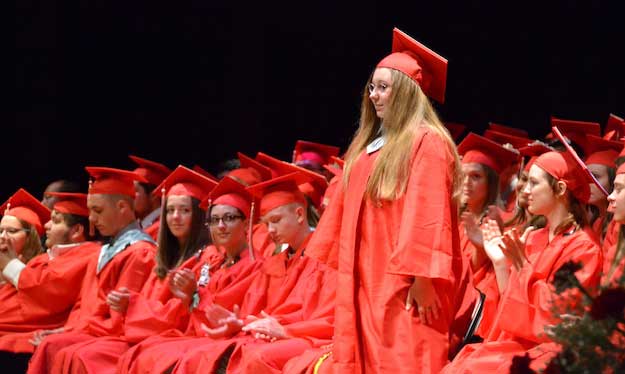 Briana Coluci stands and is recognized as one of the scholarship winners. Holley presented more than $22,000 in scholarships and awards during commencement.