Holley gives Class of 2017 a big sendoff at graduation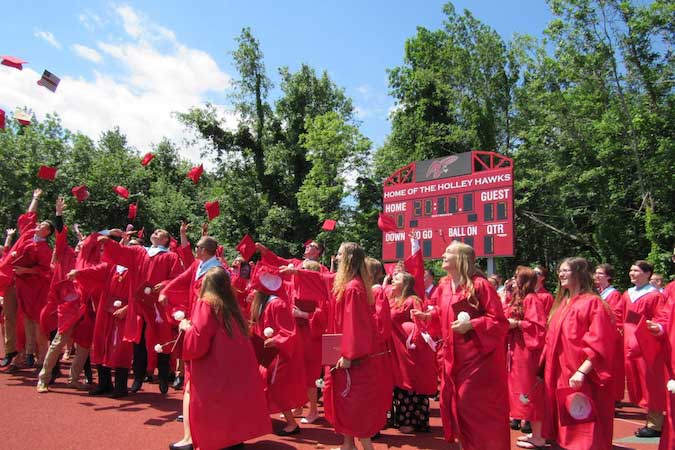 Photos by Kristina Gabalski
HOLLEY – Members of the Holley's Class of 2017 toss their caps by the stadium scoreboard following commencement this morning at the Holley Hawks Stadium.
There are 92 students in this year's graduating class.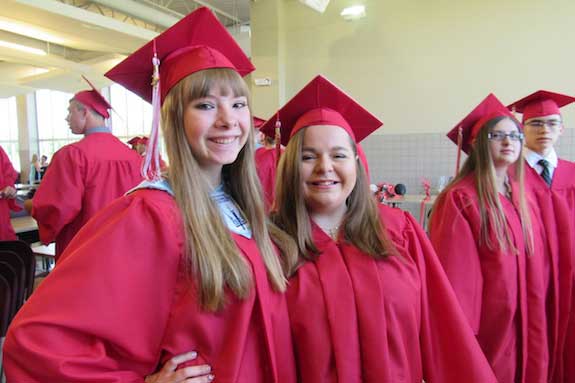 The cafeteria at Holley Middle School/High School was a sea of red Saturday morning as the Class of 2017 gathered to prepare for commencement. Megan Fribance plans to study psychology at The College at Brockport in the fall and McKenzie Hendrickson will study nursing at Walsh University.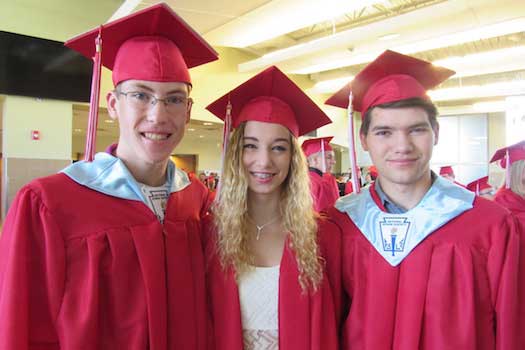 Will Harrington plans to attend Elmira College in the fall majoring in pre-vet studies, Anna Adams will attend Genesee Community College to major in general studies, and James Skehan will study computer science at Monroe Community College.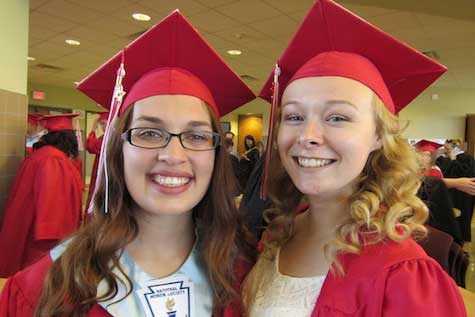 Big smiles on a big day from Jessica Mandigo, who will study psychology and social work at SUNY Fredonia, and Makenzie Ferranti, who plans to study liberal arts at Genesee Community College beginning next spring. Ferranti also sang "The Star-Spangled Banner" during commencement.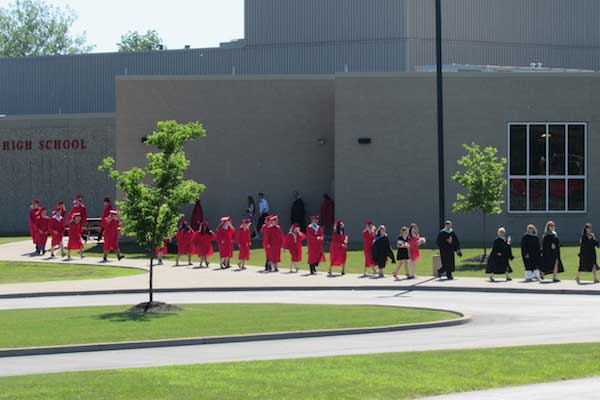 Holley graduates and faculty process from the Middle School/High School to the Holley Hawks Stadium for commencement.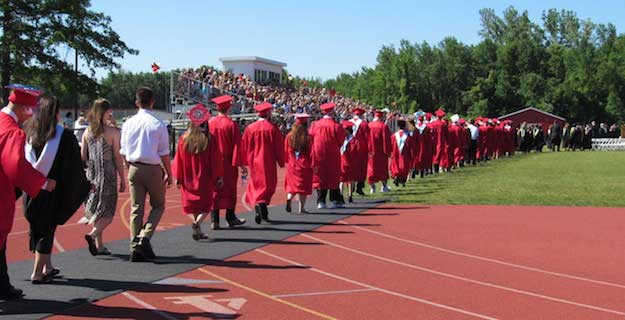 The Holley Central School Class of 2017 enters the stadium to "Pomp and Circumstance"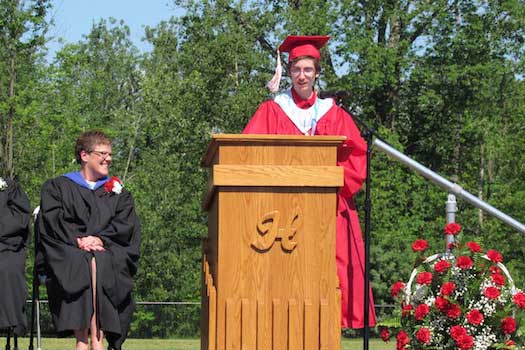 In his salutatory address, Jesse Beach noted that graduates have "survived high school (including Common Core)."  He encouraged the Class of 2017 to celebrate their accomplishments. "We all worked hard to be here today."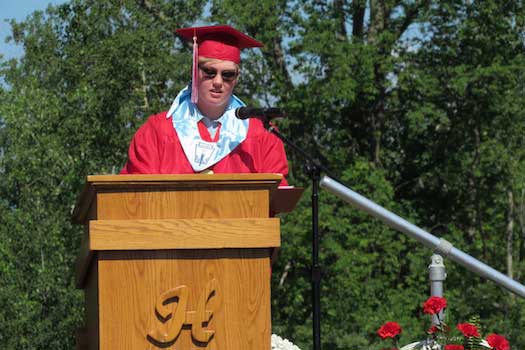 Anna Brasted, Class of 2017 valedictorian,  called graduation a "bittersweet day." She thanked teachers for helping the Class of 2017 to be, "ready for tomorrow's challenges….. thank you for caring so much," Brasted said.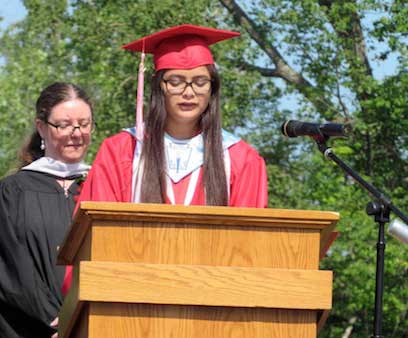 Veronica Mendoza, vice president of the Class of 2017, presented her class's parting gift to the Holley Central School District – a new digital camera for the yearbook staff.
"Yearbooks let us reflect on a piece of our lives," Mendoza said.  "We hope the new camera will capture the fun memories that high school has."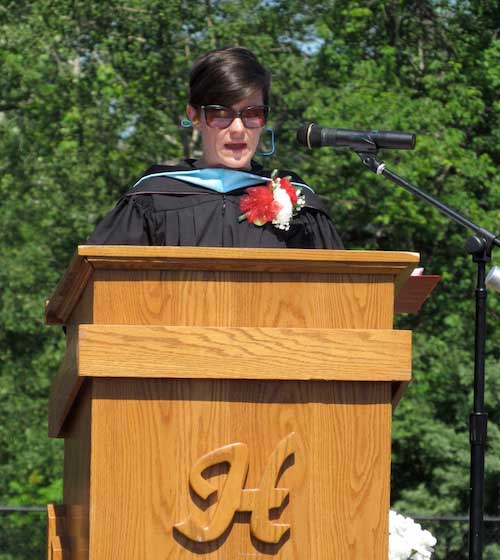 Evinn Neadow, Holley Middle/High School art teacher, gave the commencement address. She said she turned to her Facebook page for help in writing her speech by asking friends what they wish they had known at the time they graduated from high school.
She received many responses including – "Don't be afraid to ask for help….. You won't know how great your parents are until you become one yourself…. we all make mistakes, learn from it and move on."
Neadow described her journey after high school and how she turned to a career in art education after she graduated from RIT with an undergraduate degree in fine art and photography.
"There was no job waiting for me," Neadow said. She realized she loved being in school and knew art education was the right path for her.
"You are an awesome group of intelligent, talented and kind individuals," she told graduates.  "Find what makes you happy and gives you a sense of fulfillment….. and keep moving toward that goal."
Neadow advised graduates to enjoy the journey wherever they choose to go.  "Work hard and be proud of everything you are," she said.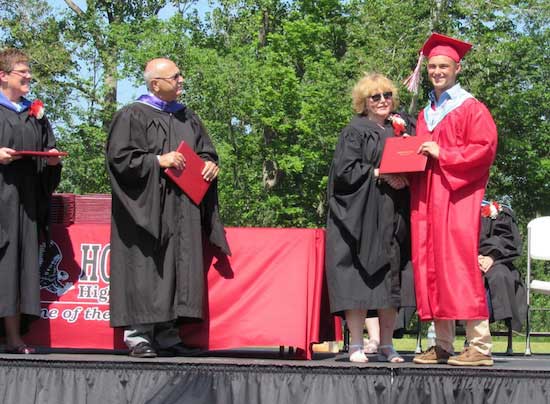 Andrew Cary receives his diploma from Holley School Board President Brenda Swanger.  Cary will be attending the Valley Forge Military Academy and College and plans to eventually join the military. High School Principal Sue Cory is at left by Robert D'Angelo, the district superintendent.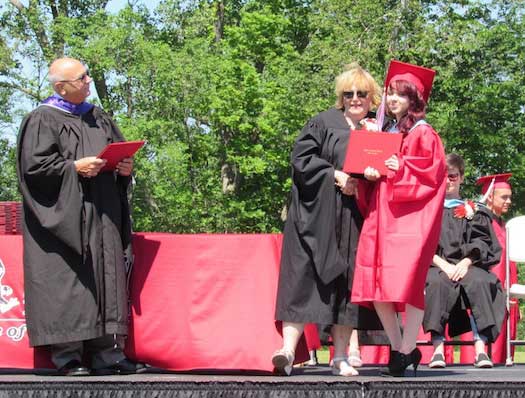 Ashlyn Hotchkiss receives her diploma from Brenda Swanger. Ashlyn will study psychology at SUNY Geneseo in the fall.
Jennah McMillion topped her graduation cap with a sparkly tiara.

Holley graduates move their tassels following the Declaration of Graduation by Superintendent Robert D'Angelo.