Holley teen is small animal grand master showman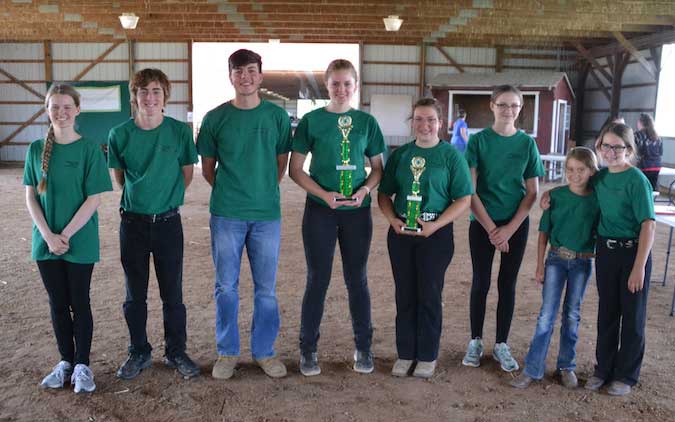 Photos by Tom Rivers
KNOWLESVILLE — Participants in the Small Animal Grand Master Showman competition on Saturday at the Orleans County 4-H Fair include, from left: Lydia Hofmann, Jacques Gregoire, Brian Shaw, Amelia Sidonia (grand master champion), Audrey Pask (reserve champion), Kaitlyn Johnson, Maci Manicki and Carissa Klossner.
They qualified for the competition after finishing in the top 2 earlier in the week during showmanship contests for poultry, rabbits, dogs and miniature horses.
Audrey Pask and Jacques Gregoire qualified for poultry, while Amelia Sidonio and Brian Shaw were the top showmen for rabbits. Kaitlyn Johnson and Lydia Hofmann were the top two in dogs, while Carissa Kossner and Maci Manicki qualified for miniature horses.
For the grand master showman competition, the eight participants all had to show rabbits, dogs, miniature horses and poultry, and were quizzed about their knowledge of the different breeds.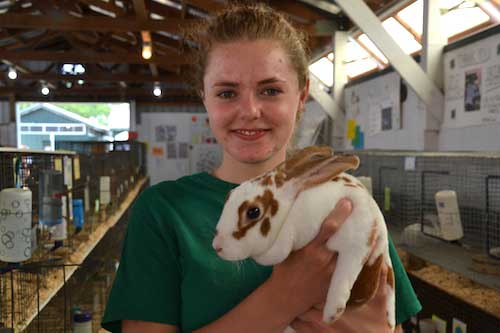 Amelia Sidonio won the grand master showman for small animals. She is holding a rabbit named Rex that won best in breed.
Amelia, 17, was the reserve grand master the previous two fairs. She has been showing rabbits since she was 5 when she was a Clover Bud.
She is going into her senior year at the Harley School in Rochester. She wants to major in agricultural business in college.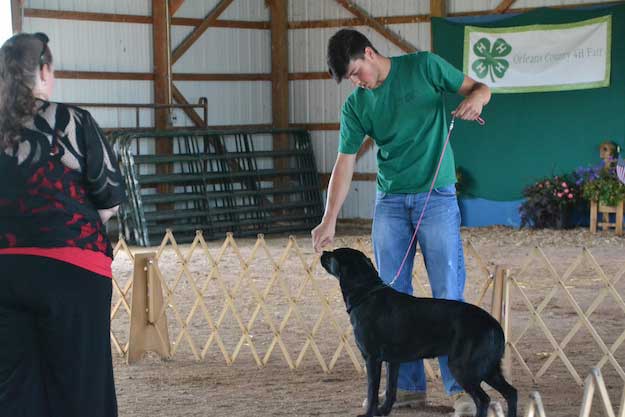 Brian Shaw of Kent, one of the small animal grand master showman participants, shows a black lab named Betty during the competition. Sheena Bakos of Middleport served as judge for part of the contest.
The participants needed to lead the dogs and miniature horses on a pattern. They were also asked questions about the rabbits and poultry.
Bakos said Sidonio, the grand master showman, was attentive to the judges and knew the anatomy and breed information of all the animal species.